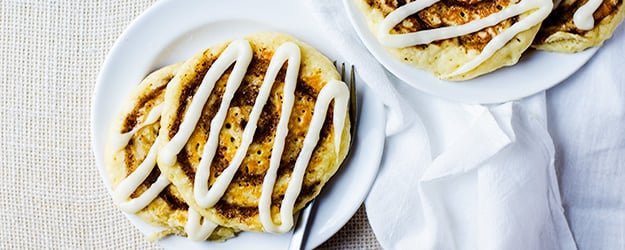 Breakfast is one of my favorite meals of the day, which is great since it is also the most important meal. While I usually try and have a healthy morning breakfast, I also like to have something a little indulgent every so often. On special weekend mornings, I like to make these cinnamon roll pancakes. They are the most perfect way to begin the weekend.
We start with my favorite fluffy buttermilk pancake. They are perfect just on their own if you want a good basic pancake recipe. I then took the same filling I use in cinnamon rolls, but melted it so that it can drizzle into that perfect swirl on top of the pancake. To top, I used a simple cream cheese icing, and that is all you need, but if you have a real sweet tooth, feel free to also drizzle on your maple syrup!
This recipe while easy, takes a bit of practice to get pretty. Your first pancake will always end up ugly. Delicious, but ugly. So if it doesn't come out picture perfect, don't worry! You will also notice that the recipe makes enough of the filling and icing for a double batch of pancakes (go ahead and make that second batch, you know you want to!) The reason for it is because it makes it easier to get the right consistency and makes piping easier. I found that halving them didn't work out quite as well for me, but you are welcome to try or just save them for tomorrow's breakfast!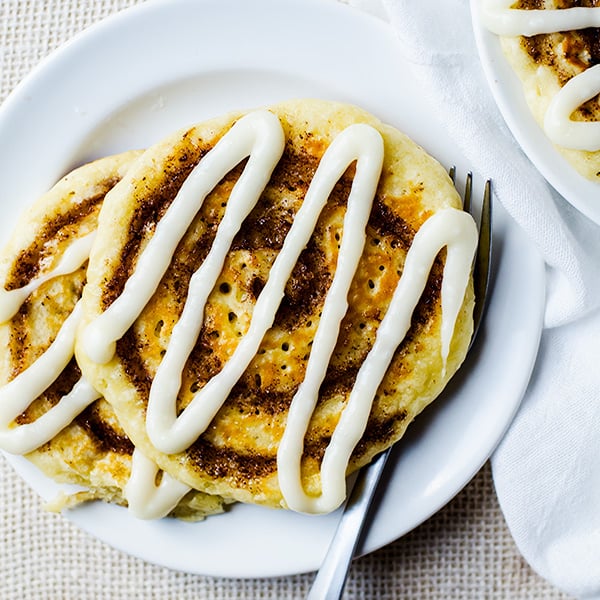 CINNAMON ROLL FILING INGREDIENTS
3 tablespoons melted butter
4 tablespoons packed brown sugar
2 teaspoons ground cinnamon
Pinch of salt
PANCAKES INGREDIENTS
ICING INGREDIENTS
1 tablespoon unsalted butter, melted
2 tablespoons cream cheese, room temperature
1 1/2 – 2 cups powdered sugar
1 – 2 tablespoons heavy cream
DIRECTIONS
Make the cinnamon roll filling. Mix together all the ingredients in a small bowl until combined well. Place in a sandwich bag and push the mixture off to one of the corners. Set aside.
Make the pancakes. Heat your griddle or skillet on medium-low heat. Preheat the oven to the lowest temperature. Lightly grease if necessary. Mix together the dry ingredients together in a bowl. In a separate bowl mix together the melted butter, egg, and buttermilk.
Add the wet ingredients to the dry and mix until just combined. Do not over mix. Lumps are good in pancake batter!
Pour 1/4 cup of the batter onto your griddle. Snip the corner of the cinnamon mixture and make a swirl over the batter. Be careful to not get too close to the edges.
Cook for about 2 -3 minutes, or until the top is bubbly. Flip and cook for another minute more. Place the cooked pancake in the warm oven and continue making the other pancakes, placing them in the warm oven when finished.
Make the icing. Mix together the butter and cream cheese together. Add the powdered sugar and mix well, using a fork to cut the cream cheese into the powdered sugar until it comes together in a lump. Slowly add the heavy cream until the mixture loosens. Place in another sandwich bag and snip off the corner. Drizzle the icing over the pancakes.
Serve warm.
Servings: 10 pancakes.