Cottage Cheese Queso is a protein packed, creamy delicious dip that's been going viral all over TikTok. Made with cottage cheese, nutritional yeast, taco seasoning and Ro-tel, it is ready in under 5 minutes!
If you're on TikTok, you may have seen this easy Cottage Cheese Queso going viral. With so many rave reviews, I decided to make my own variation of this popular queso recipe and I was not disappointed. Packed with protein and perfect with tortilla chips or veggies like carrots, celery, and mini bell peppers, you are going to love this quick and easy recipe.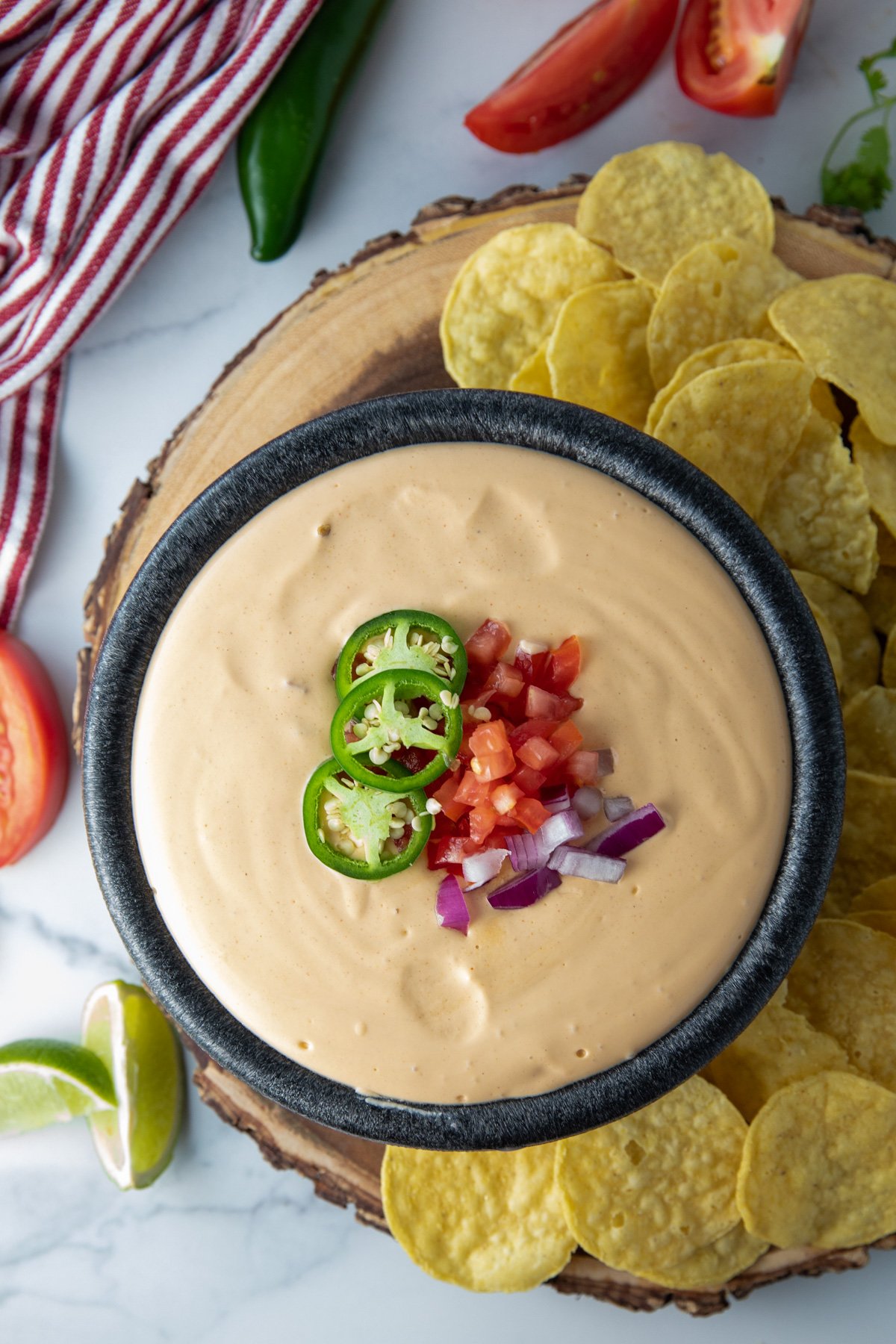 How to make Cottage Cheese Queso
Only a handful of ingredients and a few steps separate you from enjoying this creamy, high protein Cottage Cheese Queso.
It's important to note: you will need a blender! A blender ensures that you get the smooth, creamy texture that you'd expect with traditional queso.
Gather your ingredients- you will need small curd cottage cheese, Ro-tel, taco seasoning and nutritional yeast.
Add all ingredients to your blender and blend until smooth.
Optionally, you can add in a few ounces of shredded cheese of your choice- cheddar or pepper jack would be delicious options.
Once the queso is smooth you can serve it room temperature, or heat it up in the microwave or on the stove-top for a warm queso dip.
Our favorite blenders:
Our go-to blenders include the Magic Bullet for a budget friendly option, or a Vitamix for a powerful, professional grade blender.
What to serve with Cottage Cheese Queso
Cottage Cheese Queso is a delicious dip or a tasty condiment. It will be delicious with tortilla chips or fresh veggies. I personally like to dip my carrots, celery, and mini bell peppers in this yummy dip. Alternatively, it is perfect as a condiment. Top any of your favorite taco or quesadilla recipes with a spoonful of this queso and thank me later. :)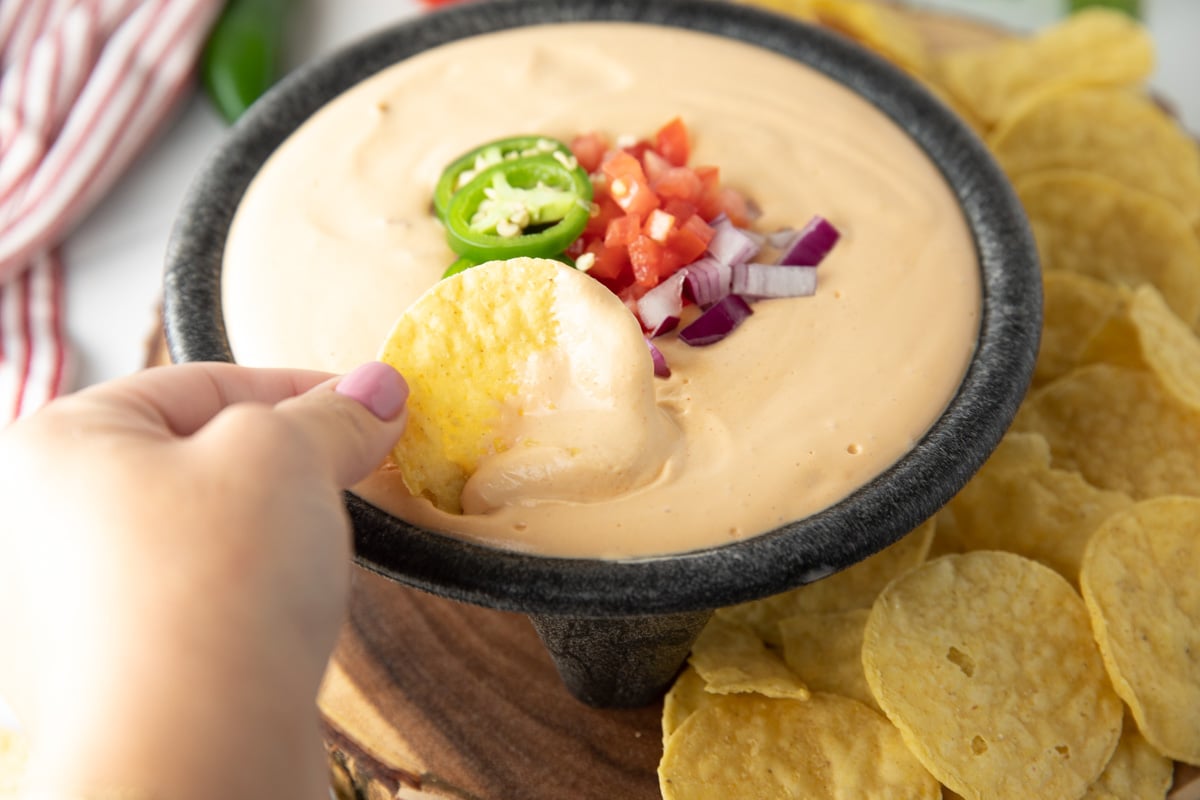 Here are a few delicious taco recipes to try:
Is Cottage Cheese Queso High in Protein?
Yes. Both Cottage Cheese and Nutritional Yeast are a great source of protein. One of the benefits of this Cottage Cheese Queso is the fact that it is high in protein and a great option for anyone who is counting macros or simply trying to get more protein in their diet.
Can I use low-fat cottage cheese?
For the best result, I recommend avoiding low fat cottage cheese and using only the full-fat version.
Do I have to use nutritional yeast?
Nutritional Yeast is high in fiber and an otherwise excellent source of vitamins and minerals. It also has a natural cheesy taste that allows it to be used in certain recipes as a replacement for shredded cheese. If you do not have nutritional yeast, you could add in shredded cheddar cheese instead. You'll need about 1 cup of shredded cheddar cheese (more to taste) in place of nutritional yeast.
If you haven't purchased nutritional yeast from the grocery store, it is typically found in the baking aisle by the yeast products.
What is Ro-tel?
Ro-tel is a canned tomato product that is a blend of tomatoes along with green chilies. They have original, mild, and hot varieties. I typically use the "hot" variety made with habaneros to make this a spicy queso. It's delicious if you like spicy.
In place of Ro-Tel you could use pico de Gallo (here's my homemade version of Pico De Gallo).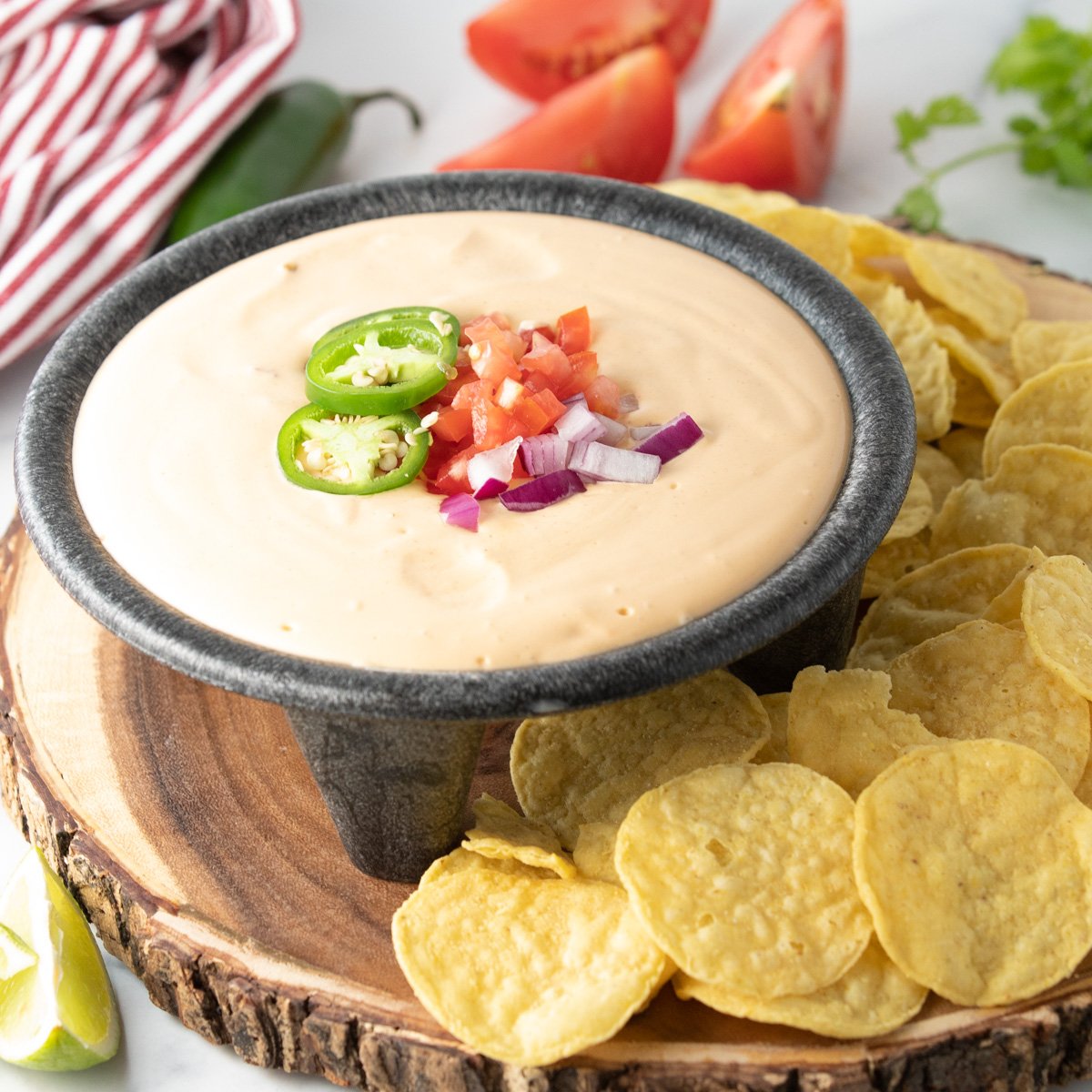 I hope you enjoy this recipe for Cottage Cheese Queso. This protein packed easy queso recipe is so great as a condiment or as a dip, especially if you're looking for easy and delicious ways to incorporate more protein into the foods that you are eating. If you aren't on TikTok, you may have not seen this recipe yet. It's definitely one that you'll want to try.
If you try this recipe (and I hope that you do). Please let me know what you think by leaving a comment or tagging me on social media. Enjoy!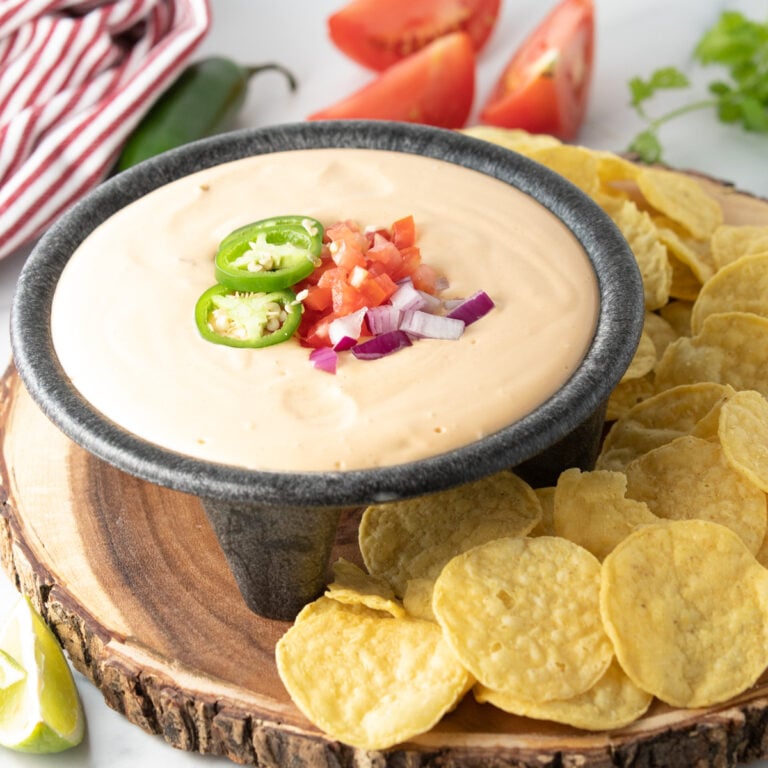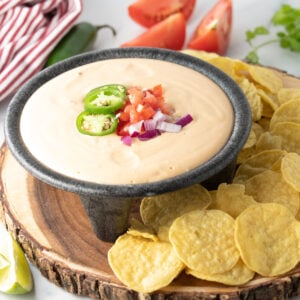 Cottage Cheese Queso
Cottage Cheese Queso is a protein packed, creamy delicious dip that's been going viral all over TikTok.
Ingredients
22

oz

cottage cheese

Avoid reduced fat varieties

1/3

cup

Ro-tel

1

tbsp

taco seasoning

2

tbsp

nutritional yeast
Instructions
Add cottage cheese, Ro-tel, taco seasoning and nutritional yeast to a blender. Blend on high until creamy and smooth

*Optional – heat in the microwave if you prefer warm queso