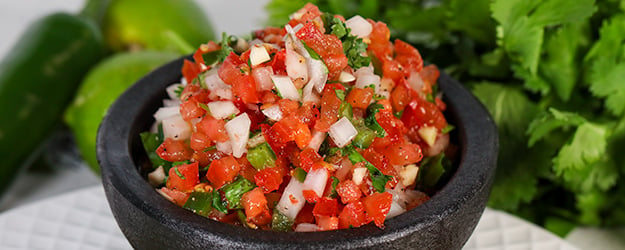 Every day is Taco Tuesday around these parts and there's nothing I love more than this homemade, easy, Pico De Gallo to top my tacos, quesadillas, nachos, and baked potatoes with. It is a simple and easy condiment made with fresh ingredients.
What is the difference between Pico De Gallo and Salsa?
If you are like me, you have pondered more than once what the difference is between Pico De Gallo and salsa. I could get into the nitty gritty details with you, because I researched the answer to this very important question, but the most basic answer is that it comes down to consistency.
Salsa is a thinner consistency with more liquid while Pico De Gallo is a thicker, more chunky consistency made with fresh veggies. Salsa can be made with fresh or canned ingredients while Pico De Gallo is a recipe that really shines with fresh veggies. If you have garden fresh tomatoes, Pico De Gallo is an excellent way to use them.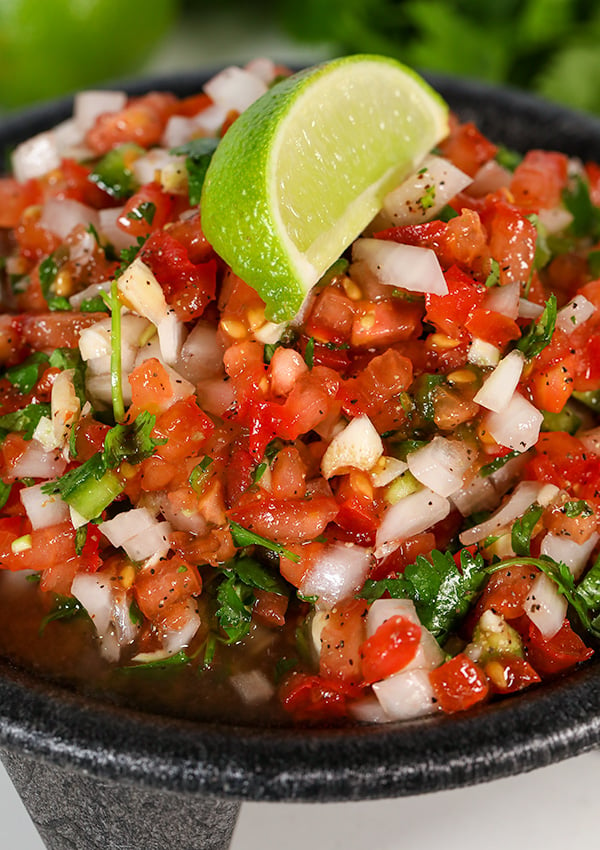 Is Pico De Gallo spicy?
Great question! While I love spicy, not everyone does and the beauty of this recipe, and just about any recipe involving jalapeños is that you can control the spice level. You can do this a couple of different ways.
First, at the grocery store when you are buying jalapeños, observe what the peppers look like. If the pepper has little white lines or specks, it means that the pepper underwent stress as it was growing. Stress generally equals heat! If you want spicy, a good rule of thumb is to find those stressed peppers with the little white striations.
Secondly, if you want spicy, include some or all of the seeds and ribs of the jalapeño because that's where the chemical that makes jalapeños spicy is found.
In summary, if you do not like spicy, look for jalapeños at the grocery store that have a smooth skin, without any white specks, and be sure to remove all of the seeds and ribs.
What ingredients are in Pico De Gallo and how is it seasoned?
There are not too many variations with the ingredients of Pico De Gallo. You'll usually find fresh tomatoes, onion, jalapeños and cilantro. Sometimes you'll also find green pepper which I do not include in my recipe. You might also see garlic which I like to include if I have it on hand.
I like to use vine-ripened tomatoes in this recipe, but you could also use Roma tomatoes. Increase the quantity of Roma tomatoes to six.
I like to season my Pico De Gallo very simply with salt and fresh lime juice. Fresh lime juice is key to excellent flavor. I do not recommend using bottled lime juice. Sometimes I'll add a little black pepper too! A bit of cumin is also delicious. Feel free to change it up to suit your taste buds.
You can use any onion that you have on hand. I have used everything from red onion to vidalia sweet onions but prefer using white onions. The flavor is a bit sharper with a white onion and goes well with the sweetness of the tomatoes.
If you're one of those people that don't like cilantro, go ahead and leave the cilantro out.
To achieve the BEST flavor, make sure you make your Pico ahead of time and allow it to refrigerate for an hour or two. This allows the ingredients to hang out for a bit and all of the flavors to meld together.
As the Pico De Gallo sits in the fridge, the salt is going to draw out the juice from the tomato. I like to drain most of the liquid off before using the pico so that I am left with a chunky consistency. You do not have to do this, however, just be aware that a fair amount of liquid will likely be drawn out from the tomatoes.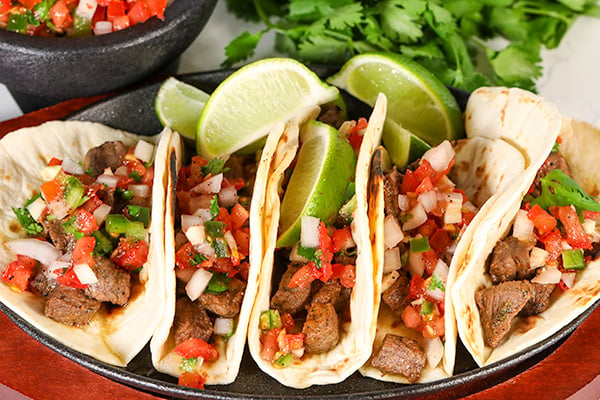 What is the best way to chop the ingredients for Pico?
You can simply use a sharp knife to chop the ingredients to the size of your preference, or you can use something like this vegetable chopper. This is the exact vegetable chopper that I bought from Amazon and it is great for recipes like Pico De Gallo. Using a vegetable chopper, the ingredients are evenly chopped which makes my perfection loving soul happy.
To be clear, a vegetable chopper is not necessary to make Pico, however it does simplify the process. If you are cutting vegetables by hand, just be sure that your knife is sharp. There are few things worse than trying to chop tomatoes with a dull knife.
How long will fresh Pico De Gallo last before going bad?
You can store Pico De Gallo in a covered container in the refrigerator for about 4-6 days. I like to make a batch and use it all week long!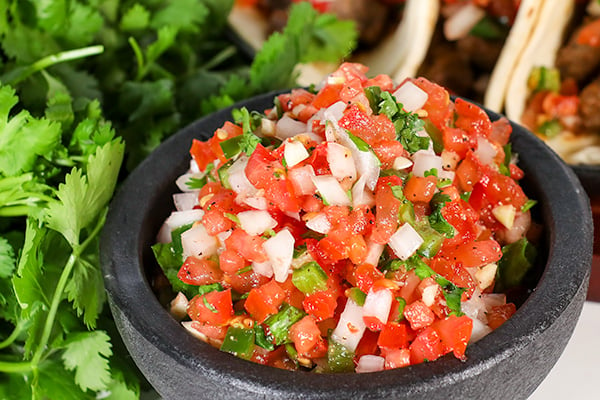 What should I serve Pico De Gallo with?
Pico De Gallo is good with SO many different recipes. I love it with tacos and quesadillas, and it's also pretty tasty on a baked potato (try it!). I'm also pretty enthusiastic about scooping it up with tortilla chips. The options are endless.
Here are some of my favorite Mexican inspired recipes that this Pico would be so great with:
Pico De Gallo is a simple, easy, healthy condiment that can add so much flavor to a variety of recipes. It is thicker in consistency than Salsa and best made with juicy garden fresh tomatoes. I make this year-round, and often times with a batch of The Best Homemade Guacamole.
Enjoy!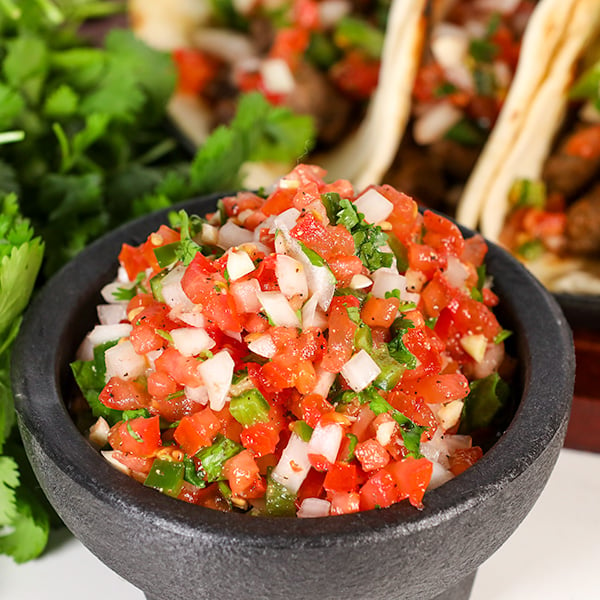 INGREDIENTS
3 average vine-ripened tomatoes, diced (Or about 5-6 average roma tomatoes)
1-2 jalapeños (remove seeds and ribs for mild, or include some or all of the seeds and ribs if you like it spicy), diced
1/4-1/2 white onion, diced
1/3 cup fresh cilantro (more or less to taste), chopped
1 lime, juiced
1 teaspoon salt
*Optional seasonings: 1/4 teaspoon ground cumin, 1/4 teaspoon ground black pepper
*Optional ingredients: 2-3 cloves garlic – minced, 1/2-1 green bell pepper, diced
DIRECTIONS
Dice and chop all ingredients. This vegetable chopper is especially useful in this Pico De Gallo recipe.
Combine all ingredients in a large bowl. Toss to combine. Cover and refrigerate for 1-2 hours before serving.
The salt will draw out liquid from the tomatoes. Drain as much or as little of the liquid as you prefer before serving.
Cover and store any leftovers in the refrigerator for 4-6 days.