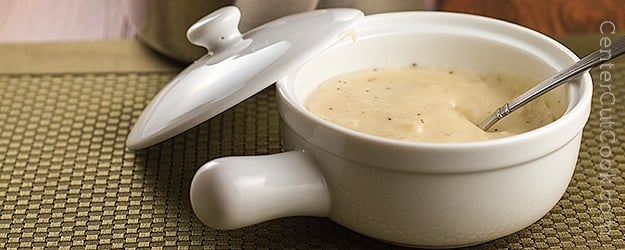 Any time I am perusing Pinterest (are you following me yet?), I always come across a bazillion different recipes that call for cream of whatever soup… cream of chicken soup, cream of mushroom soup, etc. And finally, I realized why. Cream soups tend to be involved in quick recipes, and most people I know don't have an hour to spend making dinner. They've got about 30 minutes, and recipes that call for cream of whatever soup tend to come together quickly. Usually they're casseroles where the oven does most of the work for you.
There's only one problem though, well, actually two problems. Either you're like me and you don't like the gloppy gloop (is glop a word?) creamy mess that comes out of the can of cream of chicken soup, or, you don't mind the stuff, you just don't have a can on hand and don't feel like running to the store.
The solution to both of these problems? Make this easy cream soup substitute. It literally comes together in about 5 minutes and takes minimal effort! And, to boot, it can be frozen and stored in the freezer for about 3 months which means you can make a big batch and divide it up into single use servings.
One of my favorite ways to use this cream soup substitute is in my recipe for Hash Brown Casserole. This recipe is the equivalent of one 10.75 ounce can of cream soup. Just a warning, it will be thick, but that's the way it's supposed to be.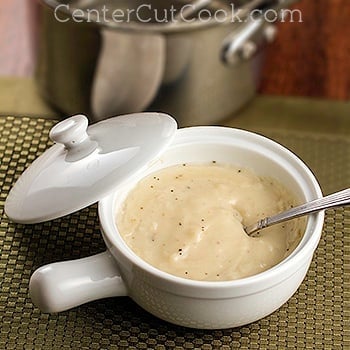 INGREDIENTS
2 tablespoons butter
3 tablespoons flour
1/2 cup chicken broth
1/2 cup milk (I used 1%)
1/4 teaspoon salt
1/4 teaspoon black pepper
DIRECTIONS
In a small sauce pan, melt butter over medium-low heat. Whisk in flour and let cook for 1-2 minutes.
Slowly stir in chicken broth, then milk. Whisk until it begins to thicken. Let it simmer for a few minutes. Season with salt and pepper.
Recipe from
CenterCutCook