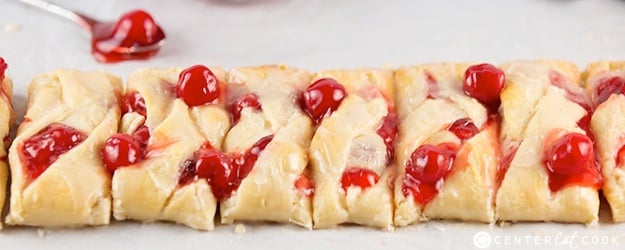 When it comes to cheese danish, it goes down as one of my favorite options for a special breakfast treat. The only problem is that when I want it, I sometimes don't have the time to allow the dough to rise and do its thing like with this recipe for Cinnamon Braid Coffee Cake. The solution? This easy recipe for braided Cheese Danish that's made with crescent rolls!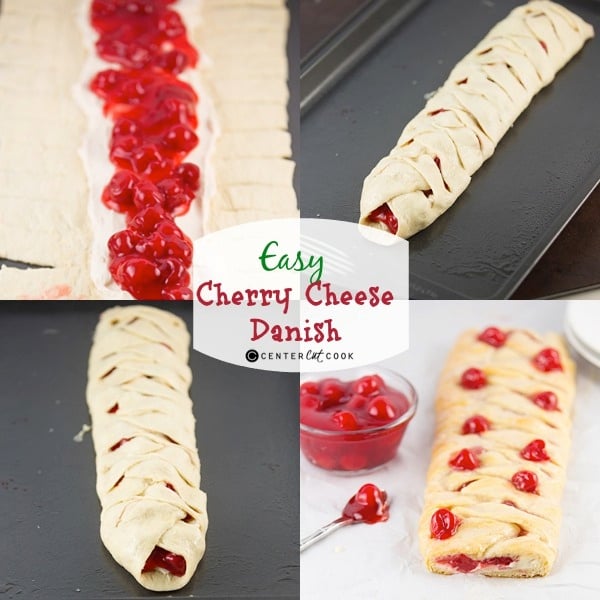 The best part about this recipe is that it's versatile. You can make it as a plain cheese danish, OR you can add in fun options like cherries like I did with this Cherry Cheese Danish. I used cherry pie filling, but you could also use any flavor of preserves that you'd like – blackberry, strawberry, raspberry, etc. And of course you can swap in a variety of pie fillings too in place of the cherry like apple or even peach.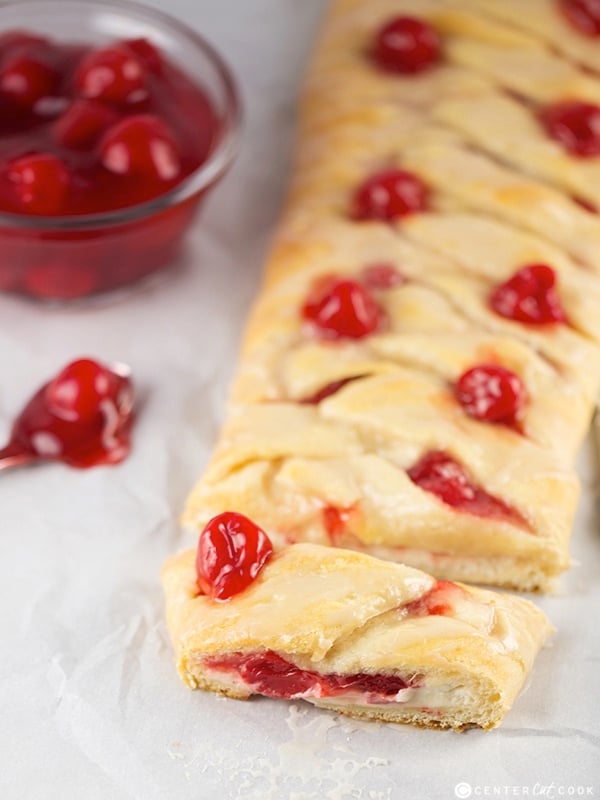 Because this recipe is made with crescent rolls, I like to buy the seamless dough sheet that most grocery stores sell so that I don't have to pinch together any seams like you'd have to do if you bought regular crescent rolls. I decided to make this a braided version just because it looks so fancy, yet hardly takes any time to do. I promise, it is so easy to make and those that you serve this to will be IMPRESSED!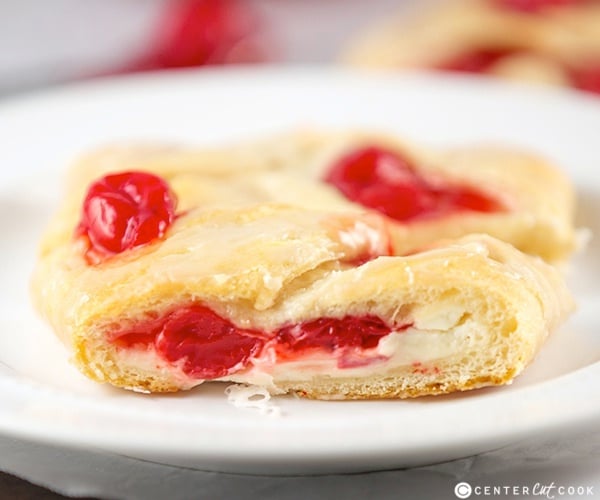 Enjoy this super quick and easy Braided Cherry Cheese Danish!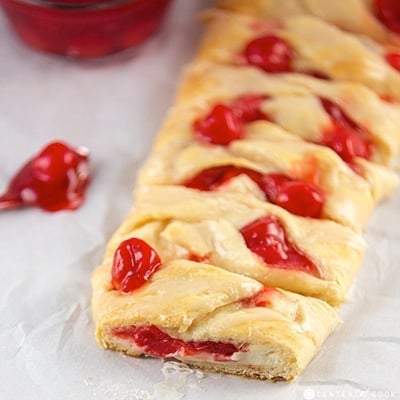 DANISH INGREDIENTS
1 tube Pillsbury Crescent Recipe Creations – Seamless Dough Sheet (you can also use a tube of regular crescent rolls, but you will need to pinch the seams together. The seamless dough sheet is much easier to work with and most grocery stores sell it.
8 ounce package cream cheese softened
2 Tablespoons granulated sugar
1 Tablespoon vanilla extract
1/2 cup to 3/4 cup cherry pie filling (you can also use any preserves or jelly of your choice, or omit this altogether for a delicious plain cheese danish)
GLAZE INGREDIENTS
DIRECTIONS
Pre-heat your oven to 375 degrees.
Spray a large rimmed baking sheet with non-stick cooking spray.
With your mixer, beat together an 8 ounce package of cream cheese with 2 tablespoons granulated sugar and 1 tablespoons vanilla extract. Beat until smooth.
Unroll a seamless dough sheet onto the baking sheet.
On each long side of the dough, make 2 inch long cuts about 1 inch apart using a sharp knife, pizza cutter, or kitchen scissors.
Spread the cheese filling down the middle of the dough.
If adding fruit, spread about 1/2 cup (or more if you wish) of cherry pie filling on top of the cheese layer.
Starting at one end, fold the strips over the filling on an angle alternating from one side to the other. This will give it the braided look.
Bake for 15-20 minutes, or until the danish is golden brown.
While the danish is baking, make the icing. In a medium sized bowl whisk together powdered sugar with 3 tablespoons milk and 1/2 teaspoon vanilla extract.
Allow the danish to cool for 10-15 minutes before drizzling the icing over the danish. I poured the icing in a ziplock bag, snipped the tip, and piped the icing over the danish. Alternatively, you could dip a fork in the icing and drizzle it over the danish.
Cut into slices and enjoy!
Recipe from
CenterCutCook