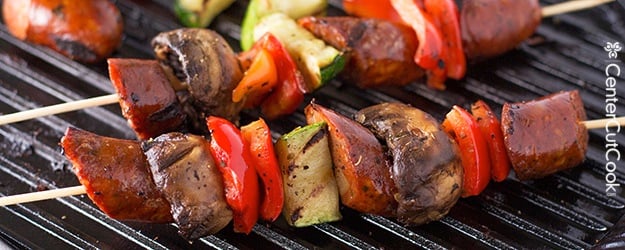 What have you been up to this week?
I've been up to making these smoky, delicious, grilled Chicken Sausage Kabobs…
and pretending I'm a runner. I have a love/hate relationship with running and I could be here all day telling you about all of the times I've attempted to take up running, and fail. But that'd be boring for both you and I and I'd much rather talk about these Kabobs…
Smoked tender chicken sausage, grilled on a skewer to perfection with red peppers, zucchini, and mushrooms. Are you drooling yet?
If you aren't drooling yet, at the very least, your olfactory perception (that's a fancy way for saying sense of smell) should be going nuts right about now. Look at this picture (above)!!!
I am a complete photography newb so when I actually captured the smoke coming off these kabobs I was so excited. Smoke should never bring anyone as much excitement as it brings me here…
Can't you just smell that smokiness from the sausage? It makes me want to run to the kitchen and grill up some more!
Did you happen to notice the fact that I'm using a fancy Le Creuset Bistro Grill, that's round, and my skewers happen to perfectly fit around the round pan? It's called Fire Wire and it's ingenious! Flexible grilling skewers that are super long and flexible means I can skewer the meat, plop the whole skewer of food in a bag to marinate, then just pull it out when I'm ready to grill.
I thought I just heard you say that you'd love to have your very own cast iron Bistro Grill from Le Creuset and the Fire Wire would be awesome too? You're in luck because I've teamed up with Le Creuset to make this happen! Checkout my Le Creuset and FireWire Giveaway here, or enter below:
The giveaway has ended. Congrats to the winners, Heather and Allison!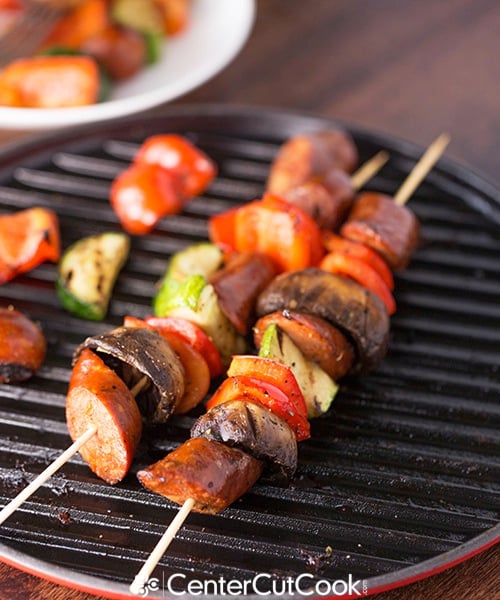 Here are the links to buy your own Le Creuset Bistro Grill (click here) and Fire Wire Grilling Skewers.
Prior to owning Fire Wire, I used bamboo skewers which is a route you can take too (pictured above). Just be sure to soak your bamboo skewers in water for at least 20 minutes before grilling so that they don't burn up on you.
I served these Grilled Chicken Sausage Kabobs with a salad and it was a delightful summer supper. We had leftovers, so the next night I made a salad and tossed the chunks of grilled meat and veggies right on the salad. It was delish!
Can we talk about the chicken sausage for a minute? I am no stranger to cooking with chicken sausage as seen with this Italian Chicken Sausage Pasta or this Spicy Sausage Skillet or this Italian Chicken Sausage Skillet. I love cooking with it because it's a bit healthier than traditional pork sausage, it's fully cooked, and it's good stuff!
With this particular recipe I used a new variety I found at Costco: Aidells Manchego Cheese with Fire Roasted Onions. Holy moly. Good stuff. If you checkout Aidells website you can take a look at the different options they sell, and where you can buy them. Gluten free, no nitrates. Awesome.
Note: I tend to place the meat and vegetables on different skewers because they tend to require different cooking times. This makes it easy to perfectly cook the meat and vegetables.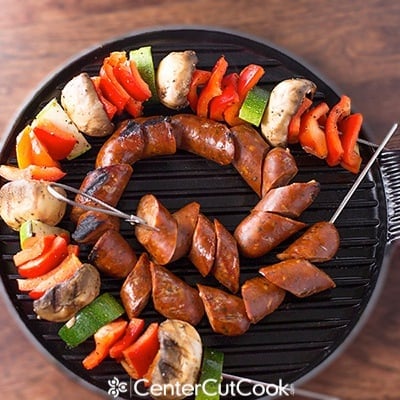 INGREDIENTS
3 pounds fully cooked smoked Chicken Sausage, cut into pieces, any flavor you'd like
1 zucchini, cut into 1/4 inch chunks
1 red bell pepper, cut into chunks
8 ounces mushrooms
1 tablespoon olive oil
1/2 teaspoon salt
1/2 teaspoon black pepper
DIRECTIONS
Toss the vegetables with 1 tablespoon olive oil, 1/2 teaspoon salt and 1/2 teaspoon black pepper.
Skewer the sausage and vegetables. I skewer them separately because they cook for different lengths. If using bamboo skewers, soak the skewers in water for at least 20 minutes prior so that they don't burn.
Heat a grill or grill pan to medium-high heat.
Place the meat and veggies on the grill. Occassionally turn the skewers so that they cook evenly. The meat will be heated through after about 8 minutes, and the vegetables will be tender and lightly charred after about 10 minutes. If you use fresh sausage, they need to be cooked through until they're firm to the touch- about 15-20 minutes.
Recipe from
CenterCutCook