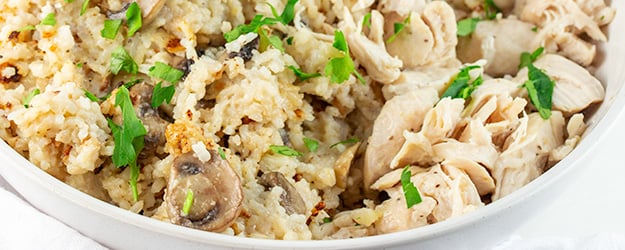 The Instant Pot is wonderful for making so many things from chili to pot roast, Mac & Cheese and everything in between including this recipe for Instant Pot Chicken and Rice. Chicken and Rice casserole is such a classic recipe, so I decided I'd try making it in the Instant Pot and the result was creamy and delicious and the chicken was so tender!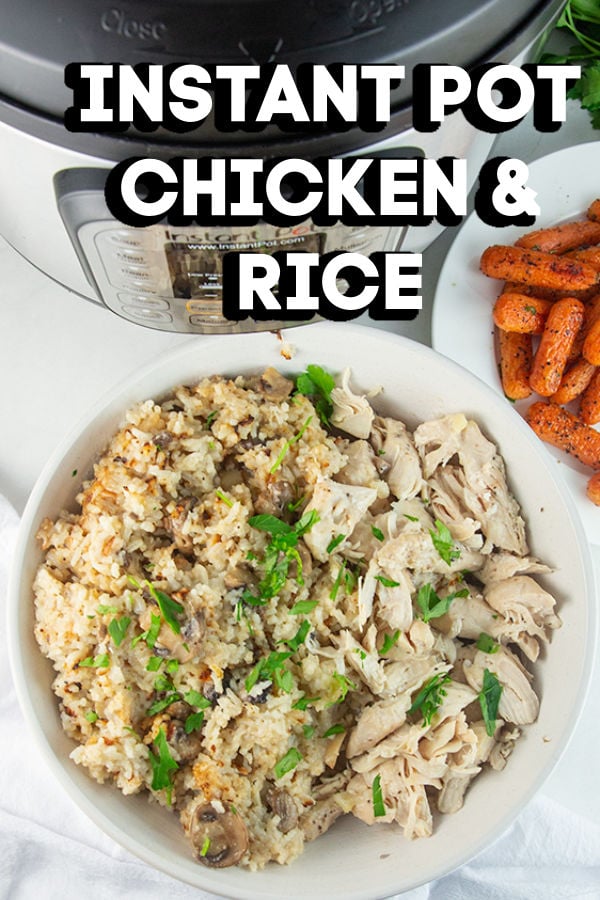 The Instant Pot has become quite the popular kitchen gadget over the last several years, and for good reason. It is so versatile with multiple settings. You can use it as a slow cooker, or a pressure cooker, and there's even a sauté setting. I saw recently that they came out with an air fryer lid so that you can convert your Instant Pot into an air fryer! Despite all of these cool features, I still tend to use it most for its original intention – to pressure cook.
To make this recipe, you will be using both the sauté feature and the pressure cook feature.
What ingredients do I need?
The ingredient list is pretty simple and can be changed up in a couple of different ways.
Chicken: I used boneless skinless chicken breast tenders, but you could also use chicken thighs in this recipe if that is your preference. If you use a regular sized chicken breast (and not tenders) just be sure to cut them in half length-wise.
Vegetables: The veggies in this recipe can be changed up however you would like. I used about 8 ounces of fresh mushrooms, 1 small yellow onion and a few cloves of garlic. If you do not like mushrooms, leave them out. Carrots would be a delicious addition or even spinach.
Rice: I used white rice in this recipe. One tip that you can try for fluffier rice is to rinse the rice until the water that is draining out is clear. This step is totally optional but one I usually try to remember to do. You could substitute jasmine rice for this recipe and it would also work well.
Cream of Mushroom Soup: Everybody has their opinion on pre-made canned cream soup. Some don't mind it, others do. Back in the day I always used to make a cream soup substitute from scratch which you can find here. But, these days as a young widowed mama, I take all of the shortcuts I can to make getting dinner on the table a little bit easier and sometimes that means using a can of cream soup. You can use cream of chicken soup as well if you do not have cream of mushroom on hand. The soup really does make this Creamy Chicken and Rice so delicious.
Cheese: I was aiming to create a comforting chicken and rice recipe and wanted it to be creamy and delicious! I thought parmesan cheese would make a fabulous creamy addition and I was right. It's so good. This ingredient is totally optional but if you decide to use it, I recommend using a microplane grater to finely grate the parmesan cheese. Finely grated cheese melts so much better.
Seasoning: I used salt and pepper to season this recipe and that's it! Don't be afraid to taste the chicken and rice when it's done cooking to see if it needs any additional salt or pepper. I did not add any additional salt but I did add some extra pepper.
Garnish: Chicken and Rice is so delicious but it doesn't always look super pretty. That's just the way it is with many recipes made in a slow cooker or an instant pot. I like to brighten it up by adding some chopped fresh parsley for garnish.
Tips for making Instant Pot Chicken and Rice
It is important to layer the ingredients in the Instant Pot in the order listed below in the instructions.
You'll start by setting the instant pot to sauté, then you'll add a little bit of butter to cook the mushrooms and onions. When the veggies are tender, you'll stir in a little bit of garlic. Remember that you can change up the veggies however you'd like. If you don't like mushrooms, you do not need to use them. Carrots would also be a delicious option. Sometimes I'll stir in spinach at the very end just before serving.
Once the veggies are tender, I like to deglaze the pot with the chicken broth. You'll be using about 2 cups of broth for this recipe. Make sure to scrape up and of those bits that are stuck to the bottom of the pan as you add in the chicken broth.
From there you'll add in the rice and place the chicken on top. Just spoon the cream soup over the top of the chicken. Do not stir it in.
This recipe will cook for about 10 minutes in the Instant Pot but remember that it'll take about 10 minutes for the Instant Pot to come up to pressure before the timer will begin counting down.
Once the Instant Pot has cooked for 10 minutes and the timer goes off, you will be letting it naturally release for another 10 minutes. After the Instant Pot has naturally released for 10 minutes, use a long utensil like a kitchen spoon or tongs to switch the valve from sealing to venting. Have a kitchen towel handy to cover the valve so that it doesn't spew juices all over.
From there you'll pull the chicken out to shred it while stirring in the parmesan cheese with the rice.
That's it! This really really such an easy recipe to make, and one of my go-to recipes for chicken and rice in the Instant Pot.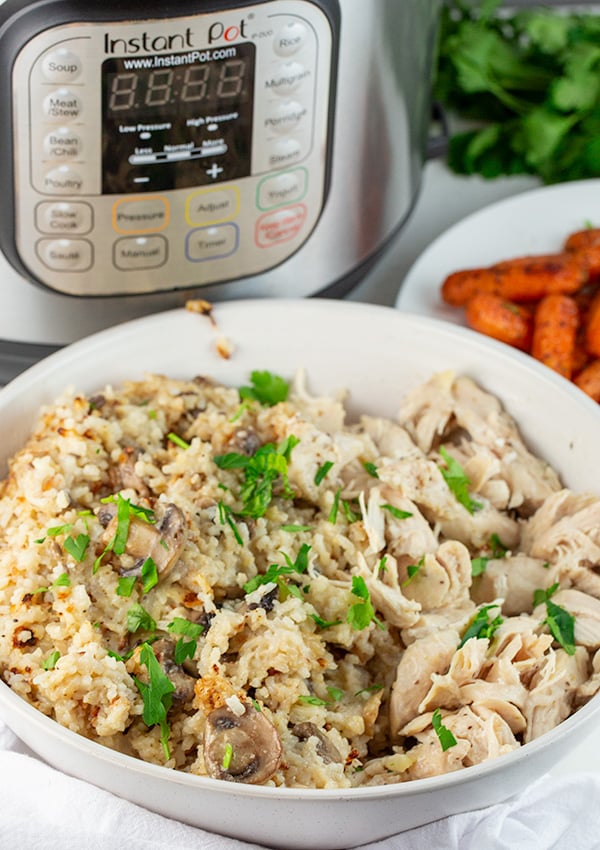 What to serve with Instant Pot Chicken and Rice
I have a delicious recipe for roasted carrots that goes perfectly with this recipe and you can find that here..
Other delicious options would be my Oven Roasted Asparagus or Pan Roasted Green Beans with Garlic Sauce.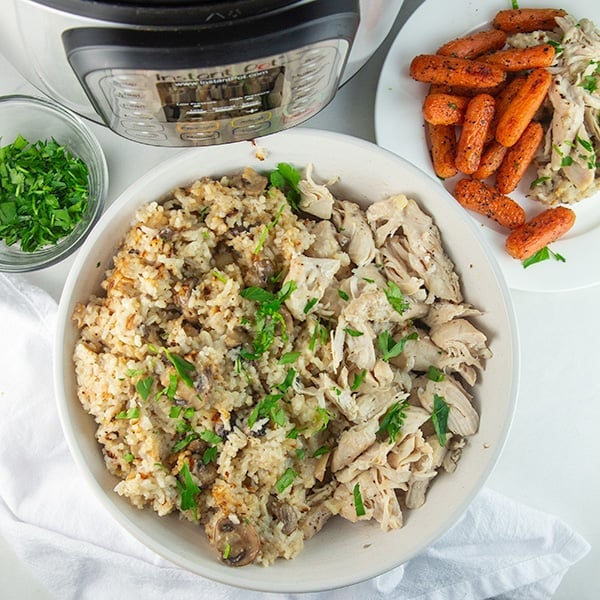 INGREDIENTS
1 pound boneless skinless chicken breast tenders or chicken thighs
1 tablespoon butter
1 small yellow onion diced
8 ounces fresh mushrooms, sliced
4 cloves garlic, minced
2 cups chicken stock or broth
1 and 1/2 cups uncooked white rice
1- 10 ounce can cream of mushroom or cream of chicken condensed soup (or make your own)
Salt and pepper to taste
1/2 cup finely grated parmesan cheese *optional
Parsley for garnish *optional
DIRECTIONS
Generously season chicken with salt and pepper and set aside.
Spray Instant Pot with cooking spray
Turn on Instant Pot on the Sauté feature. When it's hot add 1 tablespoon butter.
Add in diced onion and fresh mushrooms. Sauté until tender.
Add in minced garlic and sauté for about 30 seconds longer
Add in Chicken stock and use a spoon to deglaze the pan and scrape up any bits stuck to the bottom of the pot.
Press clear/off.
Add in rice, then place seasoned chicken breasts on top.
Spread condensed mushroom soup over the top of the chicken (You can make your own condensed cream soup here)
Place the lid on the Instant Pot and make sure the valve is set to sealing.
Turn on instant pot to "manual" then choose high pressure and set the timer for 10 minutes.
Allow the instant pot to naturally release pressure for 10 minutes then carefully switch the valve to venting to release any remaining pressure (I like to use tongs to do this so that I don't get burned).
When all of the pressure has released, the float valve will drop down which means you can open the lid.
Remove the chicken and shred it.
Stir in finely grated parmesan cheese if you wish and stir well.
Stir in the chicken or serve it on the side.
Servings: 4
Recipe adapted from
Spend with Pennies