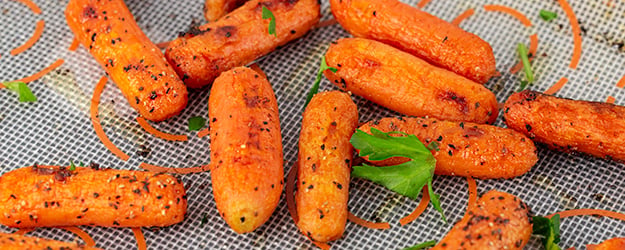 Oven Roasted Carrots is a simple, easy, flavorful side dish that goes perfectly with so many main dishes . One of the most popular side dish recipes that readers love is this recipe for Garlic Roasted Potatoes and Carrots, but sometimes you don't have potatoes on hand or you just want carrots! This will be your go-to recipe explaining how to make roasted carrots.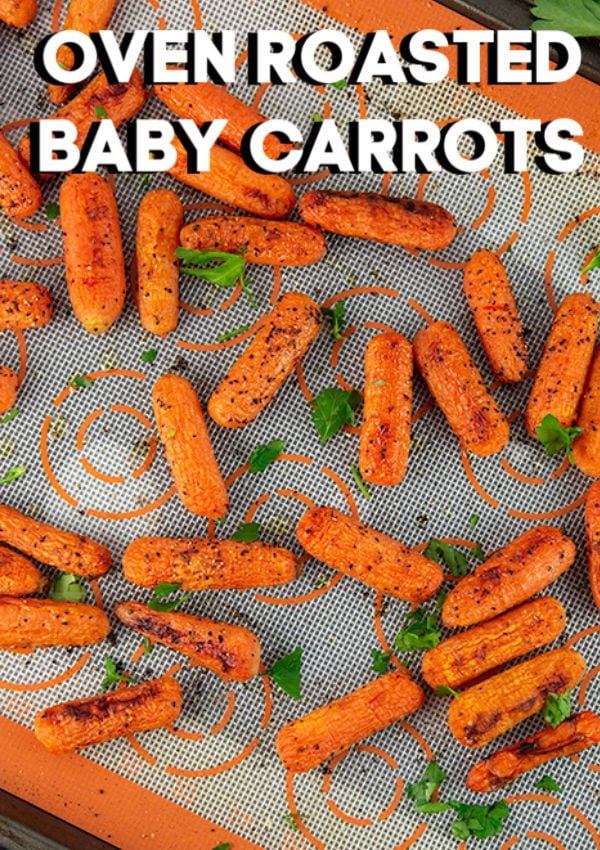 How to roast carrots
Roasting carrots is a super simple process. You will want to start by lining a baking sheet with foil or a silicone baking mat. For this recipe I used a 1 pound bag of baby carrots which serves about 4 people as a side dish. You can always double the recipe if you need to serve more.
Whole carrots that are peeled and cut into baby carrot sized pieces can be used, but the entire process is much easier when using baby carrots because you do not have to worry about chopping carrots into even, bite-sized pieces. The work is already done for you and this simplifies the process of getting dinner on the table.
It is also really important that you season the carrots with salt and pepper. I used about 1/4 teaspoon salt and 1/4 teaspoon black pepper but feel free to adjust the amount according to your preference.
What temperature do you roast carrots at?
I have experimented with roasting carrots at 450 degrees, 425 degrees and 400 degrees and the carrots were the best when they were roasted at 425 degrees.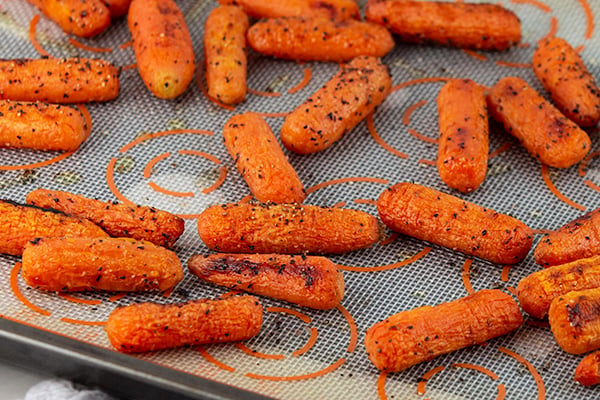 How long does it take to roast carrots at 425 degrees F?
If you are roasting carrots at 425 degrees F, it will take about 20-25 minutes for them to become fork tender. Start checking them at 20 minutes, then continue roasting the carrots until they're done to your liking. I like the charred look and taste, so I tend to cook my carrots a bit longer to achieve that.
Pro tip: Make sure to flip the carrots halfway during the roasting process.
Do I have to use olive oil?
You do not have to use olive oil, although that is what I recommend. Another good option would be avocado oil if you don't have olive oil on hand.
What goes with roasted baby carrots?
Carrots are so versatile and go with SO many recipes. One of my favorite recipes to serve it with is this recipe for Instant Pot Chicken and Rice. Another really delicious option is to serve it with our Baked Ranch Chicken.
I hope you enjoy this recipe for Roasted Carrots. It is a favorite in our house not only because it's simple and delicious, but also because it goes well with so many of the main dishes that I cook for dinner. My 5 year old isn't a fan of "crunchy" carrots as he calls them, but he sure loves these roasted carrots.
If you make this recipe, please take a picture and take me on Instagram! On Instagram I can be found @centercutcook
Enjoy!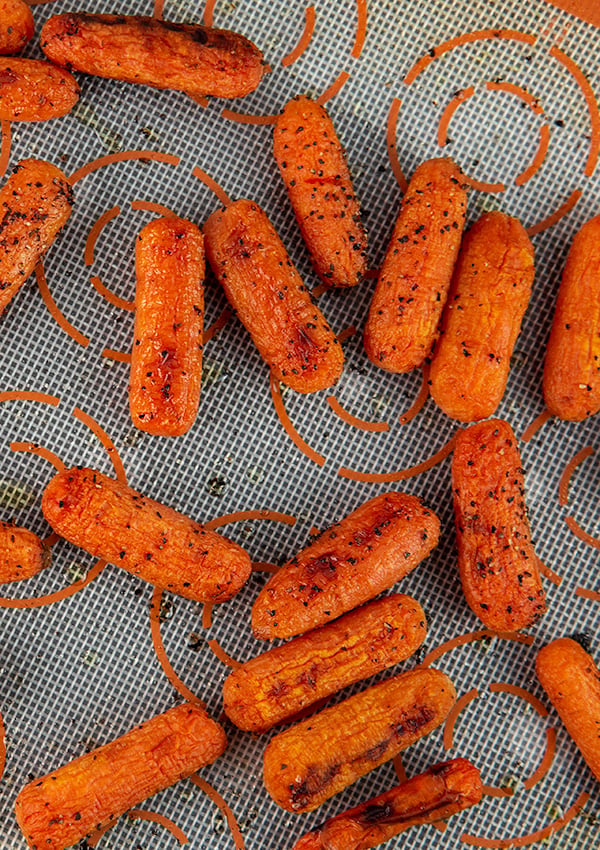 Looking for other similar side dishes like Roasted Carrots?
Here are a few more similar side dishes that are delicious with a wide variety of main dishes from meat and fish to poultry and more!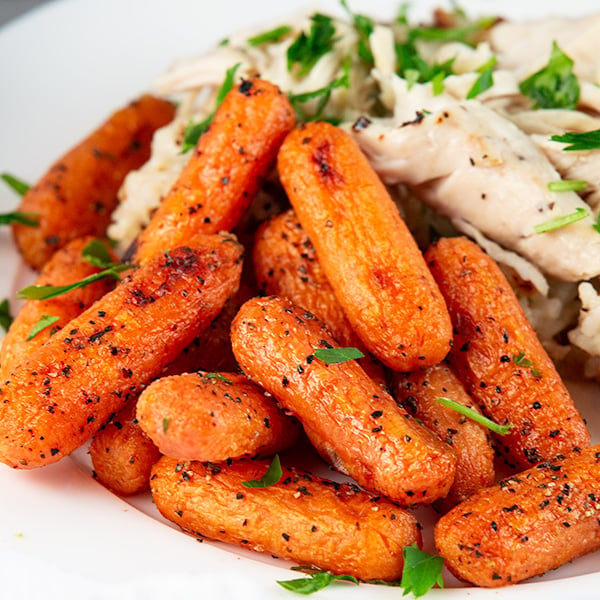 INGREDIENTS
1 pound baby carrots
1 tablespoon olive oil
1/4 teaspoon salt
1/4 teaspoon black pepper
DIRECTIONS
Preheat the oven to 425 F
Line a large rimmed baking sheet with foil or a silicone liner
Place the carrots on the baking sheet, then toss them with 1 tablespoon olive oil and 1/4 teaspoon each of salt and pepper (more or less to taste)
Spread the carrots out evenly on the baking sheet
Bake for 20-25 minutes until carrots are fork tender making sure to flip the carrots halfway through.
Servings: 4-6