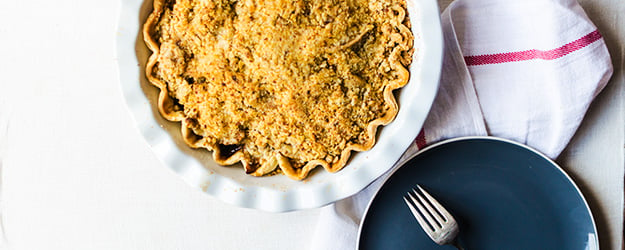 Buttery, flaky crust; sweet apple filling; and a crunchy crumb topping make this apple crumble pie an irresistible dessert that will have you begging for more.
There is nothing like a slice of pie to put a smile on your face. To be honest, we aren't huge fans of store bought pies because they tend to be bland and all taste sort of the same. So whenever there is a homemade pie around, we tend to go a bit crazy. One of my favorite pies to make is an apple crumble pie. It is easier and quicker to put together than most other pies. We can also have it year-round since apples are always available at the grocery stores.
You can use almost any variety of apple that you enjoy. I recommend a firm, tart apple like granny smith, but I've also had some good results using other varieties as well. I recommend avoiding red delicious apples at all costs as they do not hold their shape or bake as well.
Since the apple crumble pie is topped with a buttery crumb topping, there is only one pie crust involved. You can always use a store bought pie crust, but it is really worth trying out this single pie crust. It is an all butter crust and is the flakiest thing you will ever taste. It is very easy to handle and great for a beginner pie baker.
To ensure the best crust, I do have a few tips for you. Keep everything as cold as possible!! I cut my butter into cubes, then freeze them for about 30 minutes. If it is warm out, I will also measure out the flour I need and freeze that with the butter. When you roll out your dough, you can also use chilled flour to coat your rolling pin. I also put my rolling pin in the refrigerator for a few minutes before I start rolling. After I roll out my dough and place it in the pie tin, I keep it in the freezer while I work on the other parts of the pie.
Since everything should be cold, I tend to make my crust and crumble the day before, then roll out the pie dough and make the filling the day I plan on baking. To be completely honest, I will usually make a couple of pie crusts and crumble toppings and store them in the freezer already portioned out so I can make this apple crumble pie whenever the craving strikes.
This apple crumble pie is best the day it is made, but will last for up to three days. I like to reheat slices of pie in the oven at 300 degrees F for about 10 – 15 minutes, then top with ice cream.
PIE CRUST INGREDIENTS
1 1/4 cups all-purpose flour
1/2 teaspoon salt
1/2 teaspoon sugar
8 tablespoons unsalted butter, cut in cubes and frozen
2 tablespoons ice water
FILLING INGREDIENTS
CRUMB TOPPING INGREDIENTS
1 cup all-purpose flour
6 tablespoons unsalted butter, cut in cubes and frozen
1/4 cup brown sugar
1/4 teaspoon salt
DIRECTIONS
Make the pie crust. Mix together the flour, sugar, and salt together and place in a food processor. Add in the cubed butter and pulse 10 times, or until the mixture looks like crumbs the size of lentils.
Pour the ice water around the flour mixture and pulse for another four times. Check the mixture by gently pressing on it. If it does not stick together, add another tablespoon of ice water and pulse another two times.
Turn out the mixture onto plastic wrap and shape into a disc. Chill in the refrigerator for at least an hour.
Once chilled, roll out until it is about 12 inches in diameter and place in a 9-inch pie tin. Freeze the pie tin with the dough while you make the filling.
Cut and core the apples. You can peel them first, but it is not mandatory. Quickly toss with the cornstarch, lemon juice, cinnamon, nutmeg, brown sugar, and vanilla. Set aside at room temperature as you make the crumb topping.
Add the flour, butter, brown sugar, and salt together in your food processor (you don't have to wash out the food processor from making the pie crust). Pulse for about 10 times until the mixture resembles large crumbs.
Take the pie crust from the freezer and fill with the apple filling, then the crumb topping.
Place in the freezer as you preheat the oven to 375 degrees F.
Bake the pie for about 20 minutes. Cover, then bake for another 30 – 40 minutes, or until the filing is bubbling.