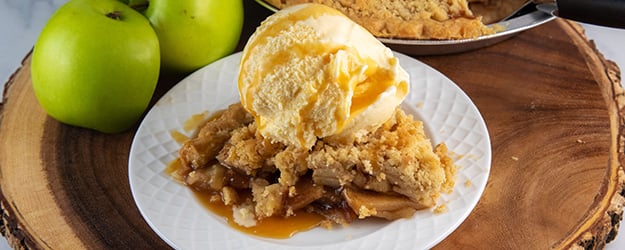 Apple Crumble Pie is one of those desserts that can easily change an ok day to an awesome day – it's cozy, comforting and fragrant. I mean truly, is there anything better than the smell of apples and cinnamon on a fall day? There's nothing like a slice of this Apple Crumble Pie to put a smile on your face.
This Apple Crumble Pie, which also could be called a Dutch Apple Pie, is a bit easier to put together than a more traditional apple pie. And because apples are available year-round at the grocery store, it can be made any time of year although it's extra incredible in the fall with orchard fresh apples that you've twisted and pulled from an apple tree with your very own hands.
What kind of apples should I use?
When you are baking with apples, it is best to use a firm, tart apple like a Granny Smith. Those are the bright green, beautiful apples that you see at the grocery store. When baked, Granny Smith Apples become less tart and more sweet and delicious. Other apples will work, but Granny Smith is my preferred choice for both taste, and their ability to hold their shape when baked.
What kind of crust should I use?
Below you will find instructions for making a homemade crust but you can also use a pre-made crust from the grocery store.
If you choose to make a homemade crust, here are a few tips to be successful:
First, make sure that all of your ingredients are as cold as possible. Do not pull anything out of the fridge until you absolutely need it.
Cut your butter into cubes and then freeze it for about 30 minutes. If it is warm out, you can also measure out the flour that you will need and freeze it as well.
When you roll out the dough, you can also use chilled flour to coat the rolling pin. To take it even a step further, don't hesitate to put your rolling pin in the refrigerator for a few minutes as well, just before you start to roll out the crust. Are you seeing the theme here? Cold, cold cold = perfect crust.
After you roll out the dough and place it in the pie tin, keep it in the freezer while you work on the other parts of the pie.
Premade Crust for Apple Crumble Pie
If you do not want to make a homemade crust, go ahead and use your favorite pre-made crust from the grocery store. Marie Callender makes a pastry pie shell that works well for this crumble pie. Baking time will not change.
How long will the pie last?
Apple Crumble Pie is the absolute best the day that it is made, especially when topped with vanilla ice cream and my homemade caramel sauce but it'll last for up to three days. I like to reheat slices of pie in the oven at 300 degrees F for about 10 minutes or in the microwave for about 30 seconds.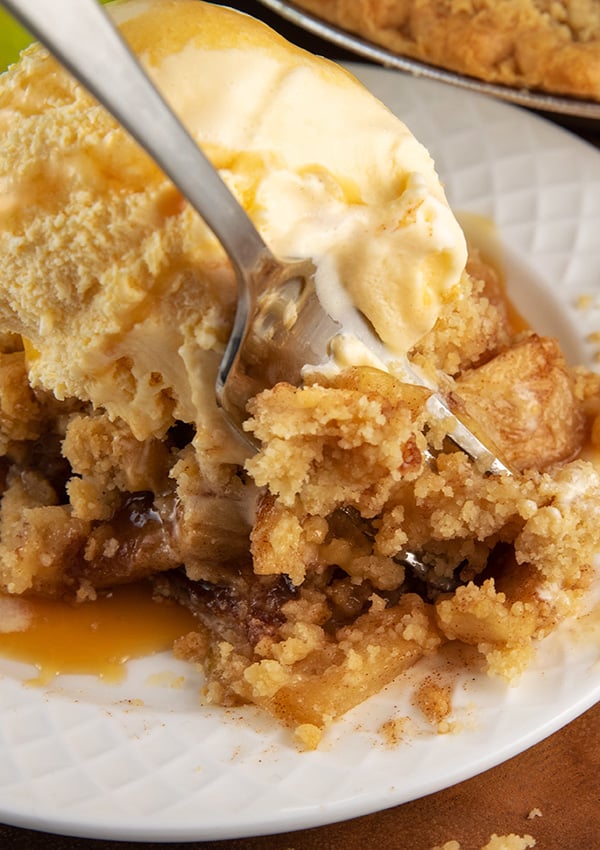 Pro tip: when making the crumble topping, feel free to use your fingers to combine the flour, butter, and brown sugar. A food processor is not required.
Looking for more delicious apple recipes? I've got you covered.
Try these Mini Apple Pies with Streusel Topping for a bite-sized treat,
Or this Homemade Apple Pie for a more traditional Apple Pie recipe.
Oh! And let's not forget this Easy Stovetop Apple Butter
Or this Pumpkin Apple Spice Cake
I hope you enjoy this recipe for Apple Crumble Pie as much as we do! As always, if you enjoyed the recipe, please come back here and leave a comment to let us know what you think or tag us on social media.
Enjoy!
PIE CRUST INGREDIENTS
1 1/4 cups all-purpose flour
1/2 teaspoon salt
1/2 teaspoon sugar
8 tablespoons unsalted butter, cut in cubes and frozen
2 tablespoons ice water
FILLING INGREDIENTS
CRUMB TOPPING INGREDIENTS
1 cup all-purpose flour
6 tablespoons unsalted butter, cut in cubes and frozen
1/4 cup brown sugar
1/4 teaspoon salt
DIRECTIONS
Make the pie crust. Mix together the flour, sugar, and salt together and place in a food processor. Add in the cubed butter and pulse 10 times, or until the mixture looks like crumbs the size of lentils.
Pour the ice water around the flour mixture and pulse for another four times. Check the mixture by gently pressing on it. If it does not stick together, add another tablespoon of ice water and pulse another two times.
Turn out the mixture onto plastic wrap and shape into a disc. Chill in the refrigerator for at least an hour.
Once chilled, roll out until it is about 12 inches in diameter and place in a 9-inch pie tin. Freeze the pie tin with the dough while you make the filling.
Cut and core the apples. You can peel them first, but it is not mandatory. Quickly toss with the cornstarch, lemon juice, cinnamon, nutmeg, brown sugar, and vanilla. Set aside at room temperature as you make the crumb topping.
Add the flour, butter, brown sugar, and salt together in your food processor (you don't have to wash out the food processor from making the pie crust). Pulse for about 10 times until the mixture resembles large crumbs. You can also use clean hands for this step or two forks.
Take the pie crust from the freezer and fill with the apple filling, then the crumb topping.
Place in the freezer as you preheat the oven to 375 degrees F.
Bake the pie for about 20 minutes. Cover, then bake for another 30 – 40 minutes, or until the filing is bubbling.
Recipe adapted from
Pie Crust from Martha Stewart