Loaded Baked Potato Salad
This Loaded Baked Potato Salad is a fun alternative to classic potato salad. It has everything you love about baked potatoes- It's made with sour cream, real bacon crumbles, cheddar cheese and chives. It's best served cold and is the perfect side for summer pot lucks and picnics! This Loaded Baked Potato Salad will soon be a summer staple in your house.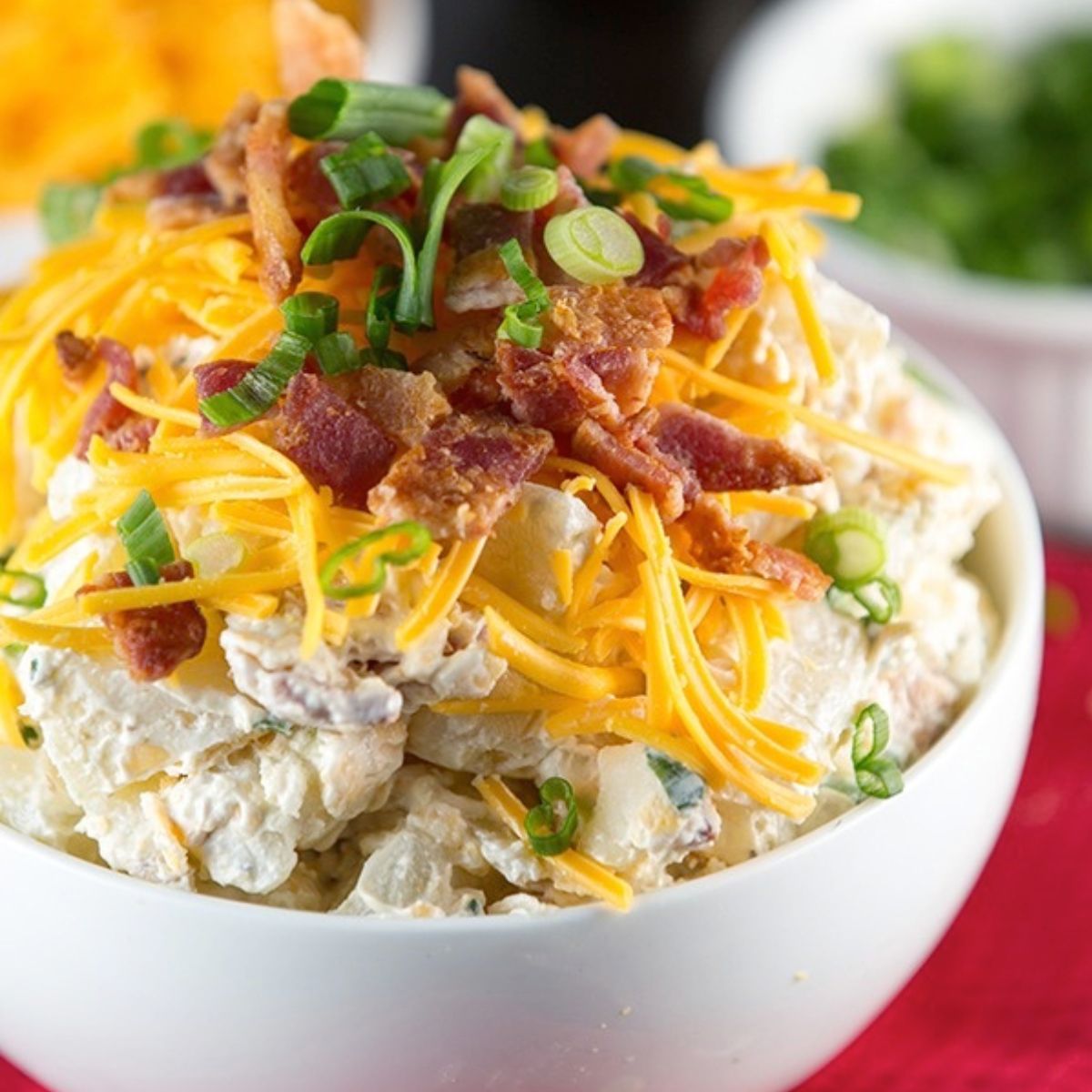 When it comes to must-have summer side dishes, potato salad is probably the #1 most requested! While traditional potato salad is always a hit, I'd like to introduce you to my recipe for Loaded Baked Potato Salad that everybody loves! I mean, just look at this potato salad, what's not to like? It's got everything you love about a loaded baked potato with real bacon crumbles, fresh cheddar cheese and chives. Just looking at these pictures of Loaded Baked Potato Salad makes me want to make another batch.You can find this potato salad at a variety of different stores including Wal-Mart and Costco, but homemade, in my opinion, always tastes better.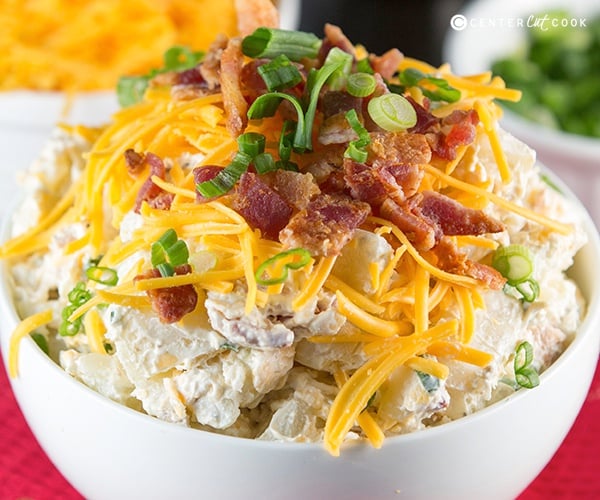 Some recipes for loaded baked potato salad call for ranch dressing, but not mine. The dressing for this potato salad is pretty basic and consists of simply sour cream and mayo. I found that keeping the dressing simple was best so that the flavors of the cheddar cheese, bacon and chives could really shine.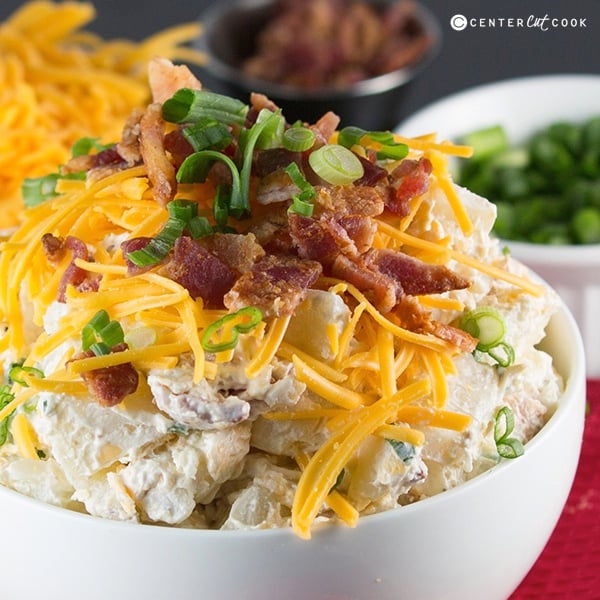 If I could offer one suggestion, okay, I guess it's two, it'd be this: #1: grate your own cheese for this recipe. Freshly grated cheese always tastes so much better than the pre-packaged stuff. Just get yourself a good box grater and it'll only take minutes to shred cheese. #2: make your own bacon. Please don't buy the bacon bits from the grocery store. This tastes SO much better if you just take the time to make the bacon fresh. My favorite way to cook bacon is to bake it, and you can find those instructions here.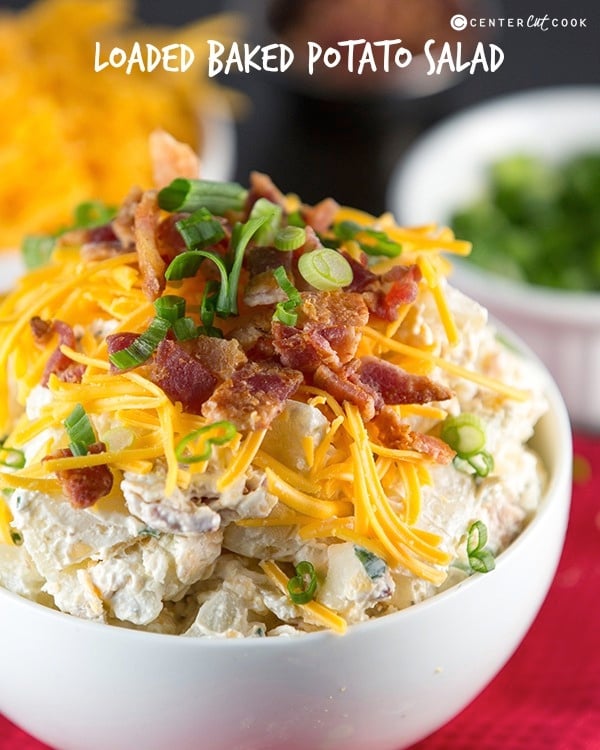 You'll need about 2 pounds of russet potatoes which should be about 6 average sized potatoes. If you're feeding a crowd, you will want to double the recipe. For the best result, make this potato salad the night before you're wanting to use it so that it can hang out in the fridge for a bit. All of the flavors will blend together and it'll taste even better than if you serve it immediately. Of course, you can just make it and serve it, but I like to chill it in the fridge overnight.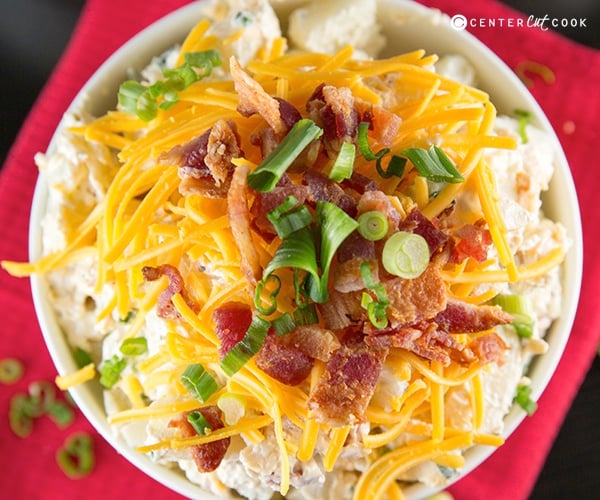 Whether you're attending a BBQ or a potluck, this Loaded Baked Potato Salad is certain to be a hit! If by chance, you are looking for additional sides to go along with this Loaded Baked Potato Salad, try my recipe for Broccoli Salad and Easy Macaroni Salad. You can't go wrong with either!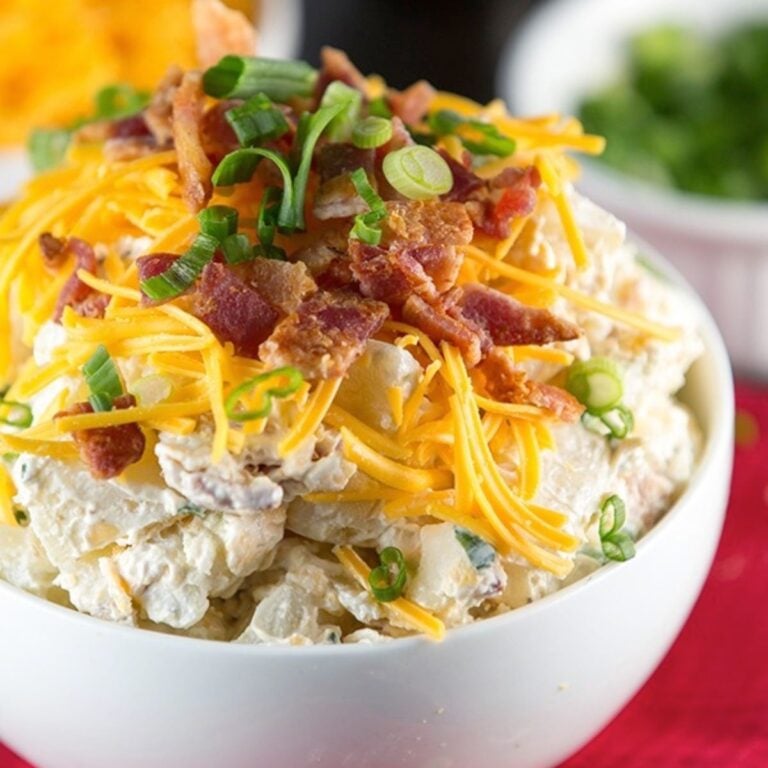 Loaded Baked Potato Salad
Loaded Baked Potato Salad has all of the flavors you love with a loaded baked potato!
Ingredients
2

pounds

russet potatoes (about 6 medium potatoes)

peeled and cut into bite sized chunks

1/2

cup

mayo

3/4

cup

sour cream

8

slices

bacon, cooked and crumbled

reserve some for garnish

1

cup

shredded cheddar cheese, divided

reserve some for garnish

3

green onions, sliced

reserve some for garnish

1/2

teaspoon

salt

1/2

teaspoon

black pepper
Instructions
Cover the potato chunks with water and bring to a boil over medium-high heat. Reduce heat to medium and simmer until the potatoes are fork-tender, about 10-15 minutes.

Drain the potatoes and allow them to cool completely.

Toss the potatoes with 1/2 of the bacon, 1/2 of the cheese, and 1/2 of the green onions, reserving the other half for garnish.

Pour the dressing over the potatoes and stir to combine.

Cover and refrigerate overnight for best results, or for several hours before serving.

Garnish the potato salad with remaining bacon, cheese, and green onions immediately before serving. Enjoy!