Homemade Apple Pie is an American Classic. There are so many ways to incorporate the flavors of Apple Pie into other delectable treats like my Caramel Apple Pie Cookies, or these Mini Apple Pies with Streusel Topping.
Another favorite variation is this recipe for Apple Pie Streusel Bars with Homemade Caramel Sauce.
These Apple Pie Streusel Bars are loaded with all of the Apple Pie Goodness that you can imagine. They have a crumbly oat crust that also doubles as the streusel topping and it's so buttery and delicious.
For the apple pie like filling, you will use tart Granny Smith Apples. They're so perfect for any apple dessert and are tossed with fresh lemon juice that adds a hint of citrusy deliciousness but also helps prevent the apples from turning brown.
The apples for the filling are also tossed with brown sugar and a little bit of vanilla. I just love the smell and taste that pure vanilla extract adds to apple desserts.
These Apple Pie Streusel Bars are baked in the oven and then topped with my incredibly delicious homemade caramel sauce. Caramel is so easy to make. Far easier than you probably think.
If you don't want to take the time to make homemade caramel, you could also use any store bought caramel that you'd like.
These Apple Pie Streusel Bars are perfect any time of year, but especially during the fall when you can go apple picking and use freshly picked apples for this dessert. I don't know about you but every time we make a trip to the apple orchard in the fall, I am always looking for delicious apple pie desserts that I can make so that all of those fresh apples don't go to waste.
These easy apple bars are bursting with hints of cinnamon, and vanilla, the perfect flavor duo for any fall dessert! To take these apple pie bars to the next level, feel free to serve them warm and top them with vanilla ice cream.
I hope you enjoy these Apple Pie Streusel Bars as much as we do!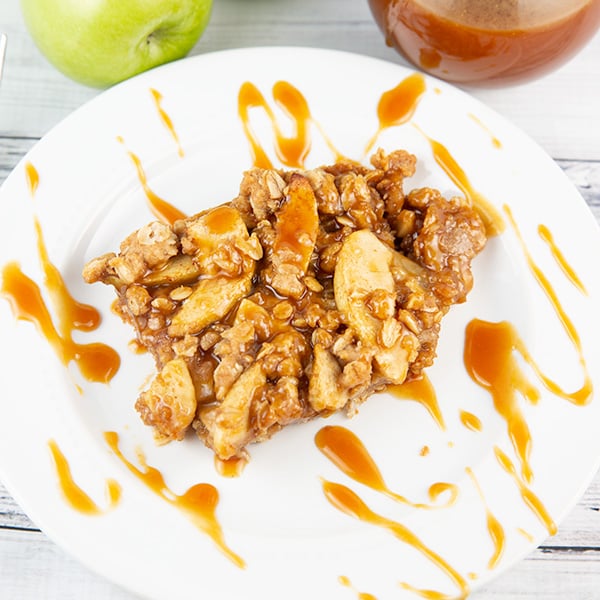 INGREDIENTS
DIRECTIONS
Preheat oven to 350 degrees F.
Spray a 9×13 inch baking dish with non-stick spray or line it with parchment paper.
Thinly slice the apples then toss them with 1 tablespoon lemon juice, 1 1/2 teaspoons vanilla extract, and 1/2 cup lightly packed brown sugar. Set aside.
In a bowl mix together oats, flour, remaining 1 cup brown sugar, cinnamon, salt and baking soda.
Add the butter to the oat mixture and stir until everything is coated and the mixture holds together when squeezed in your hands. Reserve one cup of the oat mixture and set aside while pressing the remaining mixture into the bottom of the baking pan.
Place the apple mixture into the baking dish.
Spread the remaining 1 cup of oat mixture over the apples.
Cover with foil and bake for 30 minutes. Uncover and bake for an additional 30 minutes.
Top with drizzled homemade caramel (or buy your favorite store-bought caramel sauce)<.>