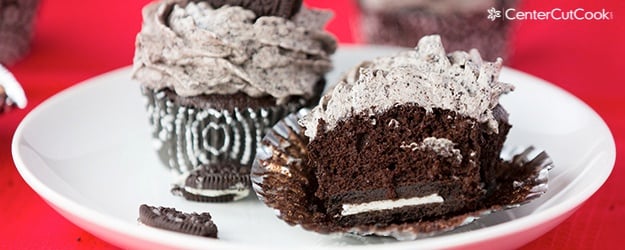 Oreos. I <3 them. If someone were to ask me what my favorite cookie is, without a doubt I'd say Oreos. That's of course if they were referring to the pre-packaged kind from the grocery store that I rarely buy. And I really only enjoy Oreo cookies if I dunk them in milk until they're soggy, and on the verge of falling apart. That's the only way to eat an Oreo, in my book!
If we were talking about the fresh, homemade kind that make my house smell like a bakery, I'd have a hard time pinpointing a favorite because there are SO many delicious options like these White Chocolate Chip Snickerdoodle Cookies or these Perfect Chocolate Chip cookies! Having delicious cookie options is never a bad thing, right?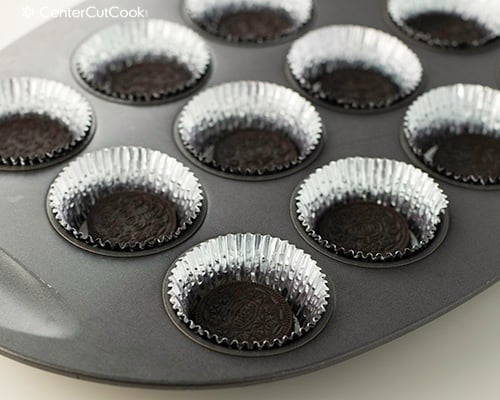 But now let's talk about cupcakes. When I decided to combine Oreos with a delectable little chocolate cupcake, I really didn't know how they'd turn out, so I tried them a couple of ways. First I experimented with putting an Oreo on the bottom of each muffin cup, pouring the batter over and baking.
Then naturally, I tried the opposite and poured the batter first, then ever so carefully pressed an Oreo into the batter so that it sat on top.
It's a good thing I conduct these types of experiments for you, so that you don't have to. ;)
In the end, I determined that the Oreo on the bottom, batter on top method worked the best mainly because it looks pretty darn cool to bite into a cupcake to discover an Oreo on the bottom. If you're not as amused with it as I am, your kids definitely will be!
I decided to slice one of these Oreo cupcakes in half so that you could see exactly what I'm talking about. What kid wouldn't think it's cool to see this when they bite into a cupcake? But of course, what's a cupcake without frosting?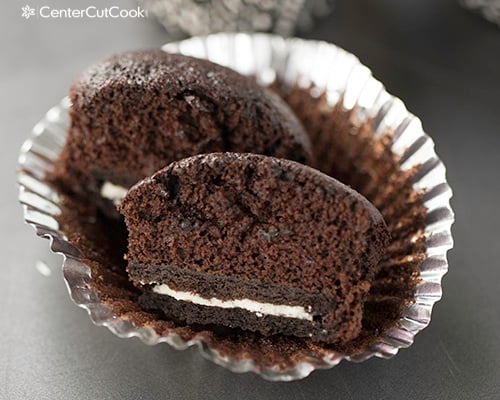 It really took no effort on my end to come up with a frosting for these guys. Chocolate Oreo Cupcakes pair perfectly with cookies and cream frosting made with Oreos! I took one of my favorite frosting recipes that I used on these Better Than Sex Cupcakes and simply added some Oreo cookies that I crushed in the food processor. The result? Creamy Oreo cookies and cream frosting!
The frosting is likely different than any frosting you've made in the past in that you start it on the stovetop with some flour and milk in a saucepan. It sounds weird, I know, but I adore this frosting recipe because it's light, and fluffy, and delicious.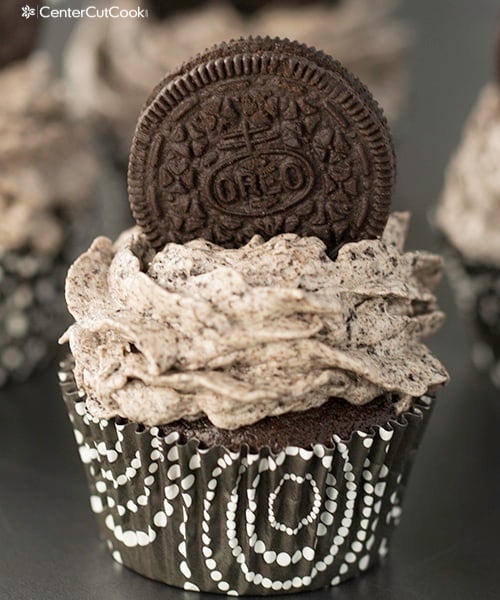 When frosting the cupcakes, you have a couple of options if you want to make them look fancy (versus just using a knife to slather on some frosting).
Option 1: Put the frosting in a ziplock bag, snip the corner of the bag and pipe the frosting onto the cupcake.
Option 2: Buy a simple, basic Cupcake Decorating Set. I bought one at Target for under $10 several years ago and it's perfect! Amazon sells almost the exact kit that I bought here. I used the Wilton 1M tip (it's a star tip) to pipe the frosting on. I started with the tip in the center, then brought it around clock-wise to frost each cupcake. If you've never decorated cupcakes before, I promise, it is so simple. If you goof, just use a spatula to scrape the frosting off and try again.
The result? Chocolate Oreo Cupcakes with Oreo Cream Frosting. Does it get any better than this? For garnish, I put another Oreo cookie on top, just because it looks cute, and I'm all about the cute factor.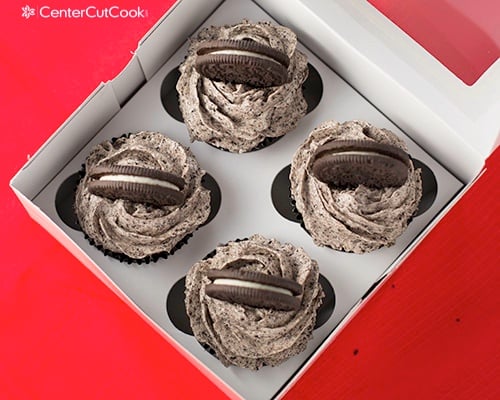 You'll get about 18 Chocolate Oreo cupcakes with cookies and cream frosting from one batch! Enough for you and your family plus some to share!
*Note, this recipe calls for bread flour to produce a lighter, less dense cupcake. You can use all-purpose if you do not have bread flour on hand, just know that your cupcakes will be a little more dense than if you use bread flour. Additionally, you will need two packages of Oreos total if you garnish each cupcake with an Oreo. If you don't add the garnish, you will only need one 15.5 ounce package.
PS: Do you ever complete a recipe and realize your forgot an ingredient? I made these and realized I forgot the oil! Oops!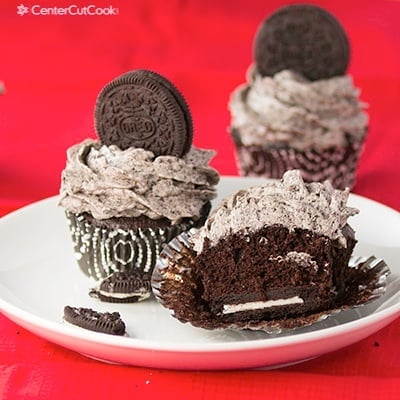 CUPCAKE INGREDIENTS
3 ounces bittersweet chocolate, finely chopped (I used Ghirardelli 60% cacao bittersweet chocolate, you could also use semi-sweet. Just make sure you use a good quality chocolate).
1/3 cup unsweetened cocoa powder (Use dutch processed cocoa powder if you can find it).
3/4 cup hot water
3/4 cup bread flour (you may sub all-purpose flour, your cupcakes will just be a little more dense)
3/4 cup sugar
1/2 teaspoon table salt
1/2 teaspoon baking soda
6 tablespoons vegetable oil
2 large eggs
2 teaspoons vanilla extract
2 teaspoons white vinegar
2 Oreo cookies per cupcake (36 cookies – one for the cupcake itself and one for garnish)
FROSTING INGREDIENTS
DIRECTIONS
Pre-heat your oven to 350 degrees. Line two cupcake pans with 18 paper liners.
In a large bowl, combine chopped bittersweet chocolate, cocoa powder, and 3/4 cup hot water. Whisk until the mixture is smooth and all of the chocolate has melted.Place this mixture in the refrigerator to chill for about 20 minutes.
In a large bowl combine flour, sugar, salt, and baking soda.
When the chocolate mixture has cooled, whisk in 6 tablespoons vegetable oil, 2 large eggs, 2 teaspoons vinegar, and 2 teaspoons vanilla extract.
Combine the dry ingredients with the wet and whisk until all of the ingredients are incorporated together.
Place an Oreo cookie on the bottom of each cupcake liner.
Pour batter over each cookie and fill each cupcake liner about 3/4 of the way full. You should get about 18 cupcakes.
Bake for 17-18 minutes, or until a toothpick inserted into the center of a cupcake comes out clean.
Cool on a wire rack.
While the cupcakes are baking, prepare the frosting. In a small sauce pan combine 5 tablespoons flour with 1 cup cold milk. I used 1%. Stir and whisk the mixture constantly over medium low heat until it becomes really thick. Place this mixture in the refrigerator or freezer for about 10 minutes so that it cools completely.
When the flour/milk mixture has cooled completely, cream together butter and sugar with your mixer. When the sugar is well incorporated into the butter, add in vanilla and mix for 30 seconds longer. Add in the thickened milk/flour mixture and mix on low for about 30 seconds. Then turn the mixer to high and mix for about 3 minutes, or until the frosting is light and fluffy, much like whipped cream. If the consistency isn't like whipped cream, keep mixing! Add in 1 cup crushed Oreos and mix for about 30 seconds.
To frost the cupcakes, place the frosting in a ziplock bag, snip the corner, and pipe frosting onto each cooled cupcake. Top with an additional Oreo for garnish.
Recipe from
CenterCutCook