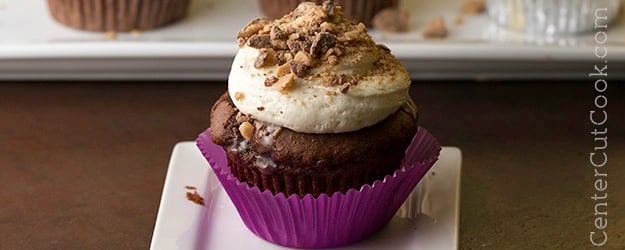 Last year when I posted the recipe for Better Than Sex Cake, I had no idea just how popular it'd become. Not only did I underestimate its potential popularity, I also had no clue how many different variations of the cake there are! Countless CenterCutCook readers have chimed in to share how they prepare this infamous cake! If you have a minute, definitely check the comments for some variation options because they all sound amazing!
Because everybody loves the cake so much, I decided that I might as well turn the cake into adorable cupcakes! They are everything you love about the cake, but in cupcake form. I only made a few small changes, mainly with the frosting. The cake is simply frosted with Cool Whip. I wanted something that would stand up better on a cupcake and found the perfect solution! Whether you call it "Better than Anything Cupcakes" or "Better Than Sex Cupcakes," this a tried and true recipe that you will love!
Now we are left to debate life's important questions like…. which do we like better? Better than Sex Cake? Or Better than Sex Cupcakes? Hard decisions I tell you…. hard decisions!
You'll start by preparing a box of Devil's Food Cake according to the package directions, and then dividing it among 15-18 cupcakes. I was able to get about 16 cupcakes. I intentionally filled them pretty full so that I had nice big cupcakes!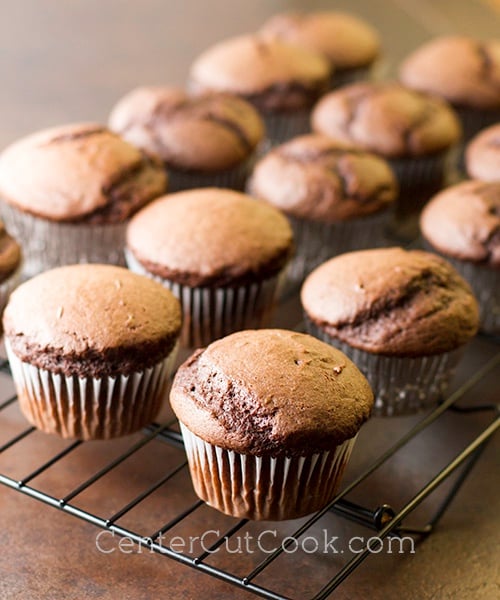 Once the cupcakes are done baking and have had a little time to cool, you will use a wooden spoon to poke holes in them. You will want to poke 3-4 holes in each cupcake.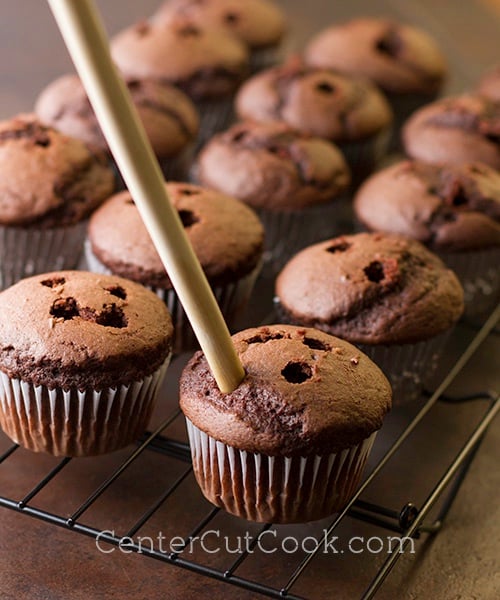 Once the holes are made, you'll combine sweetened condensed milk with caramel. This is the ooey gooey delicious filling that will get poured into each of the holes in the cupcakes! So good! I have plastic bags (Wilton Brand) on hand for frosting cupcakes which is what I used to help fill the holes. You could also use a ziplock bag. Just fill the bag up with the mixture, snip the tip and begin filling each of the holes in the cupcakes. This part is a little messy! I lined a baking sheet with wax paper and placed it under the tray of cupcakes to catch all the excess filling.
Now comes the frosting! This frosting is different from other frostings I've made in that you create a mixture on the stovetop with milk and flour. After combining the milk and flour, you'll whisk and stir it for several minutes over medium heat until it gets real thick, like what you see below. Then you'll let it cool completely.
To complete the frosting, you'll whip butter and granulated sugar together along with a little vanilla, then you will add in the milk/flour mixture and mix on high until it's light and fluffy, almost like whipped cream!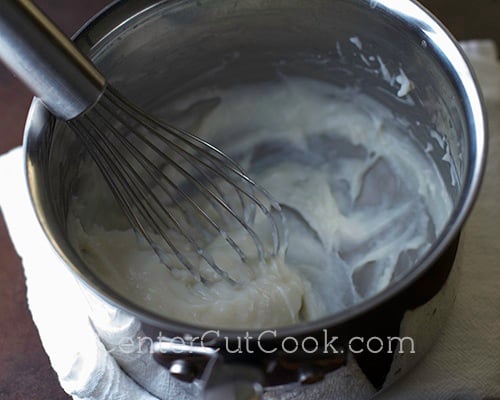 Once again, you'll either need a ziplock bag, or a plastic piping bag to frost the cupcakes. Just fill the bag with frosting, snip the tip off, and place a healthy mount of frosting on each cupcake! Top each cupcake off with crushed heath bars and you're done! My grocery store sells Heath Bar pieces in the baking aisle that work perfectly for this.
When you take a bite of these Better Than Sex Cupcakes you will be in heaven! Rich Devil's Food Cake just oozing with the caramel/sweetened condensed milk filling, topped with a light and fluffy frosting with crunchy Heath pieces. It'll be a party in your mouth, let me tell you!
Better Than Sex Cupcakes are beyond delicious! Enjoy!
PS: I didn't come up with the name for this. This particular combination of ingredients has been known as "Better Than Sex Cake" for a very looong time!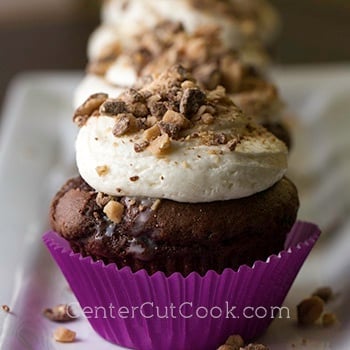 CUPCAKE INGREDIENTS
1 box Devil's Food Cake prepared according to package directions (you will need oil, water, and eggs for this)
14 ounce can sweetened condensed milk
1 cup caramel sauce
1 cup Heath bar pieces (found in the baking aisle by the chocolate chips
FROSTING INGREDIENTS
*This frosting recipe was slightly adapted from Tatsty Kitchen
DIRECTIONS
Pre-heat your oven to 350 degrees. Prepare Devil's Food Cake batter according to package directions.
Line cupcake tray with paper liners. Fill 15-18 cupcake liners with 1/4 cup cupcake batter.
Bake for about 20 minutes, or until a toothpick inserted in the center comes out clean. Remove the cupcakes from the oven and allow them to cool for about 5 minutes before transferring them to a wire cooling rack.
When the cupcakes are cool, use the handle of a wooden spoon to poke 3-4 holes in each cupcake.
In a bowl combine sweetened condensed milk with 1 cup caramel sauce. Pour the sauce in a piping bag or a ziplock bag. Snip the tip off and fill each of the holes with this mixture.
Now begin the frosting. In a small saucepan, combine 5 tablespoons flour with 1 cup milk. I used 1%. Stir and whisk the mixture constantly until it becomes really thick. Place this mixture in the refrigerator or freezer for about 10 minutes so that it cools completely.
When the flour/milk mixture has cooled completely, cream together butter and sugar with your mixer. When the sugar is well incorporated into the butter, add in vanilla and mix for 30 seconds longer. Add in the thickened milk/flour mixture and mix on low for about 30 seconds. Then turn to high and mix for about 3 minutes, or until the frosting is light and fluffy, much like whipped cream. If the consistency isn't like whipped cream, keep mixing!
Place the frosting in a ziplock bag or a piping bag (I use Wilton brand) and place a good amount of frosting on each cupcake. Top with Heath bar pieces for garnish.
Yields 15-18 cupcakes.
Recipe from
CenterCutCook