Two weeks ago I introduced ya'll to one of my favorite ways to prepare broccoli – roasted, with garlic and parmesan. There's something about roasting vegetables that I just love. I've found that even if you don't like a particular veggie raw, once you roast it, the flavors completely change and it turns into something super yummy and delicious. This completely applies to today's recipe for Roasted Cauliflower "Popcorn!"
Cauliflower was actually the first veggie I ever attempted to roast after spotting a recipe for it on a website called Summer Tomato. The author of Summer Tomato, Darya, said it still freaks her out how good the recipe is, so I knew I had to try it! Try I did, and I fell in love. Something happens to the cauliflower while it's roasting that turns it from a bland, somewhat boring veggie, into a super flavorful one. I use this description loosely, but roasted cauliflower almost tastes like popcorn, no joke!
The method is simple, heat the oven up so it's real hot, about 450 degrees. Cut the cauliflower into fairly large chunks (it shrinks up as it roasts so you don't want the pieces too small), toss it with some olive oil, kosher salt, and any seasonings you like. I originally tried it with curry powder but wasn't crazy about it. Then I tried it with some ancho chili powder, and a little garlic powder and it was just perfect. Use any seasonings you like, you really can't go wrong! Pop it in the oven for a while, and badda bing badda boom, you've got yourself roasted cauliflower "popcorn!"
PS: Can you tell I'm on a cauliflower kick lately? If you haven't checked out my recipe for using cauliflower in place of dough for bread sticks, check it out …. Cheesy Caulifower Breadsticks – it's amazing!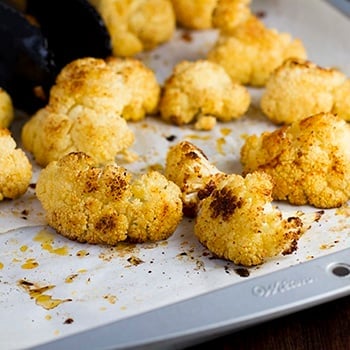 INGREDIENTS
1 large head of cauliflower – about 2 pounds, cut into large chunks
2 tablespoons olive oil
1/4-1/2 teaspoon kosher salt
1/4-1/2 teaspoon chili powder
1/8 teaspoon garlic powder
DIRECTIONS
Pre-heat your oven to 450 degrees.
Cut the cauliflower into large chunks.
Line a rimmed baking sheet with parchment paper (this makes clean-up easier!)
Place the cauliflower on the baking sheet and toss it with olive oil, salt, chili powder, garlic powder, or any seasonings of your choice.
Cover tightly with foil and bake for 15 minutes. This will prevent the cauliflower from burning during the roasting process.
Remove the cauliflower from the oven and remove the foil. Place the cauliflower back in the oven, this time uncovered and continue roasting for 35-40 minutes, or until the cauliflower starts to turn brown.
Remove from the oven, and adjust seasonings according to taste- you may need a little more salt. Enjoy!
Recipe adapted from
Summer Tomato