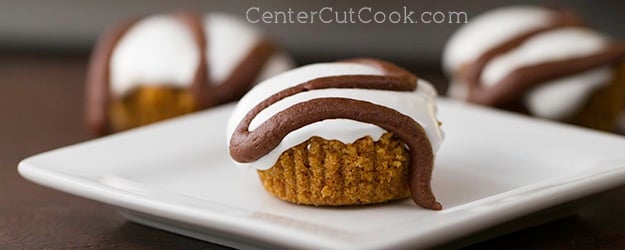 First things first, don't forget to enter our fabulous giveaway to win $100 to Amazon.com! Amazon sells just about everything under the sun, it'll be pretty sweet to have $100 bucks to spend there! :)
Next up…. Peanut Butter S'mores Bites. Truthfully, I feel like this fabulous dessert doesn't require any explanation whatsoever. Just look at it! Don't you just want to pop one of these babies in your mouth? It all starts with a mini muffin tin which you'll want to line with cupcake liners. The mini version of course. Then you'll combine some graham cracker crumbs, butter, peanut butter, and a little sugar together. Each mini-muffin will get about 1 tablespoon of the mixture which you'll press firmly into the liner. The pressing part is important! If you don't press this mixture firmly into the liner, your Peanut Butter S'mores Bites will fall apart. We don't want that.
Into the oven they'll go for about 7-8 minutes.
Once they've had about 15 minutes to cool in the pan, you'll transfer them to a wire rack to cool for about 10 more minutes. Then comes the fun part, the marshmallow creme! Marshmallow creme can be a little tricky to work with because it's sticky. But, it's totally doable. Use about a tablespoon of marshmallow creme to scoop on top of each bite.
I used a cookie dough scooper to help with this process. To keep the marshmallow creme from sticking to the scooper, I sprayed it with a little non-stick cooking spray which helped tremendously.
Now the best part. For the chocolate drizzle you'll combine 1/3 cup milk chocolate chips with 2 tablespoons of butter and you'll heat it until it's melted and smooth. Then you'll pour it into a ziplock bag, cut the tip, and pipe the chocolate all over each cup.
Look at how pretty these look! And did I mention they are insanely delicious? Like addicting delicious. Like, it'll be hard to eat just one, or two, or three.
After they sit for a bit, the marshmallow creme will start oozing a little bit which makes them even better in my book! It sort of makes it feel more like the S'mores that you'd eat after roasting marshmallows over the campfire.
Mmmmmm mmmmm goood!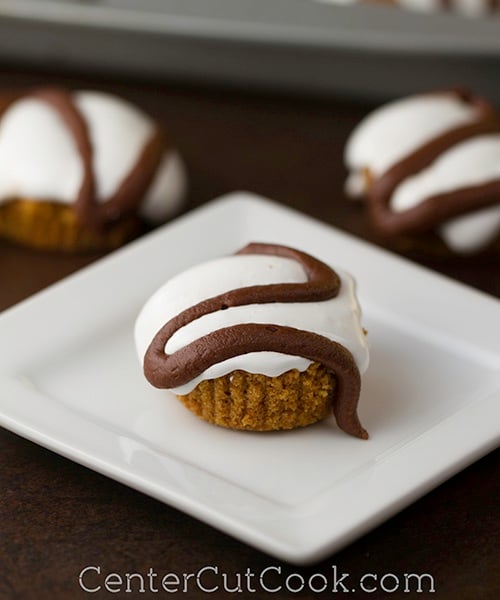 You'll get about 24 mini Peanut Butter S'mores Bites from this recipe. You'll definitely need a mini muffin tin, and if you have a cookie dough scoop, it'll be really helpful here.
And in case you're as obsessed with S'mores as I am… you may want to checkout my recipe for Peanut Butter S'mores Cookie Bars and Peanut Butter S'mores Cookies.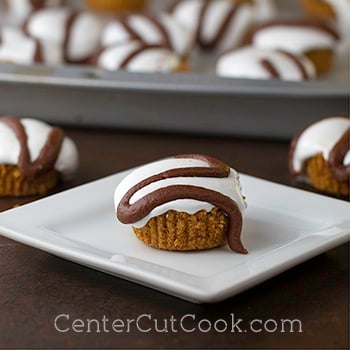 INGREDIENTS
1 cup graham cracker crumbs
1/3 cup butter, melted (1 minute in the microwave did the trick)
1/4 cup creamy peanut butter, melted (1 minute in the microwave did the trick)
3 tablespoons granulated sugar
1- 7 ounce jar marshmallow creme
1/3 cup milk chocolate chips
2 tablespoons butter
DIRECTIONS
Pre-heat your oven to 375 degrees.
In a large bowl, combine graham cracker crumbs with 1/3 cup melted butter, 1/4 cup melted creamy peanut butter, and 3 tablespoons granulated sugar. Stir to combine.
Line a mini muffin tin with paper liners. Scoop 1 tablespoon of the graham cracker mixture into each liner. You should have enough mixture for 24 mini bites.
Use the back of a spoon to firmly press the mixture into the liner. You want to press as hard as you can so that the S'mores bites don't crumble.
Place in the oven for about 7-8 minutes.
Allow the Peanut Butter S'mores Bites to cool for about 15 minutes, then remove them from the pan and place on a wire rack to cool for an additional 10-15 minutes.
Scoop 1 tablespoon marshmallow creme on each bite.
In a small bowl combine 1/3 cup milk chocolate chips with 2 tablespoons butter. Melt either in the microwave for about 1 minute (stir at the 30 second mark) or using a double boiler. When the mixture is melted and well combined, pour the mixture into a plastic ziplock bag. Snip a small section off the corner of the bag and drizzle the chocolate mixture over each Peanut Butter S'mores Bites.
Enjoy!
Please remember that all images shown here are copyrighted and may not be used without written permission from CenterCutCook.
Recipe inspired from
Pillsbury.com