October is the perfect time of year to prepare pumpkin recipes! Lately, it seems like all my brain is able to think about is ways to incorporate more pumpkin into some of my favorite recipes. It felt like I had covered the basics with Pumpkin Chocolate Chip Cookies (soft and delicious), Pumpkin Apple Spice Cake (with cream cheese glaze), Perfect Pumpkin Pancakes with warm maple syrup, and these adorable little Pumpkin Pie Cupcakes, yet there was still part of me that wasn't going to feel satisfied until I shared this Pumpkin Pie Dip with ya'll.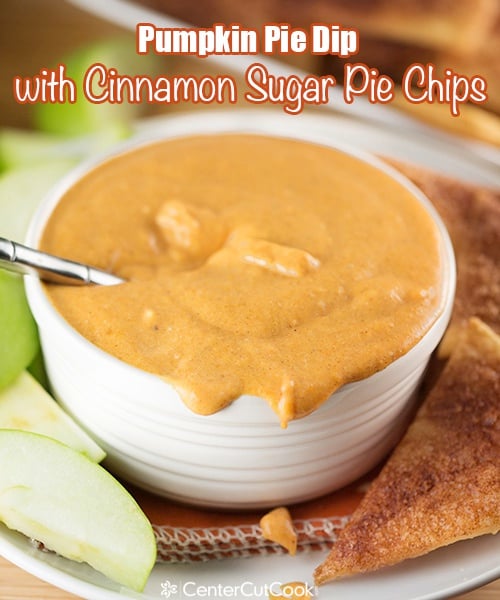 If you're looking for a sweet recipe for the holidays, or one just to enjoy with your family, perhaps on Halloween, this Pumpkin Pie Dip is a must try! The recipe is simple – it is made with cream cheese, confectioners sugar, pumpkin, cinnamon, and pumpkin pie spice.
One of the most important elements to any dip are the dippers! There are SO many options for dippers when it comes to this Pumpkin Pie Dip. Try serving it with apple slices, ginger snaps, vanilla wafers, graham crackers, or my favorite…. Cinnamon Sugar Pie Chips made with leftover pie dough.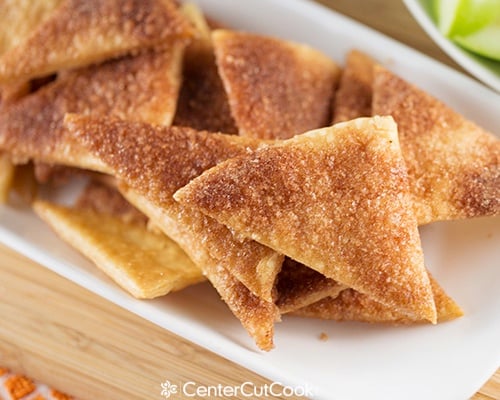 A couple of weeks ago when I made this recipe for Mini Apple Pies with Streusel Topping, I had bought a box of Pillsbury Refrigerated Pie Crusts and only needed one of the two in the box for the recipe. With one pie crust left, I was trying to think of ideas on how I could use the leftover pie dough when Ryan suggested I make Cinnamon Sugar Pie Chips as a dipper for this Pumpkin Pie Dip. They were absolutely perrrrrrfect and they only take a few minutes to make!
Whether you're making this for a holiday party, or as a simple dessert to enjoy as a family, it is sure to be a hit. Just be sure to plan ahead, as you'll want to chill the dip in the refrigerator for about 8 hours for the best result. I really enjoyed this Pumpkin Pie Dip with apples and cinnamon sugar pie chips, but there are so many wonderful dipper options out there to please everyone that you'll be serving this to. Enjoy!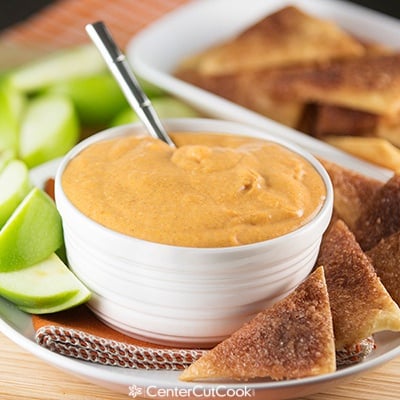 PUMPKIN PIE DIP INGREDIENTS
8 ounce package cream cheese, softened
2 cups confectioners sugar
15 ounce can pumpkin
1 teaspoon pumpkin pie spice
1 teaspoon ground cinnamon
1/4 teaspoon salt
Dippers – apple slices, ginger snaps, vanilla wafers, cinnamon sugar pie chips (recipe below)
CINNAMON SUGAR PIE CHIP INGREDIENTS
1 refrigerated pie crust (I used Pillsbury) cut into triangles
1/4 cup butter, melted
1/4 cup granulated sugar
1 teaspoon cinnamon
DIRECTIONS
With a mixer, combine cream cheese and confectioners sugar until smooth. Add in pumpkin and mix well.
Add in pumpkin pie seasoning, ground cinnamon and salt and mix until light and fluffy. Pour into a bowl, cover and refrigerate for 8 hours.
To make the cinnamon sugar pie chips, pre-heat the oven to 350 degrees. Cut the refrigerated pie crust into bite sized triangles. Arrange on a baking sheet. Both sides of the dough with melted butter. Combine sugar and cinnamon together and sprinkle over the dough. Bake for 15-17 minutes or until the pie chips are crispy.
Serve the Pumpkin Pie Dip with apple slices, ginger snaps, vanilla wafers, and warm Cinnamon Sugar Pie Chips
Recipe from
CenterCutCook