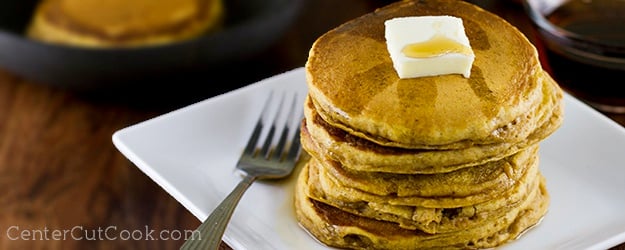 Perfect Pumpkin Pancakes are part of an essential fall breakfast! They've got hints of pumpkin and cinnamon, and when drizzled with warm maple syrup??? You can't go wrong!
If there's one thing you don't yet know about me, it's that I'm sort of a fuddy dud when it comes to Halloween. The whole idea of thinking of a costume, then putting it together/buying it is sort of tedious to me. But, I LOVE handing out Halloween candy to the cute little trick-or-treaters that come knockin' at my door, and I love the excuse that it gives me to consume more PUMPKIN!
I've sort of buried you lately with pumpkin recipes, haven't I? With the Pumpkin Chocolate Chip Cookies, Pumpkin Pie Cupcakes, Pumpkin Pie Smoothies, and finally the Pumpkin Spice Monkey Bread, I'm sure you're wondering how I could possibly be craving anything else pumpkin! Truth be told, I don't think I could ever get sick of it, and especially not these pumpkin pancakes!
Pumpkin Pancakes are pretty perfect as is, in my book, but, I do have a suggestion to make them even better! Are you ready? Everything is better with bacon is a rule we go by in this house, so you gotta serve them with bacon. But not just any bacon, serve them with thick-cut bacon that you've baked in the oven! I'm telling you, it's out of this world delicious. If you haven't baked bacon before, it's so simple. Start with a cold oven. Line a rimmed baking sheet with foil, arrange the bacon in a single layer, and pop it into the cold oven. Turn the oven on to 400 degrees and bake for 20 minutes, or until the bacon is crisp. Remove the bacon from the oven and transfer to a paper towel lined plate to drain any grease. Serve promptly with Pumpkin Pancakes. You won't be sorry…
Tonight our dinner (yes dinner…. sometimes we eat breakfast for dinner, k?) consisted of these lovely pumpkin pancakes, and the aforementioned bacon and it was darn good. I <3 fall!…. and pumpkin pancakes!
Note: May I suggest using real maple syrup? If you haven't tried it before, try it once and you won't go back. It's pricey, but worth it. I've found Costco has the best deal on real maple syrup.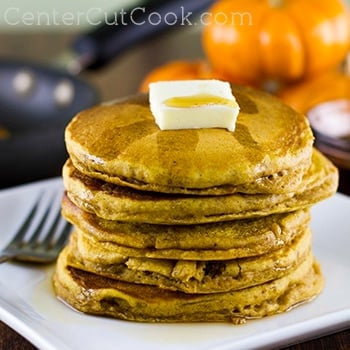 INGREDIENTS
DIRECTIONS
In a large bowl, combine milk, pumpkin, egg, vegetable oil, and vinegar. Set aside.
In another large bowl combine flour, brown sugar, baking powder, baking soda, cinnamon, pumpkin pie spice, and salt.
Pour the wet ingredients into the dry and stir until just combined. Don't over-mix.
Heat a griddle or non-stick skillet to medium heat and melt 1 tablespoon of butter.
When the pan is heated, scoop 1/4 cup of batter onto the pan for each pancake. When bubbles start to appear on the top of the pancake, that means it's ready to be flipped. Flip the pancake and cook until the bottom is nicely browned. Remove from the pan.
Continue cooking pancakes until all batter is used. This recipe yields about 15 pancakes.
Serve with warm maple syrup over the top.
Recipe adapted from
All Recipes