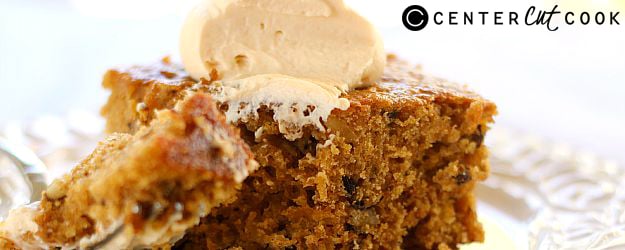 You and your guests are sure to love the combination of spices as well as the moist but substantial texture of Pumpkin Walnut Cake with Caramel Whipped Cream. Studded with walnuts, the rich color and moist pumpkin flavor will have everyone wanting seconds.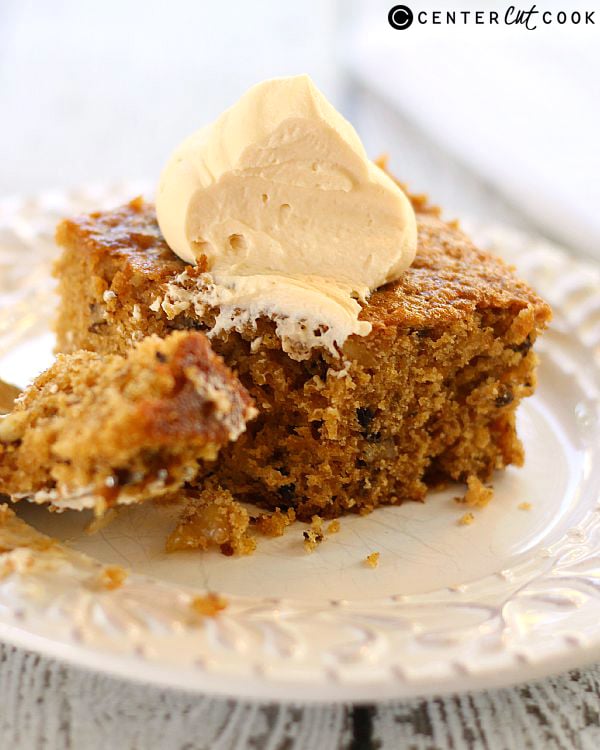 Cut and served right out of a square cake pan, this cake is lovely enough to serve with no toppings at all. But to truly take the Pumpkin Walnut Cake over the top, why not add a dollop of decadent Caramel Whipped Cream made with a combination of homemade caramel (yes you cando it!), plus mascarpone cheese and heavy cream. I love to serve the cake warm with the caramel whipped cream on top so the whipped cream begins to melt into the cake.
This cake is versatile and can be made a day ahead, or served right out of the oven. If the cake has cooled and you're wanting to serve it warm, just pop the pan into a warm, but off oven for 10 minutes. Or you can pop individual pieces into the microwave for about 10 seconds.
Perfect for any gathering, it's even quite cute to cut into tiny 2-inch squares and then, using a plastic bag with a hole cut in the corner or a piping bag, pipe a fluffy dollop of the whipped cream on each small bite. But be prepared for complaints that this tiny morsel isn't enough. Better make a double recipe.
Cook's note: Prep and cooking times in the printable recipe are for the cake only. Since the caramel needs time to cool before mixing with the other ingredients, plan accordingly and make the whipped cream a few hours or even a day ahead.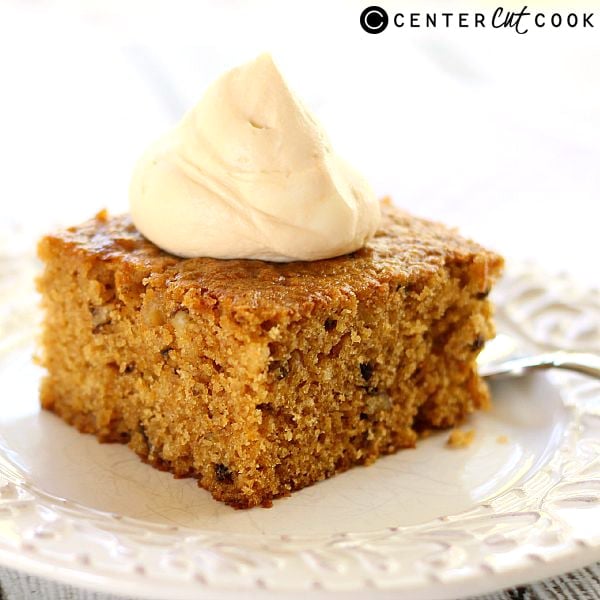 CAKE INGREDIENTS
1 3/4 cup cake flour
1 teaspoon baking soda
1 teaspoon ground cinnamon
3/4 teaspoon ground ginger
1/4 teaspoon ground nutmeg (fresh, if you're able)
1/2 teaspoon salt
2 large eggs, room temperature
3/4 cup granulated sugar, super fine is nice
3/4 cup light brown sugar, firmly packed
1/2 cup melted and cooled coconut oil, or canola or avocado oil
1 1/4 cup pumpkin puree
1/3 cup whole milk (may substitute almond or coconut milk)
1 teaspoon vanilla extract
1 cup coarsley chopped walnuts
CARAMEL WHIPPED CREAM INGREDIENTS
Note: the easy caramel that is made for this whipped cream needs to cool for 2 hours before mixing with the remaining ingredients. Plan accordingly and prepare a few hours before starting the cake or even a day ahead.
3/4 cup granulated sugar
3 tablespoons water
1/2 teaspoon fresh squeezed lemon juice
1 1/4 cup heavy cream, divided
3/4 cup mascarpone cheese
1 teaspoon vanilla extract
CAKE DIRECTIONS
Place rack in center of oven and preheat to 350F degrees (325F degrees if using dark, non-stick pan). Grease the bottom and sides of a 9-inch square cake pan.
In a medium bowl, whisk together the flour, baking soda, cinnamon, ginger, nutmeg, and salt. Set aside.
In the bowl of an electric mixer, beat the eggs with both sugars at medium-high speed until pale, about 2 minutes. Add the oil, pumpkin puree, milk, and vanilla extract and mix until blended.
Turn the speed down to low and add the flour mixture in three additions, mixing just until blended. Don't overmix it. Remove the bowl from the mixer stand and stir in the walnuts. The batter will be about the consistency of pancake batter. Pour the batter into the prepared pan.
Bake the cake for 30-35 minutes, until a toothpick or cake tester inserted into the center comes out clean. Cool the cake on a wire rack for 20 minutes.
To serve, cut the cake into squares, and top each piece with a large dollop of the caramel whipped cream. This cake is best served warm. Cake may be stored at room temperature with airtight cover or plastic wrap for up to 2 days.
CARAMEL WHIPPED CREAM DIRECTIONS
In a small heavy saucepan, combine the sugar, water, and lemon juice and cook over medium heat, stirring constantly, until the sugar dissolves. Increase the heat to high and cook without stirring, until the syrup caramelizes and you'll see the center start to turn a golden amber color, about 4 minutes. As soon as you see the caramel color begin to appear, remove from the heat and the rest of the liquid will quickly turn to amber, as well. This process is super easy! Don't be intimidated about making your own caramel. Also, this recipe is worth the effort.
Remove the pan from the heat and carefully add 1/2 cup of the heavy cream, the mixture will bubble up, stirring until smooth. Pour the hot caramel into a heatproof glass measure and loosely cover with plastic wrap. Refrigerate until chilled. About 2 hours.
Once the caramel has cooled take it out of the refrigerator and set aside (if it is hard to spoon at this point, just pop in the microwave and heat on high for about 10 seconds).
In the bowl of an electric mixer, using the whisk attachment, beat the remaining 3/4 cup whipping cream with the mascarpone cheese and vanilla at medium speed until blended. Add the chilled caramel and turn speed to high, cream will thicken quickly and just beat until soft peaks appear. Use immediately, or cover and refrigerate.
Servings: 9
Recipe adapted from
The Cake Book by Tish Boyle