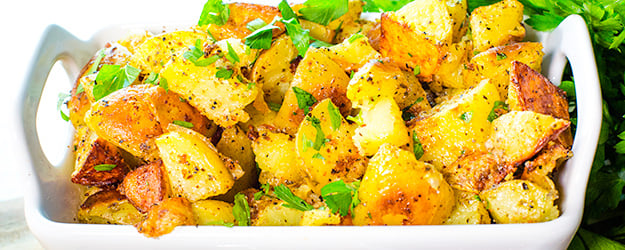 When it comes to oven roasted potatoes, these Crispy Parmesan Roasted Potatoes are one of our favorites. Each bite of potato is so crispy and so delicious.
This recipe is very similar to my recipe for Easy Oven Roasted Fingerling Potatoes except with this recipe you will be using finely grated parmesan cheese.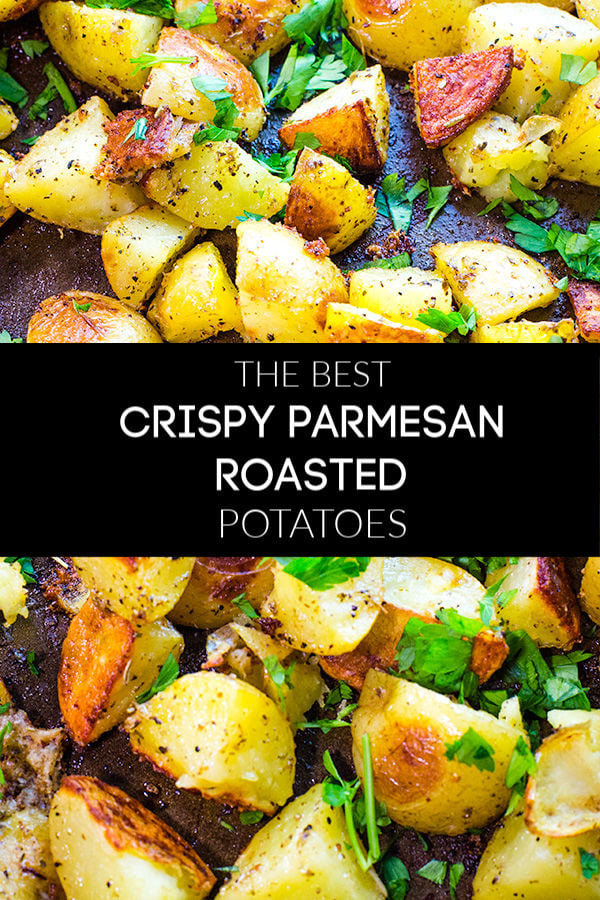 The key to the best crispy potatoes is to use FRESH parmesan cheese that you have finely grated with a microplane grater. The fresh, finely grated cheese really makes a difference and helps the potatoes crisp up perfectly.
Do I need to peel the potatoes for oven roasted potatoes?
There are all different kinds of roasted potato recipes, but the best, in my opinion, are the recipes that leave the skin of the potato on. The skins crisp up so beautifully and really make the end result so delicious. Leave the skin on is our strong opinion!
What kind of potatoes should I use?
For this recipe, you will either want to use baby red potatoes or baby golden potatoes. The important step is to make sure the potatoes are cut evenly into bite-sized pieces so that they roast and crisp up evenly.
You really can use any kind of potato that you'd like but you'll have the best result with the baby red potatoes or the baby golden potatoes that you will find at almost any grocery store.
Sometimes I find it more cost effective to buy red potatoes that are a bit bigger and aren't necessarily considered "baby red" potatoes. Those will work fine, but again, just make sure the potatoes are cut evenly into bite-sized pieces.
How do I get crispy potatoes?
To get crispy oven roasted potatoes, you will want to start by making sure that your oven is pre-heated to 425F. That nice hot preheated oven is the first step to crispy potatoes.
Then you'll want to make sure that your potatoes are dry. Use a clean kitchen towel or paper towels to blot the potatoes dry.
Another important step is to make sure you don't skimp on the olive oil. You need enough oil to coat the potatoes well so that they crisp up nicely.
Lastly, the finely grated parmesan cheese also makes a difference. As I mentioned earlier, make sure you finely grate the cheese.
If the potatoes are done roasting and you'd like them even crispier, feel free to broil them for just a few minutes, making sure to keep an eye on them so that they do not burn.
What goes with roasted potatoes?
These parmesan roasted potatoes are the perfect side dish for a variety of recipes including chicken, steak and pork.
Two of our personal favorite recipes that they go well with are this recipe for Parmesan Crusted Steak and this recipe for Baked Ranch Chicken.
Looking for more potato side dishes? I haven't met a potato that I didn't like and love using potatoes as a side dish. Here are some of our favorites:
And if you're looking for other roasted vegetables, here are some delicious options:
I hope you enjoy this recipe for Parmesan Roasted Potatoes. Is is such an easy recipe that is so crispy and delicious. It is one of our favorite potato side dishes that we eat all year round.
Enjoy!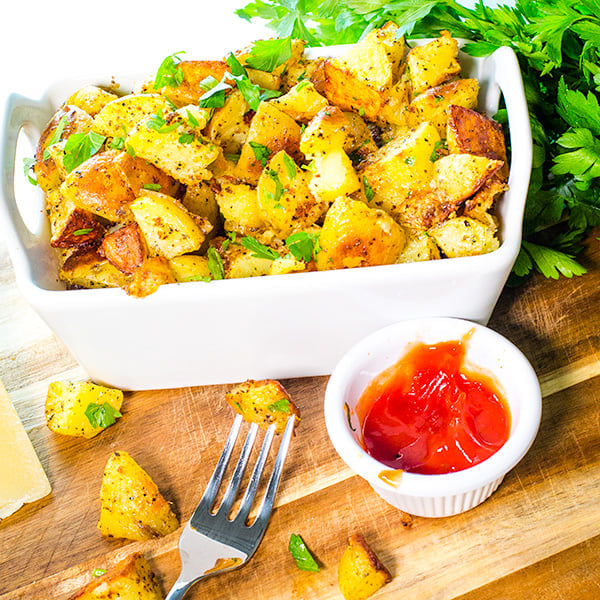 INGREDIENTS
2 pounds baby gold or baby red potatoes, washed and cut into bite-sized pieces
1/2 cup finely grated fresh parmesan cheese
1/2 teaspoon salt
1/2 teaspoon black pepper
1 teaspoon Italian seasoning
1 teaspoon garlic powder
1/4 cup olive oil
Chopped fresh parsley for garnish
DIRECTIONS
Preheat oven to 425 degrees F
Prepare the potatoes by washing them then cutting them into quarters or eights, depending on the size of the potato. Just make sure the potatoes are cut into even bite-sized pieces. Use a towel to blot the potatoes dry.
Place the potatoes in a large mixing bowl.
To the bowl add in finely grated fresh parmesan cheese, salt, black pepper, Italian seasoning and olive oil. Toss until the potatoes are well coated.
Place the potatoes in a single layer on a large rimmed baking sheet.
Roast for 30-35 minutes or until the potatoes are golden brown and crispy.
For extra crispness, broil the potatoes on high for just a few minutes, making sure to watch the potatoes so that they do not burn.
Garnish with chopped fresh parsley if you wish.