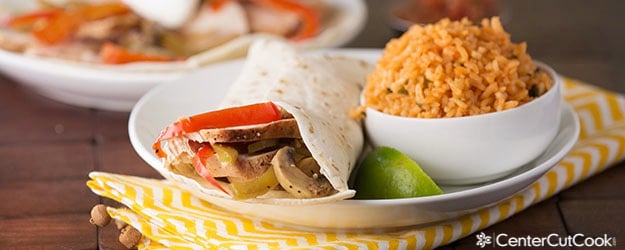 It's no secret that I love fajitas! In fact, in this recipe for "The Best Fajitas" I mentioned the fact that fajitas appear on our table at least two times per month, especially during grilling season! Now that I mentioned my recipe for "the best fajitas," you're probably wondering why I have the nerve to post yet another recipe for fajitas if I've already declared one "the best," aren't you?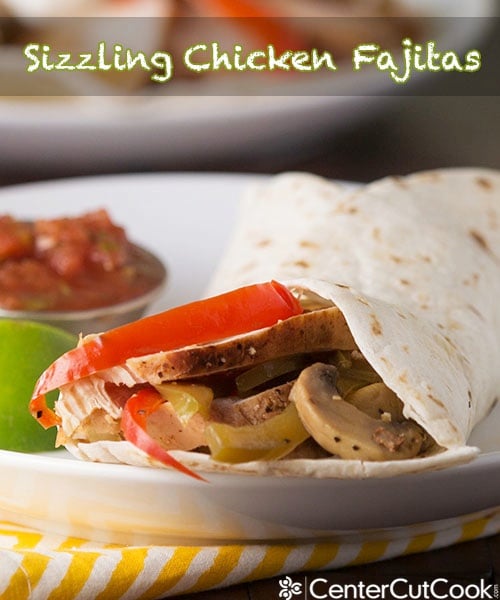 Truth is, I'm sort of what you might call a recipe hoarder. My collection of recipes is ever growing, and despite the fact I have some of "the best" recipes in my collection, it usually doesn't stop me from trying something new, especially when it comes from a food blogger I adore. Mel's Kitchen Cafe is one of my favorite food blogs and when I saw she declared this recipe "The Best Chicken Fajitas" I knew I had to give it a try.
What I discovered is that my recipe for "The Best Fajitas" works great with beef and shrimp while her particular recipe works fabulously for chicken! I changed it up just a smudge, and the result was delicious. I served these Sizzling Chicken Fajitas with my favorite recipe for Mexican Rice which meant I was one happy little camper after that meal.
And leftovers the next day? DEEELICIOUS!
Don't forget that you can make these tasty Chicken Fajita Quesadillas with the leftovers!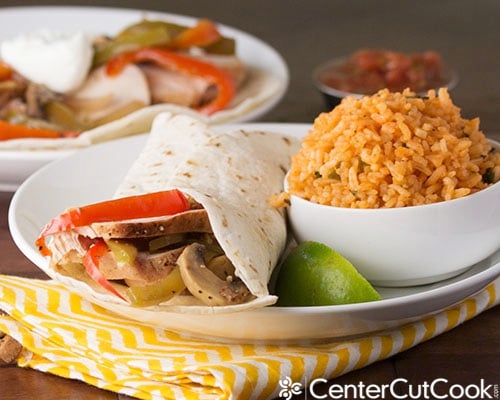 Knowing how much of a fajita fanatic I am, can you just imagine the excitement that'd come from fajita night if I owned one of these cute little cast iron fajita pans? I just spotted this on Amazon (Link here) and all I can say is I WANT! How cute is this? Just like the restaurants do it. Some day…
Don't forget to whip up a batch of Guacamole and Homemade Salsa to serve alongside the fajitas!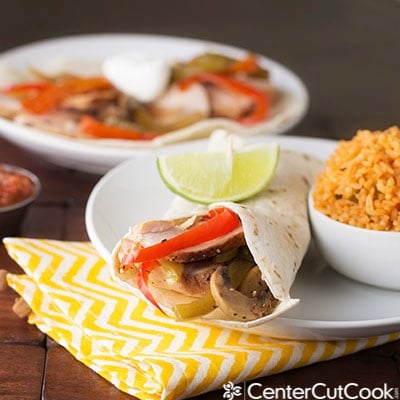 MARINADE INGREDIENTS
Juice from 3-4 limes
1/3 cup water
2 tablespoons canola oil
2 garlic cloves, minced
1 teaspoon salt
2 teaspoons apple cider vinegar
1 tablespoon soy sauce
1/2 teaspoon chili powder
1/2 teaspoon cayenne pepper
2 teaspoons liquid smoke
1/2 teaspoon black pepper
VEGETABLE INGREDIENTS
3-4 large chicken breasts
1 medium purple onion, cut into strips
1 red bell pepper, cut into strips
1 green bell pepper, cut into strips
1/2 tablespoon canola oil
6-8 ounces sliced fresh mushrooms
Juice from half of a lime
1/2 tablespoon soy sauce
Salt
Pepper
FAJITA INGREDIENTS
DIRECTIONS
Combine all of the marinade ingredients together. Place the chicken in a gallon sized ziplock bag and pour the ingredients over the chicken. Allow it to marinate for 3-4 hours in the refrigerator.
Heat a grill or grill pan to medium heat. Grill the chicken for about 7 minutes per side, or until the chicken reaches 165 degrees. Remove from the grill and allow it to rest for about 5 minutes before using a sharp knife to carefully cut the chicken into strips.
Heat 1/2 tablespoon canola oil over high heat. When hot, add in the vegetables and stir fry for several minutes until the veggies are gently cooked. Season with lime juice, soy sauce, salt and pepper to taste.
Serve on flour tortillas with your favorite garnishes. Enjoy!
Recipe adapted from
Mel's Kitchen Cafe