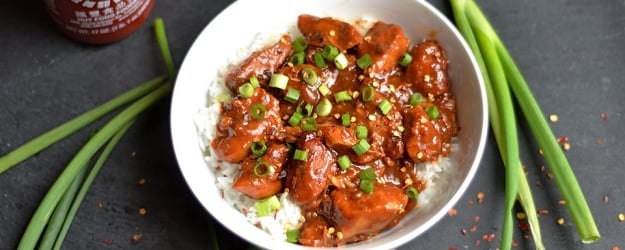 Skip the take-out and make this super easy and delicious General Tso's Chicken! You'll love the simplicity and bold flavor of this easy weeknight meal.
I've been slow cooking my way through December!! It's such a busy time of year, and I want to avoid grabbing unhealthy take-out. Not only does it save me money, but my waist line too! I love this recipe because Chinese takeout has always been a tough one for me. I will often like the taste, but find myself sick after eating it. By making this myself, I can put in REAL ingredients that agree with my stomach. Anyone else hear me on this one? Friday nights are generally reserved for the easiest meal of the week. I love to re-create restaurant style "take-out" meals that are so much healthier for the family. I've re-created all of my favorite take-out dishes, made them healthier without the added oil and grease!
General Tso's chicken is a deep fried Chinese style dish that is served in America. It's both sweet and spicy, a great combo to get your taste buds singing! I saute the chicken before putting it in the slow cooker, so that it has the "crispy" texture we love about General Tso's Chicken. It doesn't have to be deep fried to be delicious! The slow cooker also works perfectly to tenderize the meat and let all the flavors meld together. To give the dish a nice spicy kick, I used sriracha and red pepper flakes. This is optional, but it won't make it too spicy! In fact, I would recommend to keep the sriracha, but adjust the red pepper flakes to your level of spiciness.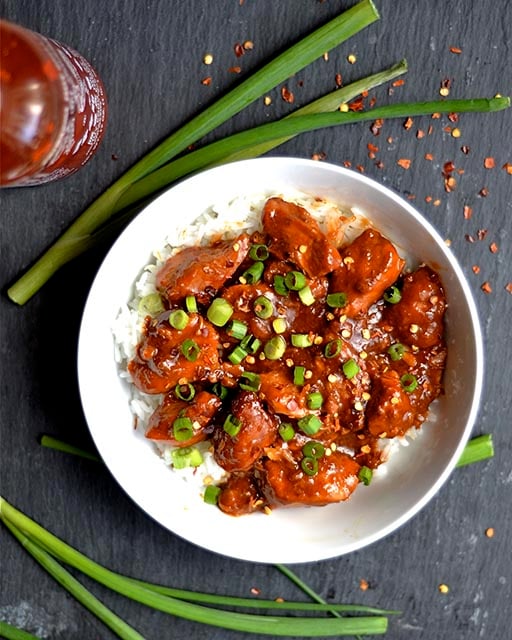 My kids absolutely devoured this recipe. Next time I plan on doubling the recipe. We served with broccoli, rice, and chopped green onion. I also topped with cilantro because I do that with almost all dishes, hahaha! You could also easily make this in your Instant Pot. Use the saute function first, and let the chicken cook for about 5 minutes. Then seal the lid and cook on high pressure for 8 minutes. I hope you all enjoy!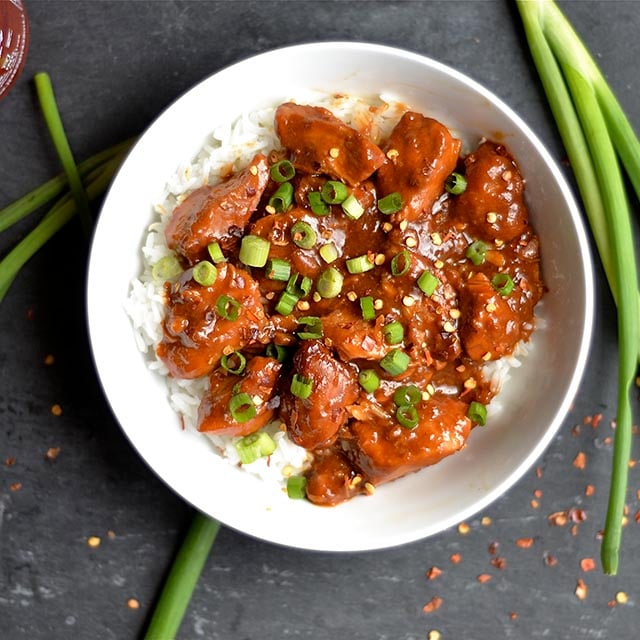 INGREDIENTS
1.5 lbs chicken breast, cut into small chunks (about 1 inch)
3 tbsp cornstarch or arrowroot starch
2 tbsp olive oil or avocado oil
4 tbsp soy sauce
2 tbsp hoisin sauce
3 tbsp red wine vinegar
1-2 tbsp sriracha (depending on your level of spice)
1 tbsp sesame oil
1/4 cup chicken broth
2 tbsp granulated sugar
2 large cloves garlic, minced
Crushed red pepper flakes (optional)
3 tbsp chopped green onion (for garnish)
DIRECTIONS
Begin by heating a large skillet to medium high heat. Coat with cooking oil.
Mix together the chicken breast chunks and cornstarch (or arrowroot) so the chicken pieces are completely coated. Toss in the skillet. Cook for about 5 minutes until chicken is browned, but not cooked through.
Make the sauce. In a small bowl, mix together soy sauce, hoisin, vinegar, sriracha, oil, chicken broth, sugar, and garlic cloves.
Place chicken in the slow cooker, top with sauce. Set your slow cooker to low and cook for 4 hours.
Top with crushed red pepper (if using) and serve over rice with green onion.
Servings: 6