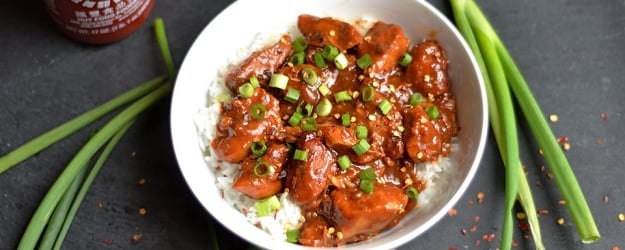 Do you love Chinese food but get intimidated at the thought of making it yourself? No worries, we are here to help! This Slow Cooker General Tso's Chicken couldn't be any easier and is made right in the crock pot. You are going to love homemade general tso's chicken!
Speaking of takeout, another Chinese-inspired recipe that has been a reader favorite for years is our Sweet and Sour Chicken. It requires more hands-on time and cooks in the oven, but is another easy recipe for a night when you have more time to spend on dinner, but I digress. This homemade General Tso's Chicken is perfect for when you have a busy day ahead and won't have much time to get dinner on the table.
You will love that the prep time is only 10 minutes and then the slow cooker does the cooking for you. The result? A sweet chicken with a little kick of heat and a whole lot of flavor! Homemade General Tso's Chicken has never been so easy to make!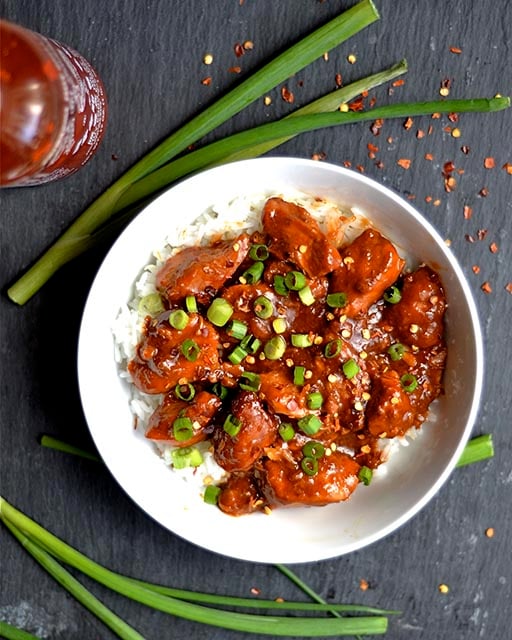 General Tso Chicken Ingredient Notes:
Chicken: you will need 1.5 pounds of chicken breasts or boneless thighs cut into 1 inch pieces.
Cornstarch – this recipe calls for cornstarch to coat the chicken; alternatively you could also use arrowroot starch.
Olive Oil – the olive oil in this recipe is used when quickly browning the chicken in the skillet prior to putting in the slow cooker. You could also use vegetable oil or avocado oil.
Hoisin Sauce – while there are surely some substitutions that could be made for the hoisin sauce, for this recipe we recommend sticking with the hoisin sauce to get the consistency and taste of true General Tso's Chicken.
Red Wine Vinegar – if you'd prefer not to use it or don't have it on hand, you could also use Rice Vinegar, White Wine Vinegar or Apple Cider Vinegar.
Sriracha – the sriracha is used to give the sauce a little heat. If you want a lot of heat, use the full 2 tablespoons. If you would prefer a mild heat, use 1 tablespoon.
Sesame Oil – if needed, you can substitute with olive oil, but sesame oil has a very distinct flavor that enhances the sauce.
Crushed Red Pepper Flake – this is optional. If you would like your General Tso's Chicken to be spicy, this is what will give it that kick.
Garnish: for this recipe we like to use chopped green onions or chopped fresh cilantro.
General Tso's Chicken Easy Instructions:
You are going to start by heating a skillet, then you'll toss together the chicken with the cornstarch until it's fully coated. Add the oil to your skillet and then cook the chicken on medium heat (flipping the chicken occasionally) until each side is browned. It'll take about 5 minutes. You aren't fully cooking the chicken, just browning it.
Next, you will make the sauce by mixing together the soy sauce, hoisin, red wine vinegar, sriracha, sesame oil, chicken broth, sugar, and garlic cloves in a a small bowl.
Place the chicken in your slow cooker and top it with the sauce. Set your slow cooker to low and cook for 4 hours. The slow cooker works perfectly to tenderize the meat and let all the flavors meld together.
If you are in a pinch for time, you can also use your instant pot. Use the saute' function first and let the chicken brown for 5 minutes. Then seal the lid and cook on high pressure for 8 minutes.
General Tso's FAQ / Tips and Tricks
What is General Tso's Chicken?
General Tso's Chicken is a deep fried Chinese style dish that is served in America. It's both sweet and spicy; a great combo!
Orange Chicken Vs. General Tso's Chicken – What's the difference?
Orange Chicken and General Tso's Chicken are actually quite similar. Orange Chicken is coated in a sweet orange, chili sauce, that is more of a glaze. General Tso's Chicken is usually deep fried, then coated in a sweet and spicy sauce. Our recipe for Orange Chicken is also super delicious and worth adding to your dinner rotation.
General Tso Pronunciation – how do you say it?
General Tso is pronounced with a silent "t" followed by "tsah-oo", with a long o sound, although there are a variety of ways that people say it and are still understood when ordering in a restaurant.
What to serve with General Tso's Chicken
You can't go wrong serving General Tso's Chicken with white rice. Here's our guide for how to make perfect rice every time. Alternatively, our Chinese Fried Rice is always a favorite and pairs perfectly with this chicken!
Interested in another easy fried rice recipe? Give our Korean Beef Fried Rice a try as well!
We hope you enjoy this recipe for Slow Cooker General Tso's Chicken. It is loaded with flavor, easy to make, and a weeknight winner. Enjoy!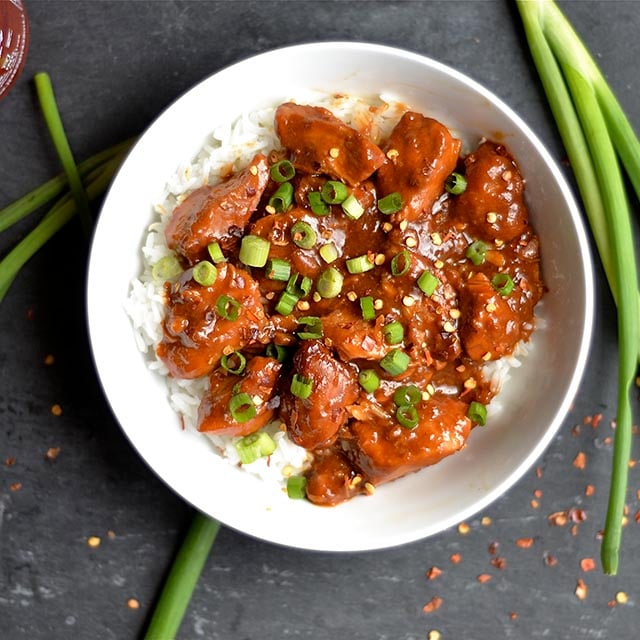 INGREDIENTS
1.5 lbs chicken breast, cut into 1 inch pieces
3 tablespoons cornstarch or arrowroot starch
2 tablespoons olive oil or avocado oil
4 tablespoons soy sauce
2 tablespoons hoisin sauce
3 tablespoons red wine vinegar
1-2 tablespoons sriracha (depending on your spice preference)
1 tablespoon sesame oil
1/4 cup chicken broth
2 tablespoons granulated sugar
2 large cloves garlic, minced
Crushed red pepper flakes (optional)
3 tbsp chopped green onion or cilantro (for garnish)
DIRECTIONS
Begin by heating a large skillet to medium high heat. Coat with cooking oil.
Mix together the chicken breast chunks and cornstarch (or arrowroot) so the chicken pieces are completely coated. Toss in the skillet. Cook for about 5 minutes until chicken is browned, but not cooked through.
Make the sauce. In a small bowl, mix together soy sauce, hoisin, vinegar, sriracha, oil, chicken broth, sugar, and garlic cloves.
Place chicken in the slow cooker, top with sauce. Set your slow cooker to low and cook for 4 hours.
Top with crushed red pepper (if using) and serve over rice with green onion.
Servings: 6