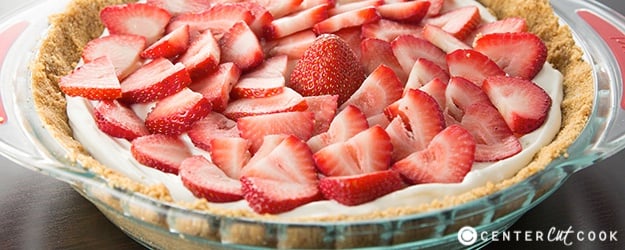 When it comes to this Strawberries and Cream Pie, I have a hard time deciding which part I like best; the light and fluffy filling made with cream cheese and homemade whipped cream or the fresh sliced strawberries that top it. Both the filling and the fresh strawberries along with the graham cracker crust make this a standout Strawberries and Cream pie that you will find yourself making over and over again. Oh, and did I mention that this recipe is super duper easy? The only thing that you might want to add to send this pie completely over-the-top is a drizzle of chocolate (because everything is better with chocolate, right?!).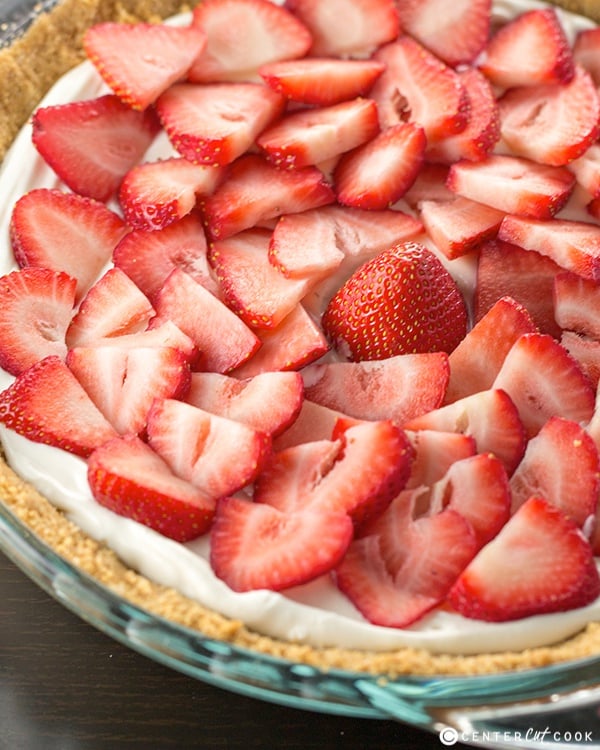 The graham cracker crust can be done one of two ways. You can either buy a pre-made graham cracker crust at the grocery store, or you can make your own. Another alternative is to make this pie using an Oreo crust as the base. Both options are delicious, you really can't go wrong!
For the filling I used cream cheese, a bit of confectioners sugar, and some homemade whipped cream. If you haven't made whipped cream before, it's really not as hard as it sounds. One of my favorite ways to make homemade whipped cream is to use a food processor. You simply pour the cold heavy cream in the food processor, turn it on for a minute or two until you reach the right consistency and you're done! Easy peasy!
Make sure to allow this Strawberries and Cream Pie to chill in the fridge for a few hours before serving. You want that filling to firm up a bit! Just look at this deliciousness! If there anything better than fresh strawberry pie?
Speaking of strawberries, if you've got some leftover strawberries after making this pie and you're looking for another delectable strawberry treat, I HIGHLY recommend my Strawberry Yogurt Cake or my Strawberry Yogurt Muffins. Enjoy!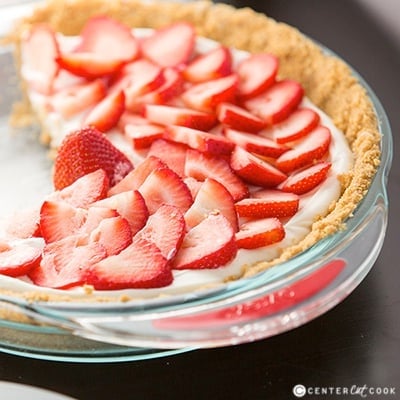 PIE INGREDIENTS
1 Graham Cracker Pie Crust – or make one yourself
8 ounce package cream cheese
1/2 cup confectioners sugar
1/2 cup sour cream
1 teaspoon vanilla extract
1 cup heavy cream
2 cups strawberries, cut into slices
CRUST INGREDIENTS
DIRECTIONS
Pre-heat your oven to 375 degrees.
In a large bowl combine graham cracker crumbs with 1/3 cup sugar and 6 tablespoons melted butter. When well combined, press into an 8 or 9 inch pie plate. Press the crust firmly into the pan and chill for 1 hour.
Bake for 7 minutes then allow to cool completely.
Use your mixer to beat 1 cup heavy cream until stiff peaks form. Set aside.
With your mixer, beat cream cheese until light and fluffy. Add in sour cream and mix well.
Add in confectioners sugar and mix, then stir in 1 teaspoon vanilla extract.
Fold in the whipped cream from step four and gently stir to combine.
Spread the pie filling into the cooled graham cracker crust, then top with fresh sliced strawberries. Allow to chill in the fridge for at least three hours before serving.
Drizzle chocolate syrup over the pie if you wish. Alternatively, instead of the graham cracker crust, you can use an Oreo crust.
Store leftovers in the refrigerator. Enjoy!
Recipe from
CenterCutCook