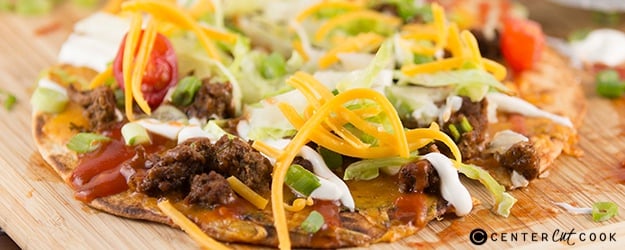 It is NO secret that I love me some tacos. We have tacos almost once a week, so I try to think of as many variations of tacos that I can including these Cheesy Baked Oven Tacos! Our newest favorite way to enjoy tacos are these Taco Flatbread Pizzas. So good!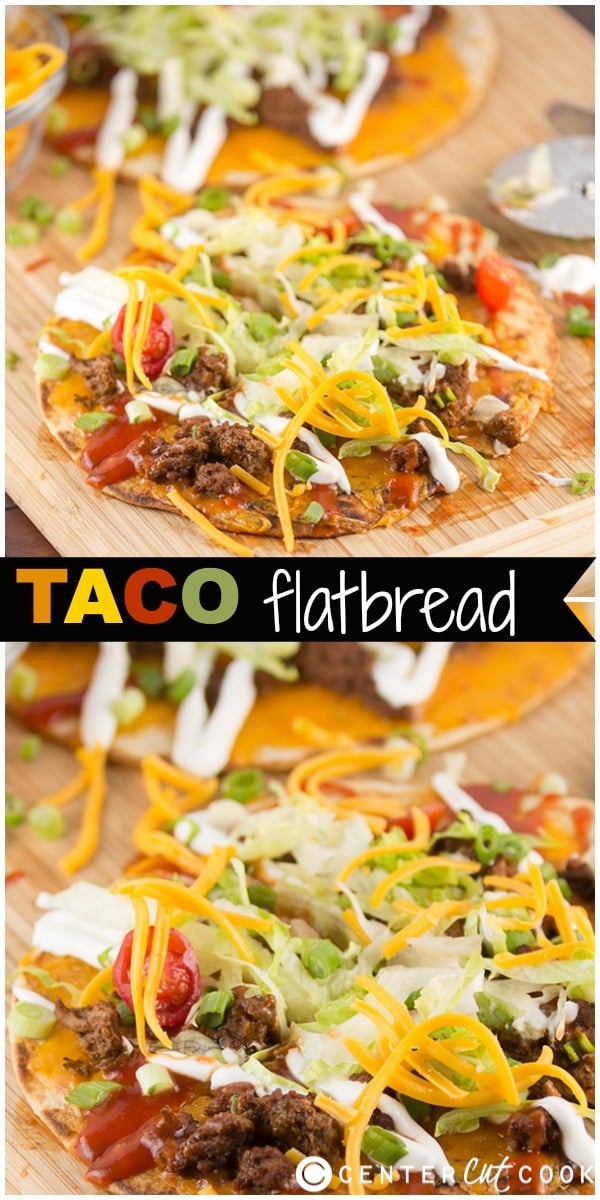 The ironic thing is that tacos are one of the foods that always sounds good to Ryan after chemo. Everything tastes different to him, and he usually has a lack of appetite, but for some reason, tacos in any form hit the spot! Needless to say, each round of chemo from here on out, I'll have plenty of taco meat on hand so that we can make every variation I can think of.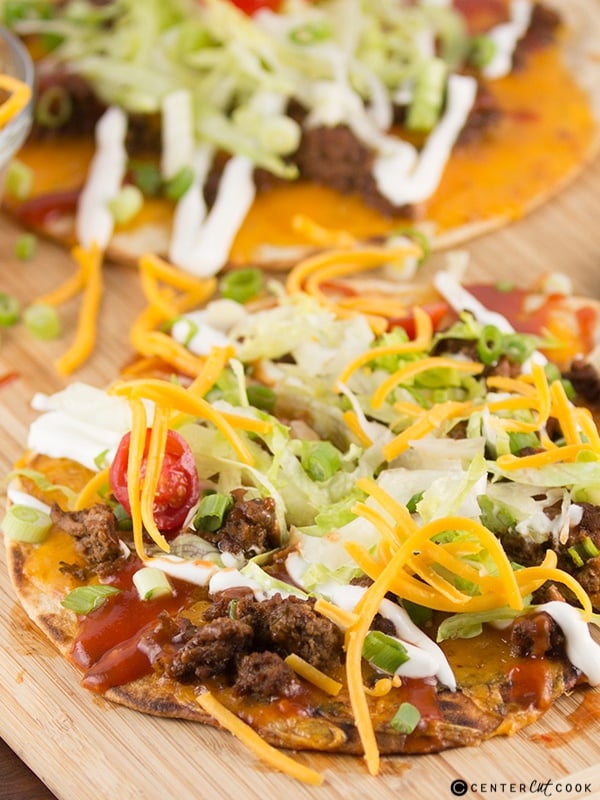 One of the key ingredients in this recipe is the flatbread, it sort of makes the whole recipe. You can certainly make your own flatbread from scratch, but most grocery stores sell them as well. My new favorite store-bought version actually comes from Costco in the refrigerated section. The brand is Roti-Land and they are uncooked. You just cook them in a skillet and they are crispy and delicious and worked perfectly for this recipe. I also have a homemade Simple Flat Bread recipe that you can find here, otherwise there are plenty of other store bought varieties out there that can be found either in the bread aisle, or by the deli.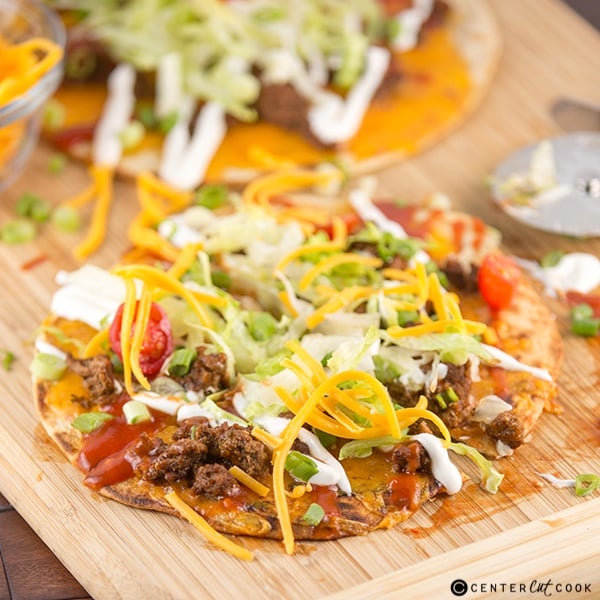 To assemble the flatbreads, you'll need seasoned taco meat. I used my favorite homemade taco seasoning to season about a pound of ground beef. Then you'll also want plenty of sharp cheddar cheese on hand along with taco sauce, sour cream, chopped tomatoes, crisp lettuce, green onions, and any other taco toppings you'd like! This is the perfect use for leftover taco meat!
Ready in 20-25, this is a great quick and easy dinner that the whole family will love, and a fun alternative to typical taco night. Enjoy!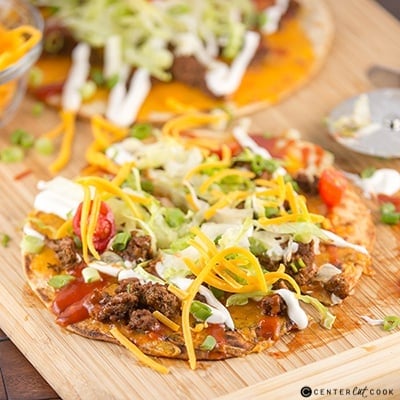 INGREDIENTS
1 pound ground beef
1 packet taco seasoning or use my homemade taco seasoning
6 flatbreads
1 1/2 cups sharp cheddar cheese, reserve some for garnish
1/2 cup taco sauce
Sour Cream
Shredded lettuce
Chopped tomatoes
Chopped green onion
DIRECTIONS
Preheat the oven to 400 degrees.
Brown ground beef in a large skillet and drain excess fat. If using a packet of taco seasoning, cook according to package directions. If using my homemade taco seasoning, add in 2 tablespoons of seasoning along with 2/3 cup water. Whisk in 2 tablespoons of flour. Bring to a boil, then reduce heat and simmer for 5-10 minutes.
Arrange flatbreads on baking sheets. Divide the cheddar cheese among the flatbreads, reserve a bit for garnish.
Divide meat evenly among the flatbreads.
Bake for 8-10 minutes, or until the cheese has melted.
Remove from the oven and drizzle each flatbread with taco sauce of choice, sour cream (I thinned out the sour cream with a bit of milk so that I could drizzle it over each flatbread ), additional shredded cheese, lettuce, tomatoes, green onion, and any other toppings you'd like.
Serve immediately.
Recipe from
CenterCutCook