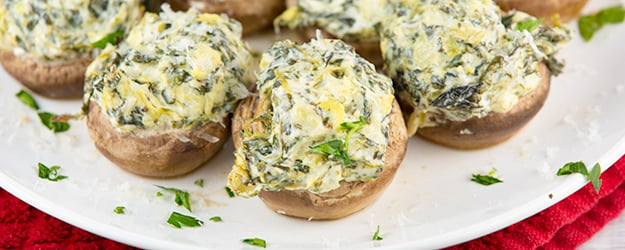 This Warm Artichoke Spinach Dip is without a doubt one of the most requested recipes for parties and get togethers.
There's something about the creamy, cheesy deliciousness of artichoke and spinach dip that I just love, which is why I decided to marry it with another favorite — stuffed mushrooms.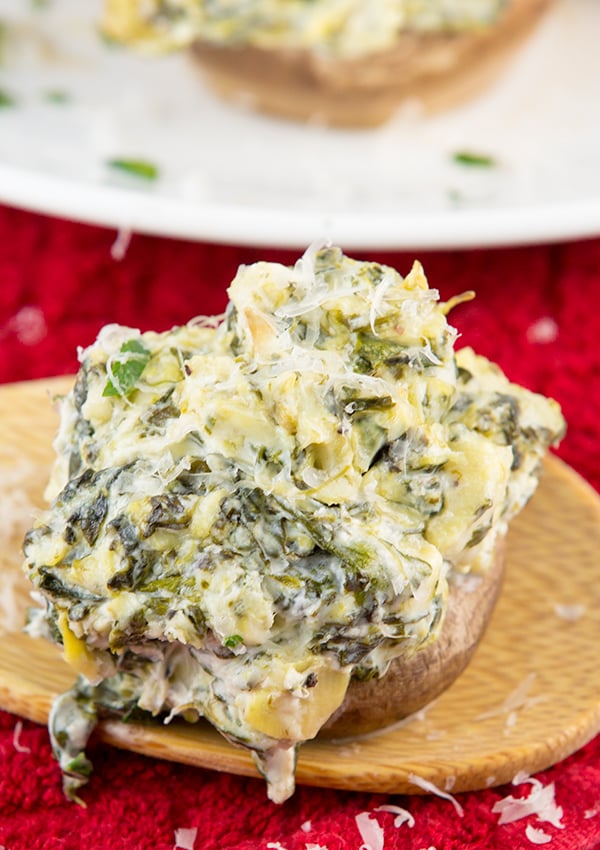 Meet the Artichoke and Spinach Stuffed Mushroom. This recipe can be served as an appetizer but I also eat it as a main course. Especially during the warm summer months when I'm looking for something light.
One of my go-to options when I'm following a low-carb life style is to eat a variety of stuffed mushrooms. While I love my classic recipe for Stuffed Mushrooms, I do like to get creative and stuff mushrooms with all kinds of delicious options.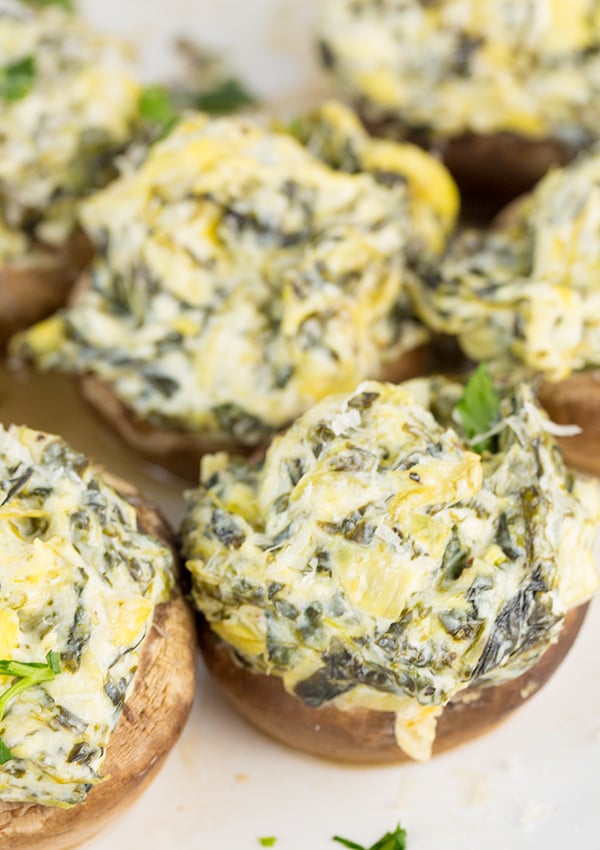 Artichoke and Spinach Stuffed Mushrooms combine everything you love about the popular dip with the ever-so-popular stuffed mushroom.
When making this dip, you will want to use large stuffing button mushrooms. Just pop out the stems and wash the mushrooms very gently by using a damp cloth.
If you enjoy artichoke spinach dip, you will love these stuffed mushrooms. The base of the filling is a pretty typical combination of frozen spinach, thawed, artichoke hearts, cream cheese, sour cream, and mayo.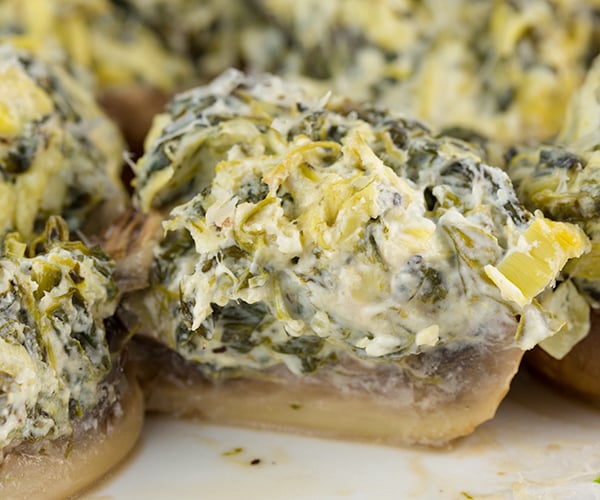 I also like to use very finely grated parmesan cheese and the best way is to buy a block of parmesan cheese and use a Micro Plane grater.
You can season the filling mixture with a splash of hot sauce if you'd like, and a pinch of red pepper flake. Both of these ingredients are optional.
Whenever I'm making stuffed mushrooms, I like to use a muffin tin. This helps keep the mushrooms from falling over and the filling falling out. Just spray a muffin tin with non-stick cooking spray to prevent the mushrooms from sticking.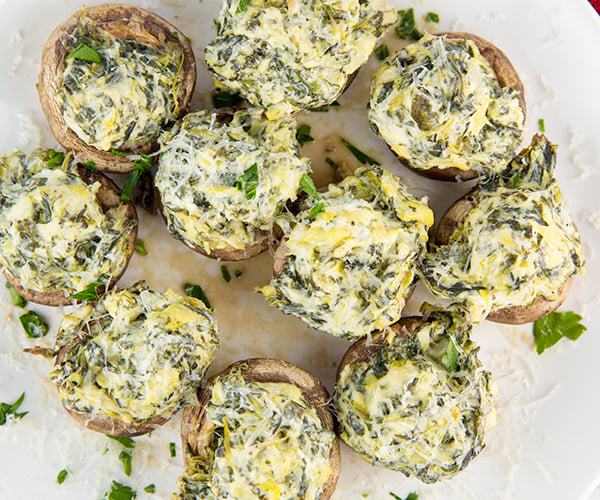 Other Spinach and Artichoke favorites include:
Spinach Artichoke Pull Apart Bread, Spinach and Artichoke Panini and Artichoke Dip Stuffed Garlic Bread.
Enjoy!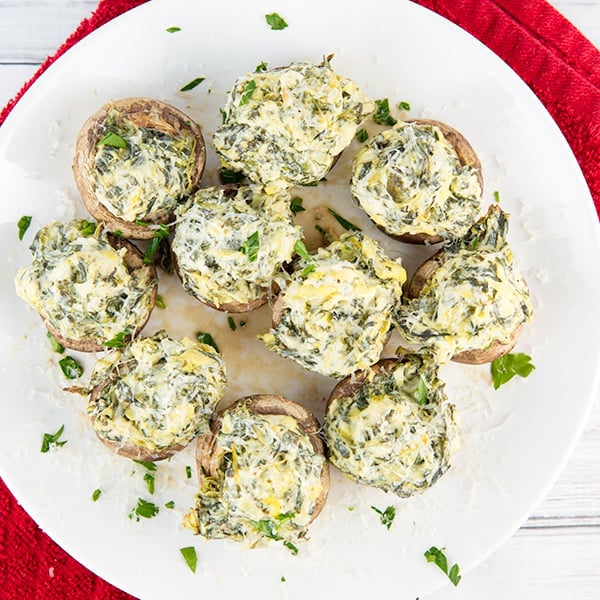 INGREDIENTS
16 stuffing mushrooms, washed and stems removed (use large button mushrooms)
1 – 10 ounce package frozen spinach, thawed and drained well (I use a cloth to squeeze the water out)
1-14 oz can small artichoke hearts, drained and chopped
6 ounces cream cheese, cubed
1/4 cup sour cream
1/4 cup mayo
2/3 cup Parmesan Cheese, grated
1/2 teaspoon red pepper flake (Optional)
Splash of hot sauce (Optional)
1/8 teaspoon garlic powder
1/4 teaspoon salt
1/4 teaspoon black pepper
DIRECTIONS
Pre-heat your oven to 350 degrees.
In a small saucepan, add spinach, artichoke hearts, and 1 cup of water. Bring to a boil, then reduce heat and simmer for 3-5 minutes.
While the spinach and artichokes are simmering, cut the cream cheese into cubes.
Remove spinach and artichokes from heat, and drain really well. You do not want a watery filling so this step is really important.
Return the spinach and artichokes to the pan, and with the heat on low, stir in cream cheese, sour cream, mayo, and parmesan cheese. Continue stirring until all ingredients are incorporated.
Stir in garlic powder, salt, black pepper, hot sauce and red pepper flake if desired.
On a rimmed baking sheet or using a muffin tin, lay out the mushrooms.
Scoop a large spoonful of artichoke and spinach mixture into each mushroom.
Bake for 15-20 minutes, then serve immediately.
You may have extra filling leftover, either stuff more mushrooms, or enjoy it with fresh veggies, baguette or crackers.