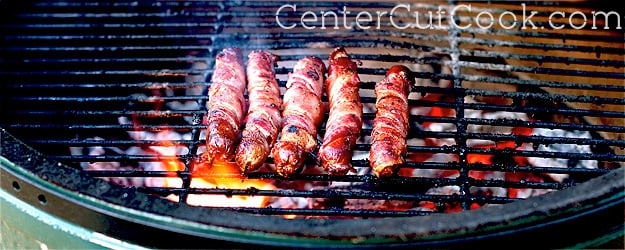 If you, or the guys in your life are anything like my hubby, bacon wrapped anything, but especially bacon wrapped meat is about as close to heaven as you can get. A recent trip to Five Guys Burgers and Fries (heard of it? It's all the craze these days, around these parts at least) inspired my hubby to come up with this simple "recipe." He saw hot dogs on their menu, with the option of adding bacon and got all excited thinking it was a bacon wrapped hot dog. When I informed him that I was pretty certain they just threw some bacon on top of the hot dog, he decided we'd have to go home and try it, and try we did!
Now, I'm not a huge hot dog fan. In fact, I used to be a vegetarian and it wasn't until I met my husband that he introduced me back to meat. Hot dogs were one of the last meats (can you call it that?!) I tried again. Despite the fact I'm still not a huge meat eater, I do have to admit, these bacon wrapped hot dogs were pretty darn tasty, especially cooked on our aforementioned Big Green Egg Grill. It uses natural lump charcoal which produces unbelievable flavor! I've had some of the best food of my life, cooked on this grill. For real!
When I do buy hot dogs, I tend to buy the Hebrew National 100% beef hot dogs. They don't use fillers or by-products, and they don't use artificial flavoring. For a hot dog, that's sort of impressive. We dipped these babies in smoky bbq sauce which complemented the smoky bacon just perfectly.
Note: Make sure your grill isn't heated too hot, otherwise the bacon will just burn before the hot dog is heated through.
INGREDIENTS
6 hot dogs
6 hot dog buns
12 tooth picks (2 for each hot dog)
6 strips of bacon
BBQ sauce (optional)
DIRECTIONS
Heat your grill to medium-low heat.
Wrap each hot dog with one strip of bacon and secure with a toothpick at each end. One strip of bacon fits around a hot dog just perfectly!
Cook on the grill, rotating so that all sides cook evenly. When the bacon is lightly crisp, remove from the heat. This took about 5 minutes on my grill that was heated to around 400-425 degrees.
Serve with BBQ sauce or any condiments you like. Enjoy!