Cheesy Chicken Enchilada Soup
Cheesy Chicken Enchilada Soup is hearty, creamy, and delicious and tastes like classic enchiladas. Ready in 30 minutes, it is a recipe the entire family will enjoy and you'll make over and over again.
This easy enchilada soup recipe is perfect for hectic weeknights when there are children to feed and homework to do. It's also great for laid-back weekends! Basically, it's a must-make recipe every fall and winter when comforting soup is calling your name.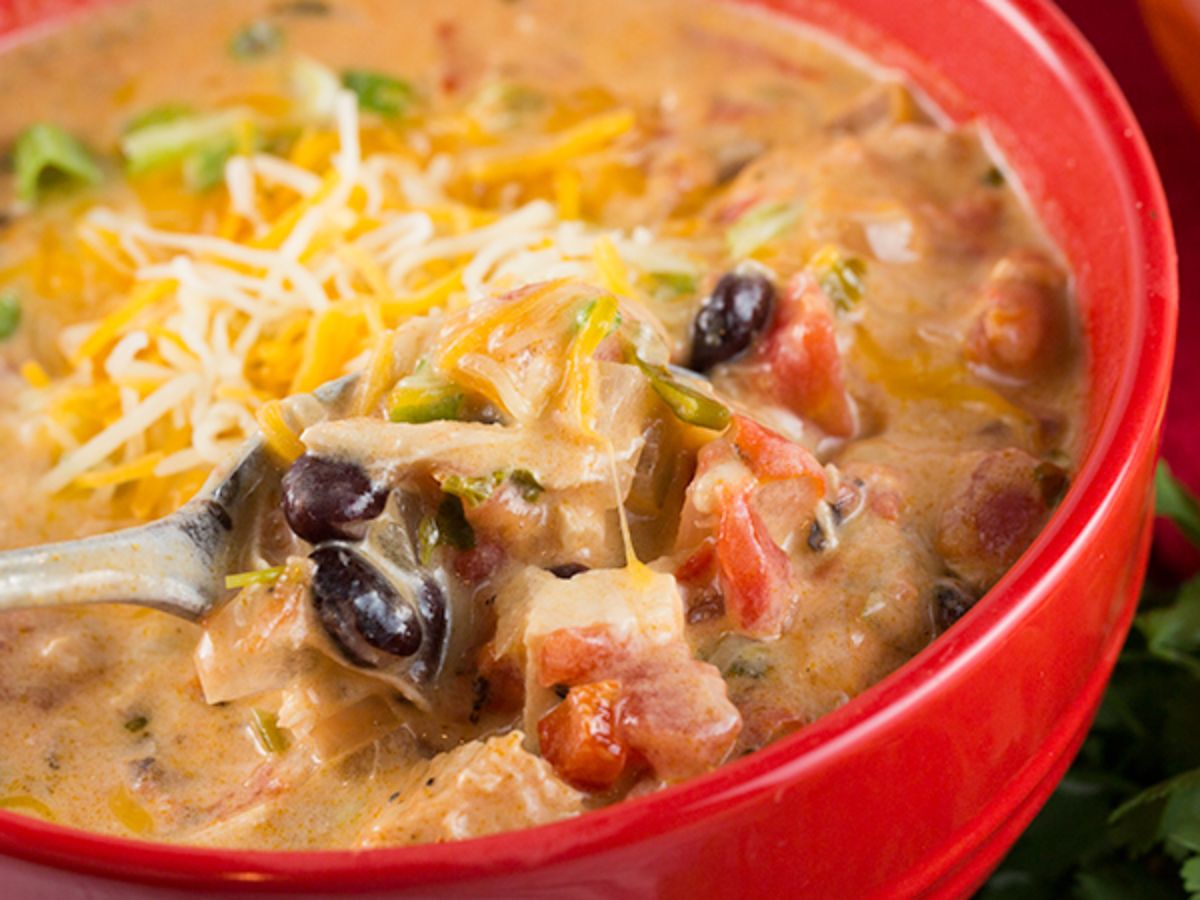 One of my favorite things to do is take a classic recipe like enchiladas and turn it into a soup. (I've also done this with Lasagna and it's SO good. Have you tried my Lasagna Soup?) The flavors of classic chicken enchiladas work so perfectly as soup.
Chicken Enchilada Soup Ingredients
This Cheesy Chicken Enchilada Soup is packed with veggies and chicken and allows you to enjoy the flavors of enchiladas, but in a bowl instead!
For the soup:
Olive oil – to sauté the veggies
Veggies – onion, peppers, tomatoes
Chicken broth – use a good quality broth
Enchilada sauce – your favorite canned enchilada sauce
Canned goods – diced tomatoes, black beans, green chiles
Cream cheese – adds creaminess to the soup!
Cheddar cheese – shredded cheese makes this soup cheesy and delicious!
Cooked chicken – a rotisserie chicken from the grocery store works well for this recipe!
Seasonings – cumin, salt and pepper. Add cayenne pepper and/or chili powder if you'd like your soup spicy!
For the garnish:
Adjust the garnishes according to whatever you and your family enjoy. Here are some suggestions.
green onion
cilantro
diced red onion
crushed tortilla chips
diced avocado
additional cheese
sour cream or plain Greek yogurt.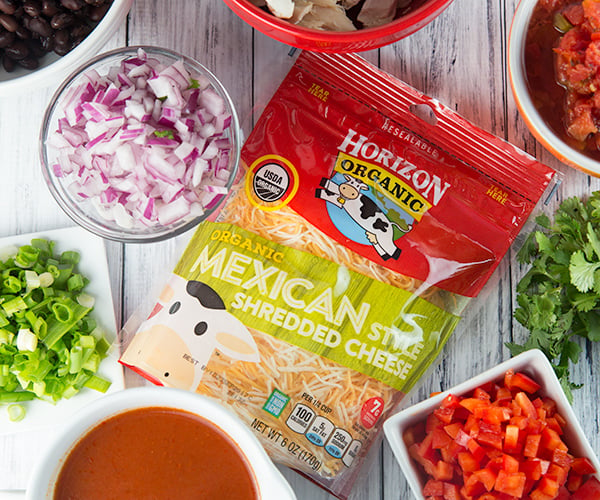 How to Make Enchilada Soup
Here is a brief overview of how to make chicken enchilada soup. For the full recipe including all measurements, scroll to the recipe card at the bottom of the post.
Sauté the veggies in olive oil – addd onion and bell peppers to the pan and cook until veggies are tender.
Pour in the chicken broth – along with the broth add in cumin and enchilada sauce.
Bring to a boil – then add in canned goods: diced tomatoes, black beans, green chiles along with chopped green onion, and cilantro.
Add chicken – then simmer.
Make it cheesy – with heat reduced to low, add in cream cheese and shredded cheddar cheese.
Adjust seasonings – adjust salt and pepper to taste.
Serve with all of your favorite garnishes.
Cheesy Enchilada Soup Variations
Use raw boneless skinless chicken breasts or thighs – add the chicken before you bring the soup to a boil. It will take 15-20 for the chicken to cook simmering in soup. Chicken should reach 165 degrees F before removing it to shred, then return to the pot of soup.
Add more veggies – this recipe can be tweaked according to preference. Add or omit any of the veggies as you see fit.
Make it spicy – add heat to the recipe by adding chili powder and/or cayenne pepper. Start with 1-2 teaspoons of chili powder and ½ teaspoon of cayenne and adjust from there.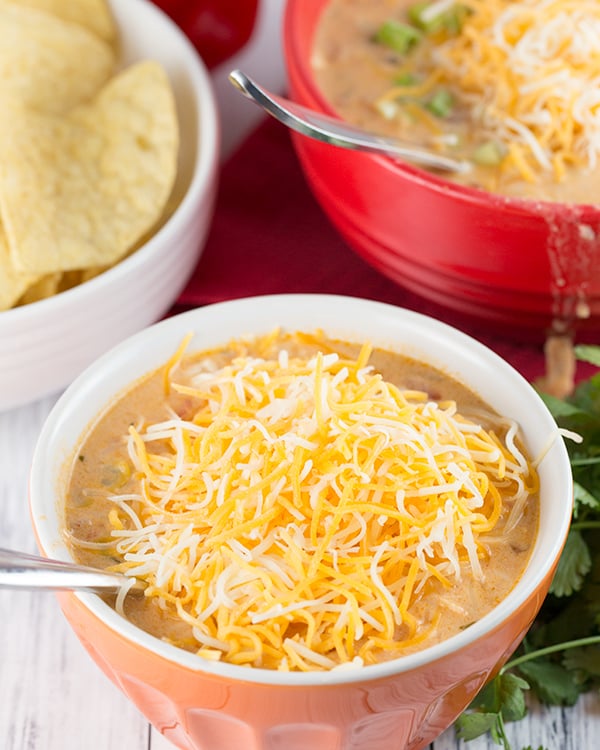 Make it smooth
If you prefer smooth soup over chunky soup, use a blender or an immersion blender to blend this soup until it's smooth before serving.
Use a rotisserie chicken
Pick up a rotisserie chicken from the grocery store and pull off the chicken to use in this soup. It's my favorite quick and easy tip for using chicken in recipes.
Storing and Reheating Leftovers
Store any leftovers in an airtight container in the refrigerator for up to four days. Reheat only the portion that you pan to eat in the microwave or on the stovetop until it is heated through.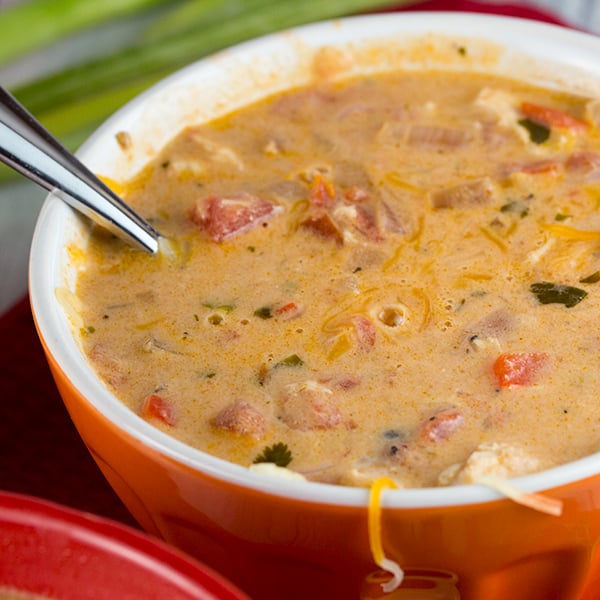 Freezing Chicken Enchilada Soup
Make a double batch of this soup to freeze and enjoy later but keep in mind a couple of considerations: this soup contains cream cheese and cheddar cheese. Sometimes there can be a texture change after cheese has been frozen.
Allow the soup to come to room temperature
Use an airtight container or freezer bags to store the soup. If using freezer bags, allow enough room in the bag for expansion after the soup is frozen.
Label and date the soup.
When you're ready to eat, thaw the enchilada soup overnight in the refrigerator. This will help the soup maintain the texture and flavor. Stir well! Then reheat in the microwave or on the stovetop.
Other Soup Recipes
Here are a few other delicious soup options you might enjoy!
Cheesy Chicken Enchilada Soup is hearty, cheesy, and delicious. It has hints of spice and a bit of creaminess that make each and every bite worth it! With only about 10 minutes of prep time and about 20 minutes of cooking/simmering, you'll have a delicious dinner on the table.
If you make this Cheesy Enchilada Soup or any of my other recipes, please let me know what you think by leaving a comment. I love hearing from you! Enjoy!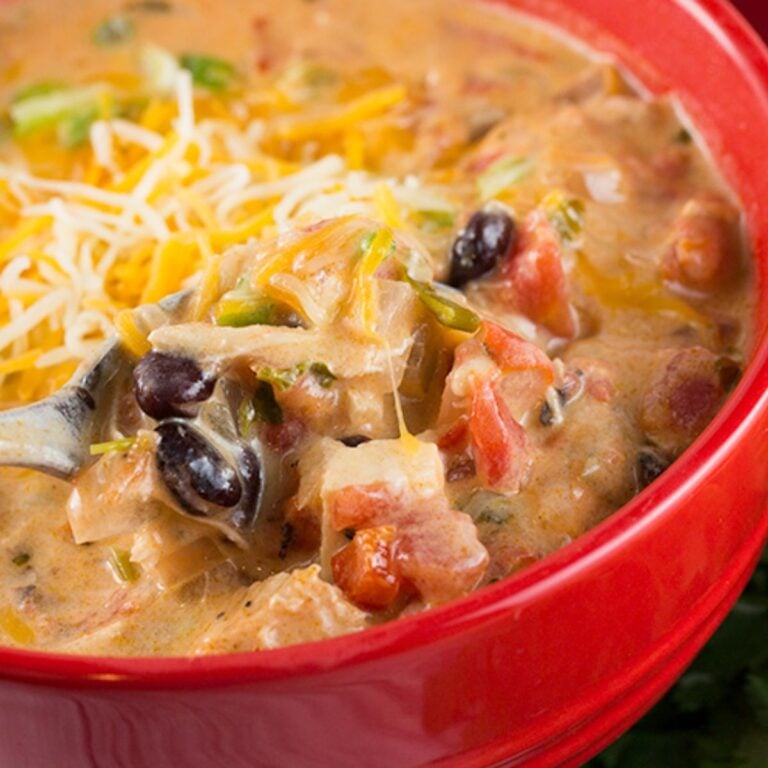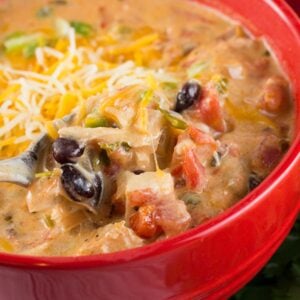 Cheesy Chicken Enchilada Soup
Cheesy Chicken Enchilada Soup is hearty, cheesy, and delicious!
Ingredients
2

tbsp

olive oil

1

large purple onion

diced

1

red bell pepper

diced

4

cups

chicken broth

2

tsp

cumin

10

oz

red enchilada sauce

14.5

oz

fire roasted diced tomatoes

1

can

black beans

rinsed and drained

4

oz

diced green chiles

8

oz

cream cheese

cut into 1-inch cubes

1

cup

cheddar cheese

shredded, plus additional for garnish

2

cups

cooked chicken

shredded, I used a rotisserie chicken

3

tbsp

cilantro

chopped, reserve some for garnish

salt and pepper

to taste

3

green onions

chopped, reserve some for garnish
Garnish Ingredients
green onion

chopped

cilantro

chopped

red onion

diced

tortilla chips

crushed

avocado

diced

Mexican or cheddar cheese

shredded

plain greek yogurt or sour cream
Instructions
Heat 2 tablespoons olive oil in a large soup pot/dutch oven over medium-high heat.

Add in chopped purple onion and red bell peppers and cook until the peppers are softened and the onions translucent.

Pour in 4 cups chicken broth, 2 teaspoons ground cumin, and the enchilada sauce. Stir to combine and bring to a boil.

Reduce heat to medium. Add in the diced tomatoes, black beans, green chiles, chopped green onion, chopped cilantro, and shredded cooked chicken. Stir and allow to simmer for 10-15 minutes.

Reduce heat to low. Add in cubed cream cheese and shredded cheddar cheese. Stir to combine and continue to stir while the cheese melts and incorporates.

Season to taste with salt and pepper. Garnish and enjoy!