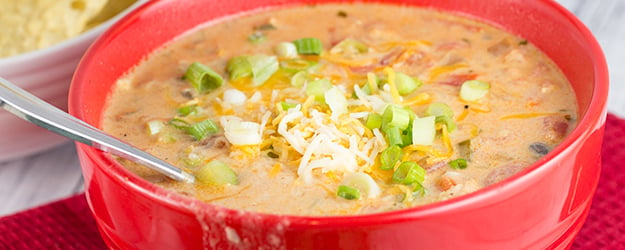 Cheesy Chicken Enchilada Soup is a creamy, delicious and easy soup recipe that's perfect for hectic weeknights when there's children to feed and homework to do. It's also great for laid back weekends! Basically, it's a must-make recipe every fall and winter when comforting soup is calling your name.
One of my favorite things to do is take a classic recipe like enchiladas and turn it into a soup. (I've also done this with Lasagna and it's SO good. Have you tried my Lasagna Soup?) The flavors of classic enchiladas work so perfectly as soup. I'm excited to share this Cheesy Chicken Enchilada Soup recipe with you today because it's the perfect back to school dinner that the kids will love. My three year old devoured this soup without hesitation, especially after I let him sprinkle a little extra cheese on top.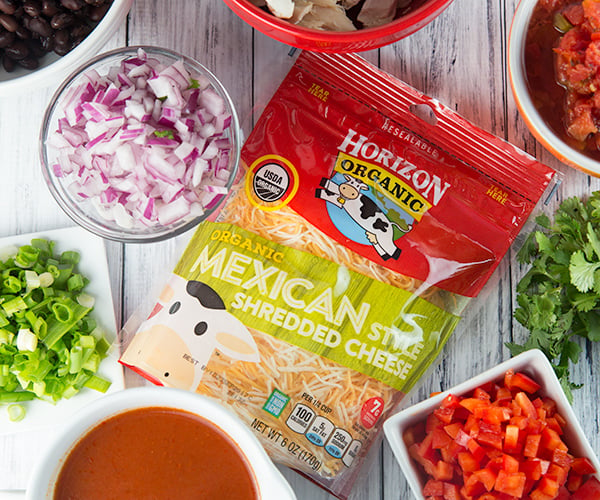 This Enchilada Soup is packed with veggies too — onion, peppers, tomatoes, so much goodness in one bowl. If you would like to make it more of a spicy soup, you can very easily add a little heat to the recipe by adding chili powder and cayenne pepper. I'd recommend starting with 1-2 teaspoons of chili powder and 1/2 teaspoon of cayenne pepper, tasting it, and adjusting from there. You can always add more if it's not as spicy as you'd like.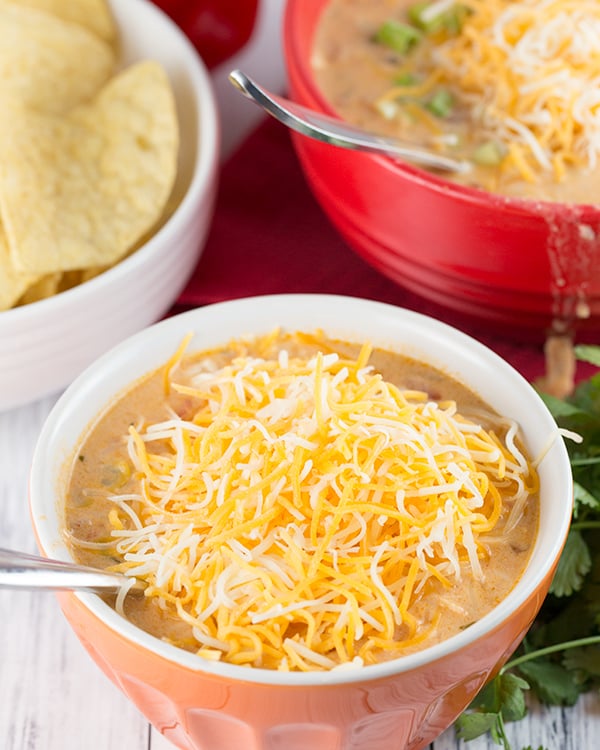 Pro tip #1: My son prefers smooth soups over the chunky variety. If any of your children are like this, use a blender or an immersion blender to blend up their serving of soup until it's smooth.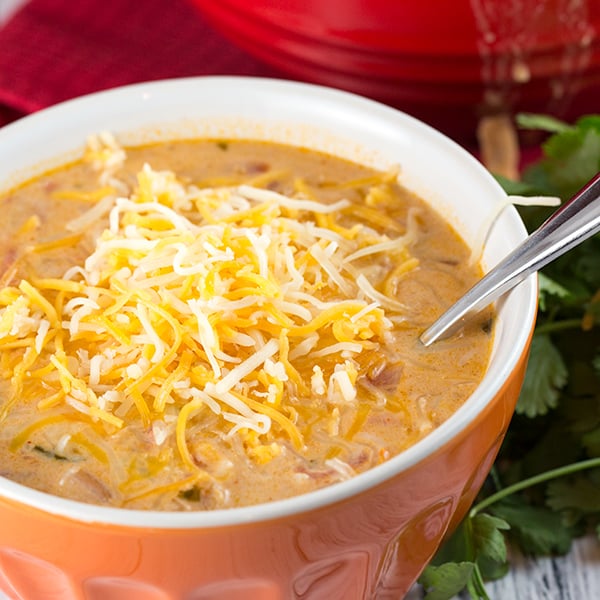 Pro tip #2: Be sure to have your favorite garnishes prepped. One of the reasons my son enjoyed this soup so much is because I had a variety of garnishes available and let him choose how he wanted to top the soup. Naturally, my little cheesehead wanted only extra shredded cheese but he loved having a choice. And I loved all of the other garnishes to top my bowl of soup. It's a win-win for both the kids and adults alike.
Pro tip #3: Pick up a rotisserie chicken from the grocery store and pull off the chicken to put in this soup. It's my favorite quick and easy tip for using chicken in recipes.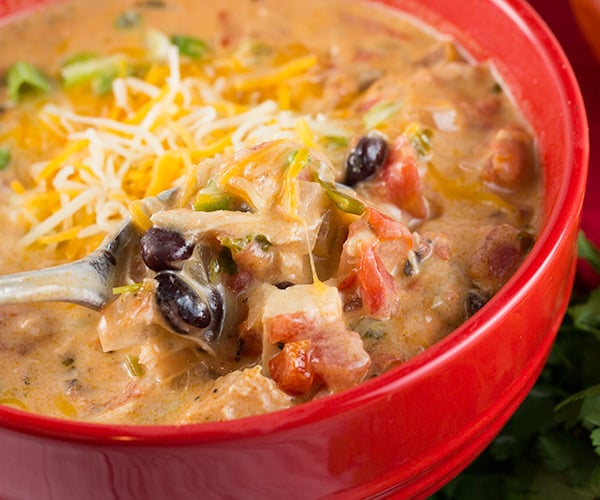 Cheesy Chicken Enchilada Soup is hearty, cheesy and delicious. It has hints of spice and a bit of creaminess that make each and every bite worth it! With only about 10 minutes of prep-time and about 20 minutes of cooking/simmering, in no time you'll have the perfect back to school dinner on the table.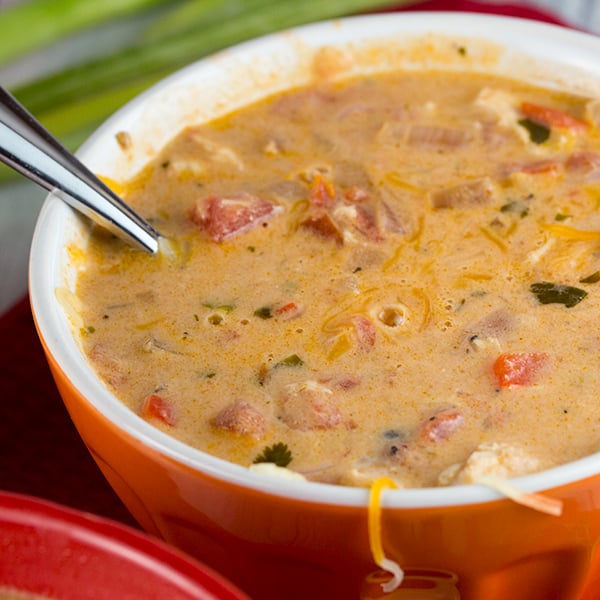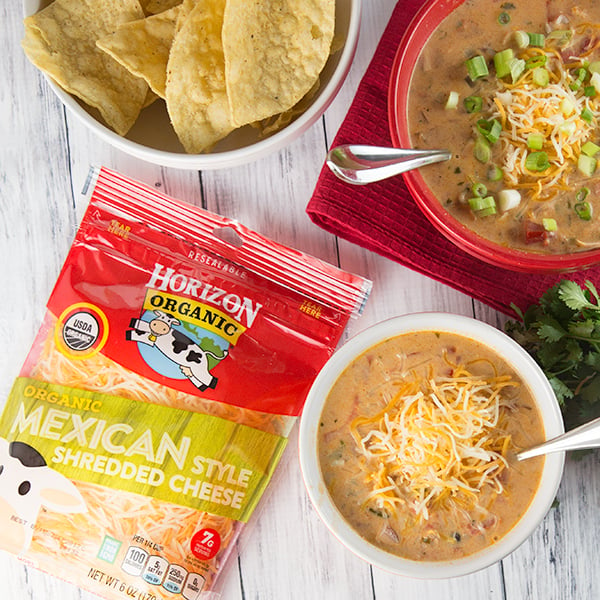 INGREDIENTS
2 tablespoons olive oil
1 large purple onion, diced
1 red bell pepper, diced
4 cups chicken broth
2 teaspoons cumin
10 ounces red enchilada sauce
1 – 14.5 ounce can fire roasted diced tomatoes
1 can black beans rinsed and drained
1 – 4 ounce can diced green chiles
8 ounces cream cheese, cut into 1 inch cubes
1 cup shredded cheddar cheese + additional for garnish
2 cups shredded cooked chicken (I used a rotisserie chicken)
3 Tablespoons chopped cilantro, reserve some for garnish
Salt and pepper to taste
3 green onions, chopped, reserve some for garnish
GARNISH INGREDIENTS
Chopped green onion
Chopped cilantro
Diced red onion
Crushed Tortilla chips
Diced avocado
Shredded Mexican or Cheddar Cheese
Plain Greek yogurt or sour scream
DIRECTIONS
Heat 2 tablespoons olive oil in a large soup pot/dutch oven over medium high heat.
Add in chopped purple onion and red bell peppers and cook until peppers are softened and onions translucent.
Pour in 4 cups chicken broth, 2 teaspoons ground cumin and enchilada sauce. Stir to combine and bring to a boil.
Reduce heat to medium, add in diced tomatoes, black beans, green chiles, chopped green onion, chopped cilantro and shredded cooked chicken. Stir and allow to simmer for 10-15 minutes.
Reduce heat to low. Add in cubed cream cheese and Horizon Organic Shredded Mexican Cheese. Stir to combine and continue to stir while the cheese melts and incorporates.
Season to taste with salt and pepper.
Garnish with chopped green onions, additional Horizon Organic Shredded Mexican Cheese, etc.
Servings: 6-8