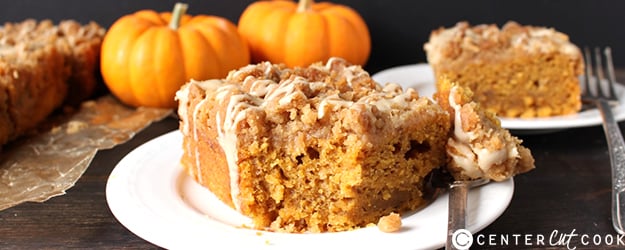 I love Silk Cashew Milk, which is a plant based dairy free milk alternative, because it is thick, creamy and you would never know there are only 25 calories in a cup. We always have a carton in the fridge because I use it in everything from baking to having a bowl of cereal. It is so easy to use it as a replacement in any recipe that calls for milk, to make it dairy free.
A plant based diet doesn't mean you have to quit eating your favorite foods, they just have to be adjusted a little. This coffee cake has been a favorite for a long time and it was super easy to make changes with none of the flavor being compromised. It is just as delicious as my original recipe, with the benefit of being free of any animal products. The cake is moist and full of fall flavor, the crumble topping is addictive, and the maple glaze pulls it all together. This cake is so good!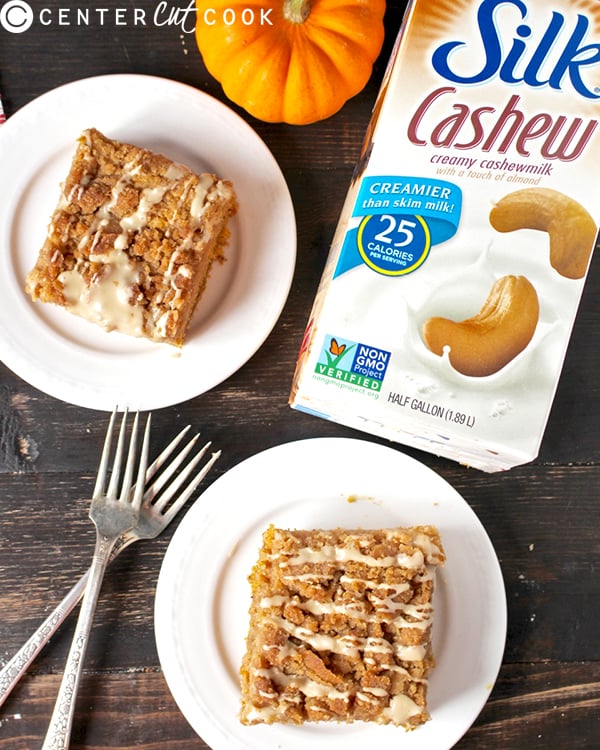 Since I was making it dairy free, I also wanted to try to make it completely vegan. I made one with flax eggs and it came out awesome. If you're vegan or maybe have an egg allergy, the flax eggs are the perfect option. If you have never made a flax egg before, it's super easy. Place 1 tablespoon ground flax seed with 3 tablespoons water. Stir together and place it in the fridge for 15 minutes. It will gel up and then it's ready to use in place of an egg. I made two of those to replace the eggs in this dish. Making it this was made it a little more dense, but the flavor was the same. It was a nice cross between pumpkin pie and coffee cake. Either way, it is so delicious!
This pumpkin coffee cake is the perfect dairy free dessert to make for Thanksgiving that is guaranteed to be a hit with everyone.
This is a sponsored conversation written by me on behalf of Silk. The opinions and text are all mine.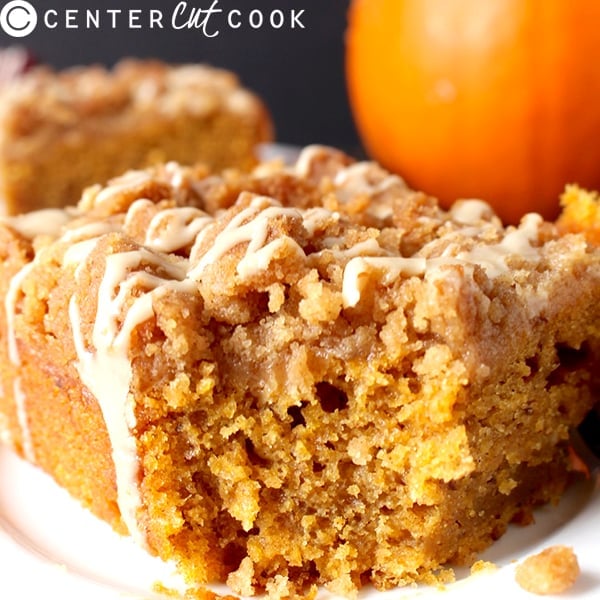 CAKE INGREDIENTS
1/2 cup coconut oil, room temperature
2 cups sugar
1 15oz can pumpkin
2 eggs (or flax eggs)
2 teaspoons vanilla
2 1/3 cups flour
2 teaspoons baking powder
1 teaspoon salt
1 1/2 teaspoons cinnamon
1 teaspoon pumpkin pie spice
1 cup Silk Cashew Milk
CRUMB TOPPING INGREDIENTS
1/2 cup coconut oil
1 cup brown sugar
1 cup flour
2 tablespoons flour
1/2 teaspoon cinnamon
GLAZE INGREDIENTS
2/3 cup powdered sugar
2 tablespoons maple syrup
2 teaspoons Silk Cashew Milk
CAKE DIRECTIONS
Preheat oven to 350° and line a 13×9 with parchment paper.
In a large bowl, combine coconut oil and sugar until well mixed.
Add in the eggs (or flax eggs), pumpkin, and vanilla. Stir well.
Add in the flour, baking powder, salt, cinnamon, and pumpkin pie spice. Stir until just mixed.
Add the Silk Cashew Milk and mix until mixture is smooth.
Pour into prepared pan.
CRUMB TOPPING DIRECTIONS
In a small bowl, combine coconut oil, brown sugar, flour, and cinnamon.
Mix until well combined and crumbly.
Evenly sprinkle over the cake mixture.
Bake cake for 45-50 minutes.
Let cool before glazing.
GLAZE DIRECTIONS
Mix powdered sugar, maple syrup, and Silk Cashew Milk together in a small bowl until smooth.
Drizzle over cooled cake.
Servings: 15