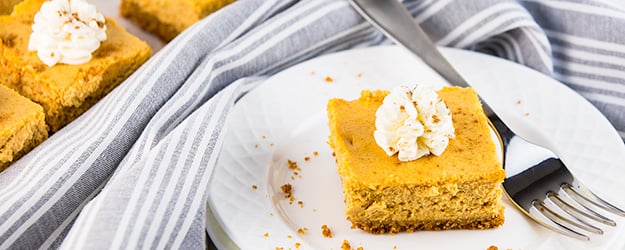 Pumpkin Cheesecake Bars are the ultimate fall dessert recipe because they are easy to make, so yummy and taste just like fall!
How to make easy cheesecake bars:
Some pumpkin cheesecake bar recipes are layered and have separate layers for the pumpkin and the cheesecake. While they look beautiful, they're a bit more complicated.
We wanted to share the easiest, most delicious recipe for pumpkin cheesecake bars so we decided to combine the pumpkin and the cheesecake for one super easy layer that simplifies this recipe and makes it almost as easy as a no-bake recipe.
You'll begin by making the crust. When you're making the crust, you'll need finely crushed graham crackers. You can either use a rolling pin or food processor to crush whole graham crackers, OR you can also buy graham crackers already crushed and ready to use for the crust at the grocery store.
Then you'll work on the filling for these yummy bars. You'll need pretty simple ingredients including cream cheese, granulated sugar, eggs, pumpkin puree and a little pumpkin pie spice seasoning.
Make sure that you purchase pumpkin puree and not pumpkin pie mix. Your grocery store likely sells both but you'll need just the plain pumpkin puree.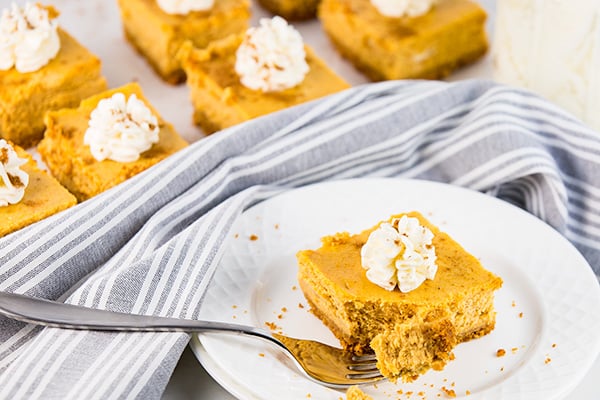 Because we aren't creating separate cheesecake and pumpkin layers, this recipe really is so easy and the end result is so beautiful! You can top these pumpkin cheesecake bars with homemade fresh whipped cream, or a can of whipped cream works too.
Just be sure to have pumpkin pie spice or cinnamon on hand to sprinkle on the top of each of the cheesecake bars.
Can I use gingersnap cookies in place of graham crackers for the crust?
Both graham crackers and gingersnap cookies are popular crust choices for this recipe. If you would like to use gingersnap cookies in place of graham crackers, you certainly can. Just crush enough gingersnaps so that you have 1 and 2/3 cups of gingersnap cookie crumbs.
Pumpkin Cheesecake Bars are so delicious and the recipe is really pretty easy and straightforward to make.
Be sure to allow the pumpkin cheesecake bars to cool for at least 3 hours in the refrigerator before serving. You can also make them ahead and refrigerate them overnight.
Enjoy!
More of the best pumpkin recipes!
If you're looking for more yummy pumpkin dessert recipes, here are some delicious options to try:
CRUST INGREDIENTS

FILLING INGREDIENTS

4 packages (8 ounces each) cream cheese, softened
1 1/2 cups granulated sugar
4 large eggs
1 cup canned pumpkin puree (not pumpkin pie mix)
2 teaspoons pumpkin pie spice
*Optional whipped cream for garnish

CRUST DIRECTIONS

Preheat oven to 300 degrees.
Line a 9×13 baking dish with either foil or parchment paper. You want to leave about an inch of extra paper or foil hanging off each side. If you don't line your baking dish, the bars will be very hard to remove from the pan- even if sprayed well with non stick cooking spray.
In a medium bowl, mix together the graham cracker crumbs, melted butter and sugar.
Pour the graham cracker mixture into the prepared 9×13 baking dish. Use your fingers to press the crust down. Set aside.

FILLING DIRECTIONS

In the bowl of your mixer, add the cream cheese and sugar. Beat on low speed using your paddle attachment until the mixture is light and fluffy.
Beat the eggs one at a time, just until blended. Be sure not to over mix.
Add the pumpkin puree and pumpkin pie spice to the cream cheese mixture.
Using a whisk, mix until smooth. Spoon pumpkin cheesecake filling mixture over the crust that's already in the baking dish. Carefully smooth out the filling mixture.
Bake the cheesecake bars in the preheated oven for 50-55 minutes or just until it's set. Do not over cook them. Turn off the oven and leave the door open to allow the cheesecake bars to cool down slowly for an hour to an hour and a half.
Lightly cover and refrigerate the cheesecake bars over night or for at least 3 hours before cutting them.
Garnish each bar with a dollop of whipped cream and a dash of pumpkin pie spice.

Recipe credit:
Brittany Jenkins