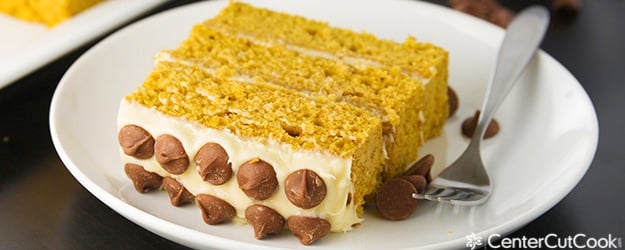 Fall is one of my most favorite times of year for so many reasons, but one HUGE reason is that it gives me the excuse to make ALL THINGS pumpkin! You name it, I love it! Pumpkin monkey bread, pumpkin pie, pumpkin pie cupcakes, pumpkin pancakes, pumpkin cheesecake, and the list goes on and on…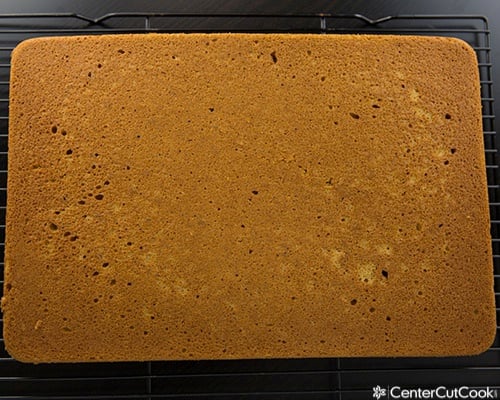 I have a hard time pinpointing exactly which pumpkin recipe is my favorite because there are so many delicious options including this decadent Pumpkin Layer Cake with yummy chocolate chips and cream cheese frosting! Did you get all of that? Pumpkin cake + cream cheese frosting + chocolate chips = pumpkin heaven!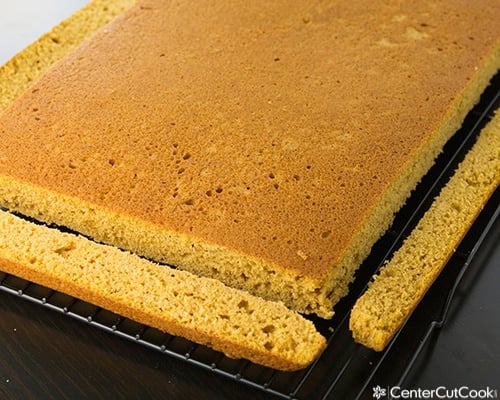 I originally spotted this recipe on my friend Heather's website, Sugar Dish Me. Heather's website is packed to the brim with delicious recipes that are easy to make. When I saw the cream cheese frosting oozing out from layers of pumpkin cake, I knew I had to try it!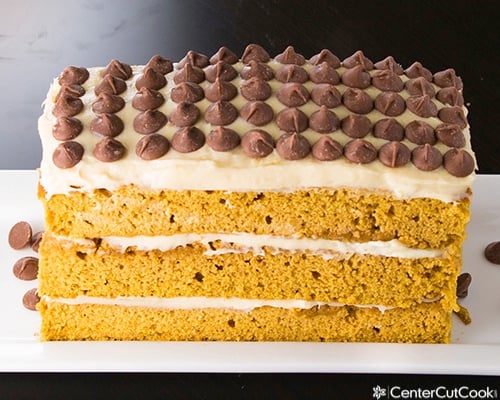 One thing I absolutely love about this cake, other than the fact that it is downright delicious and addicting, is that it comes together so fast. You'll be baking this cake in a 9 x 13 inch jellyroll pan, and because it's not a deep cake, it bakes fast. It'll only take you about 14-16 minutes for the cake to bake, and because it's pretty thin (about an inch deep), it cools pretty quickly as well which means you'll have it frosted and in yer belly in no time! :)
Heather's version included toasted pecans. I'm just not a nut person, so I left those out and used chocolate chips instead. I've been hooked on the pumpkin/chocolate chip combo ever since I made these pumpkin chocolate chip cookies last year. If pecans are up your alley, go ahead and include them. If not, I highly recommend you add chocolate chips.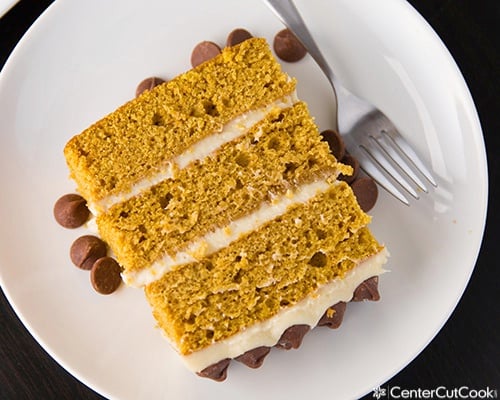 Oh, and let's not forget to talk about the frosting! Pumpkin always pairs perfectly with cream cheese frosting. This cream cheese frosting comes together in just a few minutes which I love. If you want to take a little help from the store, you'll need about one and a half cups of cream cheese frosting.
Because this is a layer cake, it's pretty tall so be sure to cut thin slices when you go to serve it, unless of course you want to put yourself in a pumpkin/cream cheese frosting/chocolate chip coma. :) You'll get about 10-12 servings if you cut thin slices of cake.
Whether you call this a pumpkin torte or a pumpkin layer cake, it doesn't really matter. All that matters is that it's yummy. Happy Fall!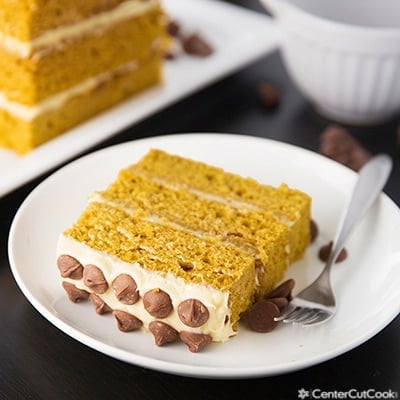 CAKE INGREDIENTS
FROSTING INGREDIENTS
8 ounce package cream cheese, softened
1 stick (1/2 cup) unsalted butter, softened
1 teaspoon vanilla
1 heaping cup confectioner's sugar
1/2 cup milk chocolate chips (I used Ghirardelli)
DIRECTIONS
Pre-heat your oven to 350 degrees and prep a 9 x 13 inch jelly roll pan by spraying it with non-stick cooking spray.
With your mixer, cream together 1 stick butter with 1 cup granulated sugar. Beat for a few minutes until light and fluffy and well combined.
Add in the eggs, one at a time and mix. Then add in pumpkin and mix well.
In a large bowl sift together flour, baking soda, pumpkin pie spice, cinnamon and salt.
Slowly add the dry ingredients into the wet and mix to combine.
Spread the cake batter into the prepared 9 x 13 inch jelly roll pan and use a spatula to smooth it out.
Bake for 14-16 minutes, or until a toothpick inserted into the center of the cake comes out clean.
Allow the cake to cool for a few minutes in the pan, then carefully flip it onto a cooling rack so that it can cool completely.
While the cake is cooling, make the frosting by mixing together 8 ounces of softened cream cheese and 1 stick unsalted butter. Mix for a few minutes until well combined. Add in vanilla and confectioner's sugar and mix until the frosting is light and fluffy.
When the cake has cooled, use a knife to cut-off the very outer edge of the cake on all sides (see photo above), then the cut cake into three equal pieces.
Spread about 1/2 cup cream cheese frosting on the bottom layer of cake, making sure to spread it evenly across the cake. Top with another layer of cake, then spread another 1/2 cup of frosting evenly. Add the last layer of cake and spread remaining frosting on top.
Sprinkle chocolate chips over the top of the cake, or arrange them in rows if you wish (see photo above). Place the cake in the refrigerator until you're ready to serve it.
Recipe slightly adapted from
Sugar Dish Me