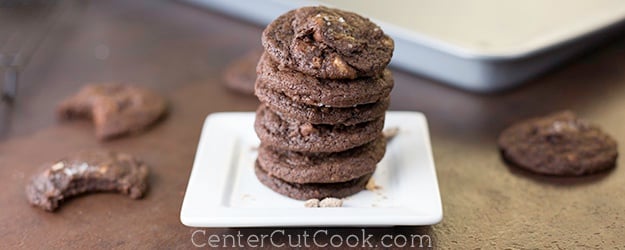 Have you entered our $100 Amazon.com gift card giveaway yet? Click here to enter! This week has been filled with a variety of desserts and sweet treats, everything from Peanut Butter S'mores Bites, Cinnamon Sugar Pretzel Bites, to White Chocolate Popcorn, so why not end the week with… more sweets?!? This time around I decided to go with a simple cookie recipe that's overloaded with chocolate. Being the chocolate fanatic that I am, there can never be too much chocolate in a dessert! These Double Chocolate Chip Heath Bar Cookies are crispy on the edges but soft and chewy in the center. Not only is the cookie itself chocolate, it's also stuffed with chocolate chips, and crushed up Heath Toffee Bars that consist of buttery toffee and more chocolate!
You will start with a basic cookie dough (flour, baking soda, salt, eggs, vanilla, butter, sugar, etc.), then you'll add cocoa powder to make them chocolatey! If you have dutch process cocoa powder, use it, if not, regular cocoa powder is fine.
Once the dough is made (it's a thick cookie dough!), you will fold in some goodies! We'll start with some Heath Bar pieces.
If you've never seen a Heath Bar before, this is what it looks like crushed up. It consists of buttery toffee that's topped with chocolate. Hershey's makes this particular candy bar, and it's a classic!
In addition to the buttery Heath bar pieces, you'll add in some chocolate chips. I went with semi-sweet chocolate chips. Once the Heath Bar pieces and the chocolate chips are folded in, you're going to cover the dough and put it in the freezer for about 20 minutes, or the fridge for about an hour.
This is a trick I recently learned. Typically I am used to chilling sugar cookie dough, not drop cookie dough like this. But chilling the dough is a great thing to do because it allows the gluten strands in the flour to relax a bit. Additionally, the flour is able to soak up some of the moisture in the dough which means as the cookies bake, they won't spread out too much.
After the dough is chilled, you'll plop the dough onto ungreased cookie sheets. I finally invested in a cookie scoop from Amazon for $9.00 and it has been worth every penny! They'll go into the oven for about 8-10 minutes.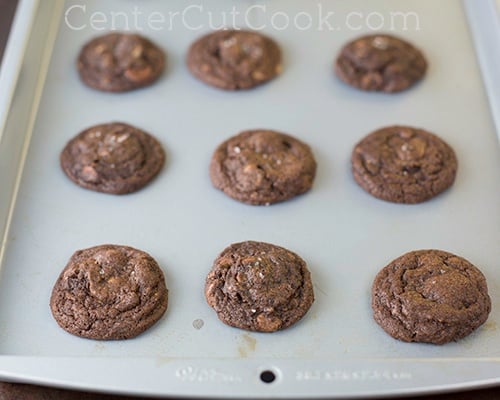 Once they're done, you'll let them sit on the cookie sheet for a few minutes to set up a bit before transferring them to wire racks to cool.
As a final little touch, I sprinkled a teensy bit of sea salt on the top of each cookie. Delicious!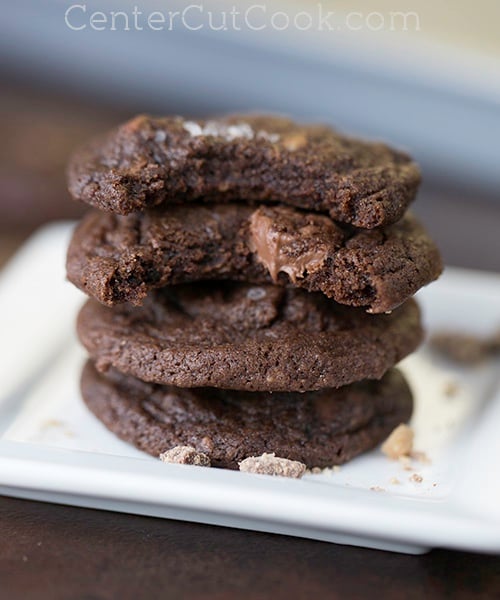 Look at these yummy ooey gooey Double Chocolate Chip Heath Bar Cookies! Don't they look fabulous? Crispy on the edges but soft and chewy in the center, that's my kind of cookie! You'll get about 5 dozen cookies from this recipe.
INGREDIENTS
1 cup butter, softened
1 1/2 cups granulated sugar
2 large eggs, room temperature
2 teaspoons vanilla extract
2 cups all-purpose flour
2/3 cups cocoa powder (dutch process of you have it)
3/4 teaspoon baking soda
1/4 teaspoon table salt
1 cup semi-sweet chocolate chips
1 cup Heath Bar Toffee Pieces
Pinch of sea salt for each cookie if desired for garnish
DIRECTIONS
With your mixer, cream together softened butter and granulated sugar. Add in eggs and vanilla and mix until combined.
In a large bowl sift together flour, cocoa powder, baking soda, and table salt.
Slowly mix the dry ingredients into the wet. At this point it should be a very thick dough!
Fold in chocolate chips and Heath Bar toffee pieces.
Place the dough in a bowl, cover, and chill in the freezer for about 20 minutes, or in the refrigerator for an hour.
Preheat the oven to 350 degrees.
Drop 1 rounded tablespoon of cookie dough for each cookie on ungreased baking sheets. Leave about 2 inches between each cookie.
Bake in the oven for 8-10 minutes. Immediately after the cookies come out of the oven, sprinkle them with a pinch of sea salt, if desired.
Allow the cookies to cool on the baking sheet for a few minutes before carefully transferring them to a wire rack to finish cooling.
Yields about 5 dozen cookies. Store in an air-tight container.
Please remember that all images shown here are copyrighted and may not be used without written permission from CenterCutCook.
Recipe from
CenterCutCook