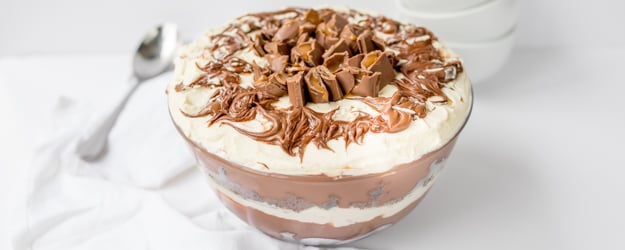 My kids were really hoping this Chocolate trifle was going to be split four ways – between both of them and my husband and I. I had to explain to their disappointed little faces that this trifle could easily feed ten people.
Once they had spoons in hand, the disappointment soon turned to blissful happiness as they dug around for pieces of muffin and caramel chocolate!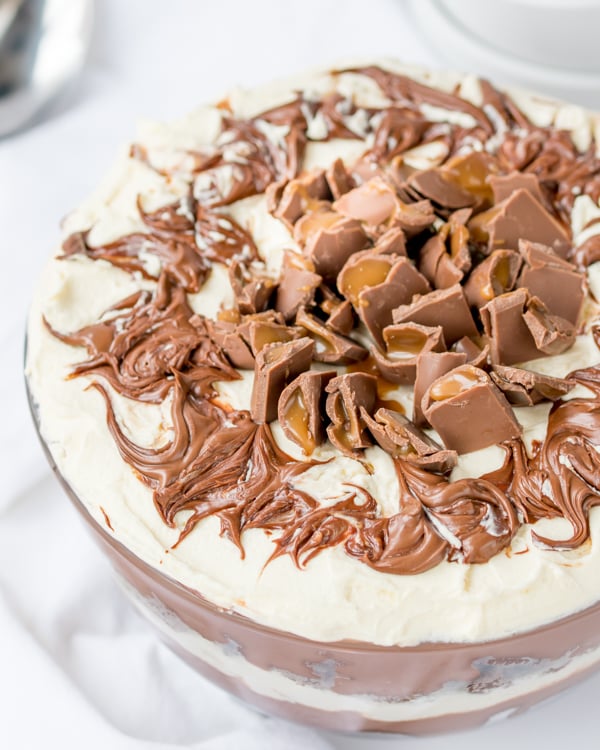 This really is a dessert for chocolate lovers. We're talking chocolate custard, double chocolate muffins, chocolate swiss roll, chocolate caramel candy and swirls of Nutella.
Yep, this isn't a dessert for when you're watching your waistline!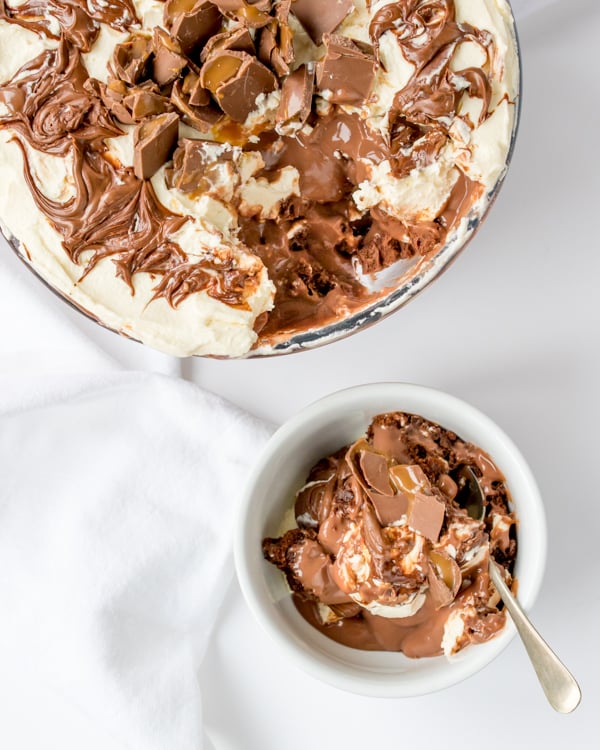 I used a 2 liter (1 3/4 quart) bowl for this dessert and it filled it to the brim (and then some – those extra two spoonfuls were cook's treat!).
If you want to add any extras, how about:
Chopped nuts
Banana slices
Strawberries or cherries
Crushed Amaretti cookies
Maybe go for all of them at once – now that really would make the kid's faces light up!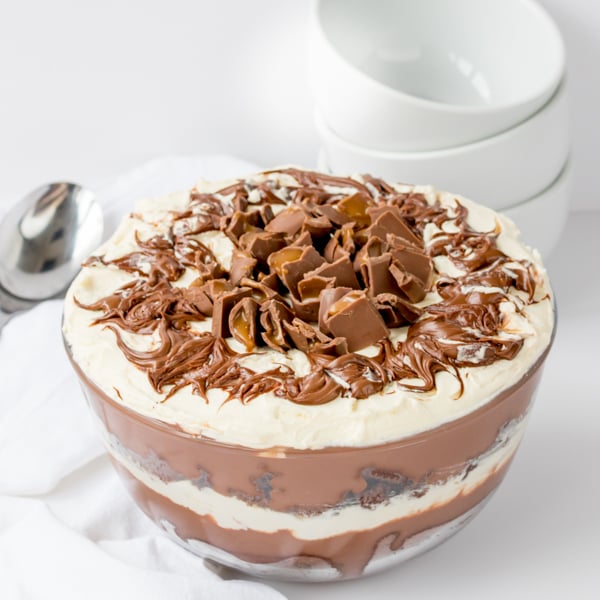 INGREDIENTS
1 small chocolate swiss roll
4 double chocolate chip muffins
40 fl oz chocolate custard (or chocolate pudding)
30 fl oz whipping cream
4 tbsp Nutella
12 chunks/pieces of soft, caramel-filled chocolate – such as Ghirardelli's or Rolos
DIRECTIONS
Cut the swiss roll into 1/2″ inch slices and line the sides of your bowl – at the base – with them.
Roughly chop the muffins, and place half of the muffin chunks in the center of the bowl.
Top with half of the custard.
Whisk the cream until soft peaks form and spoon half of it over the custard.
Top with the remaining chocolate muffin chunks, followed by the remaining custard.
Spoon the remaining cream on top and smooth it out so that it covers the whole of the top of the trifle.
Spoon the Nutella on top of the cream in 8-10 little dollops around the edges of the trifle. Use a toothpick to swirl the Nutella into the cream.
Break the chocolate caramel pieces up and scatter them on top of the trifle in the middle.
Either serve immediately, or cover and refrigerate for up to a day before serving.
Servings: 8-10