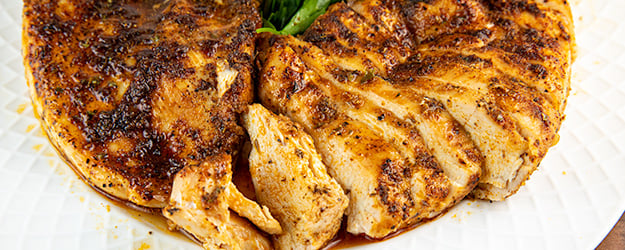 There are a million ways to prepare chicken from fancy to basic and while fancy can be fun, you can't deny that basic is awesome, especially when it comes to this recipe for Oven-Baked Blackened Chicken. This chicken is juicy, easy, and versatile – eat it alone, or with your favorite pasta recipes, salads, or make a yummy sandwich out of it.
Maybe the only blackened chicken you have experience with is the kind on the menu at Popeyes? If that's you, allow me to introduce you to some of the juiciest, most flavorful chicken that will come out of your oven. This is truly the Best Blackened Chicken!
I wish I could adequately explain how easy it is to make awesome, juicy chicken at home. Often times people assume that juicy chicken in the oven, especially the boneless variety, can't be done. I am here to tell you that not only can it be done, it's also SO easy to do.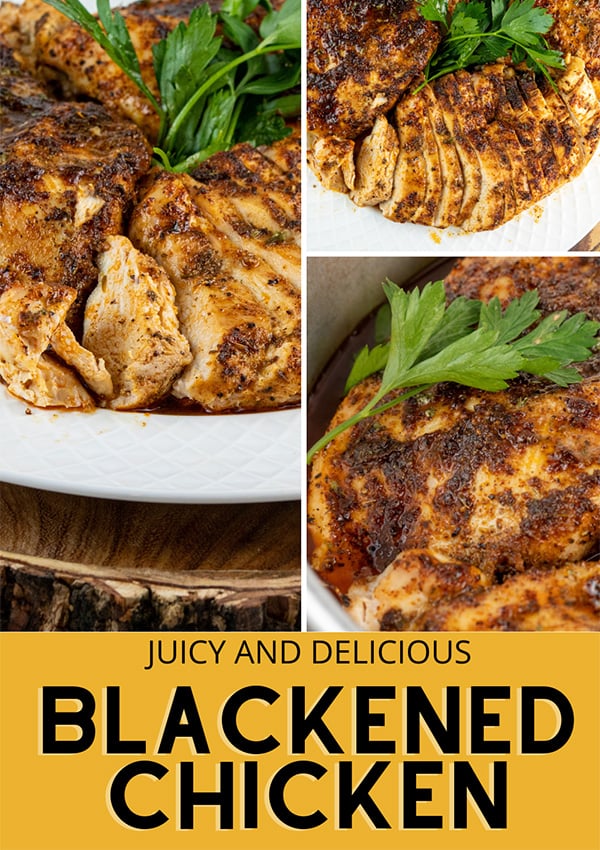 Today I will be explaining exactly what you need to do to ensure that you are successful making this juicy blackened chicken at home.Did I mention it's ready in under 30 minutes?
What kind of chicken should I use for Oven-Baked Blackened Chicken?
For this recipe, you will be using boneless, skinless chicken breasts. When you are baking chicken in the oven, you will have the best results with chicken that has been pounded out to an even thickness – about one inch thick.
When chicken varies in size, it'll be difficult to cook the thickest part of the chicken all the way through without drying out the rest.
Rule #1 for oven-baked chicken: pound it out! (And let's be real… it's kinda a fun stress reliever to pound out that chicken).
I use this KitchenAid Gourmet Meat Tenderizer – it has a flat side for pounding and a grooved side for tenderizing. You will use the flat side.
You could also use boneless skinless chicken breast tenders, but you will need to adjust the cooking time and check the temperature so that you do not overcook the chicken.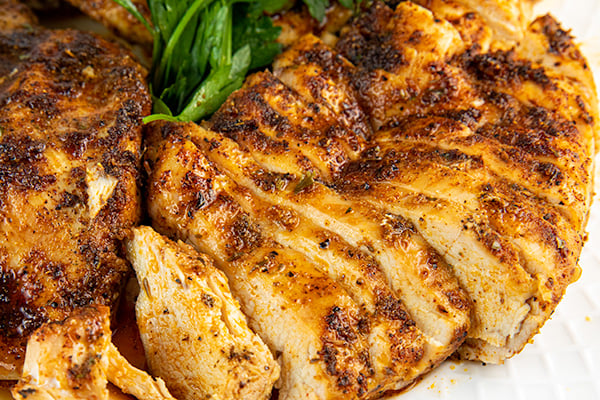 Blackened Chicken Ingredients
Once you've got your chicken prepped, you will make the spice blend.
In a bowl you will add cajun seasoning, garlic powder, onion powder, chili powder, smoked paprika (or regular paprika), and brown sugar.All of these spices and seasonings can be found at a standard grocery store.
If you are following a low carb diet, feel free to substitute the brown sugar with whatever sugar substitute you prefer.
This Serve Brown Sugar is my personal favorite brown sugar substitute.
To the spices and seasonings, you'll add about 3 tablespoons of olive oil. It'll become somewhat like a paste that you will spread over both sides of the chicken evenly. Make sure to use your fingers to press the seasonings into the chicken.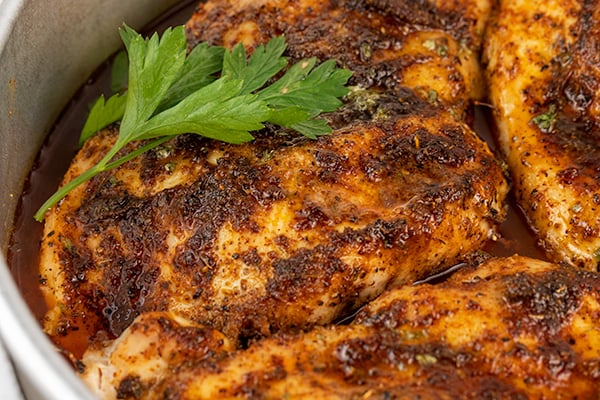 Baking Blackened Chicken
It might be hard to believe that juicy, delicious chicken is attainable in the oven but it is! As long as you make sure to pound the chicken so that all pieces are even in size, you shouldn't have difficulty obtaining the perfect juicy blackened chicken.
Bake time will be around 17-20 minutes depending on the size of the chicken and your oven.
You can use any oven-safe baking dish that you'd like. Sometimes I bake this chicken in a glass casserole dish, other times I use a metal baking dish. Be aware that dark metal baking pans absorb heat quicker than aluminum or glass, so things will cook a bit faster.
If you have an instant read thermometer, check the temperature. You want the chicken to be around 165 degrees internally. Then you'll pull the chicken from the oven and allow it to rest for about five minutes.
Rules #2 for oven-baked chicken: use an instant-read thermometer for the best results. I have a ThermoWorks Thermapen that I absolutely love and highly recommend, however, just be aware that they do not sell them on Amazon.
Alternatively, you can pull the chicken out a bit early, then broil it for the last few minutes.
Serving Oven-Baked Blackened Chicken
This part is entirely optional but makes the chicken extra juicy and delicious. After the chicken is done baking, I like to melt 2 tablespoons of butter in the microwave (about 30 seconds does the trick) and mix it with about 1 teaspoon of dried parsley. Then, I'll drizzle the butter over the chicken. Again, this step is optional but so good!
Oven-Baked Blackened Chicken is so versatile. I like to slice it and place it on top of my pasta, especially any time that I am making this Simple Creamy Alfredo Sauce.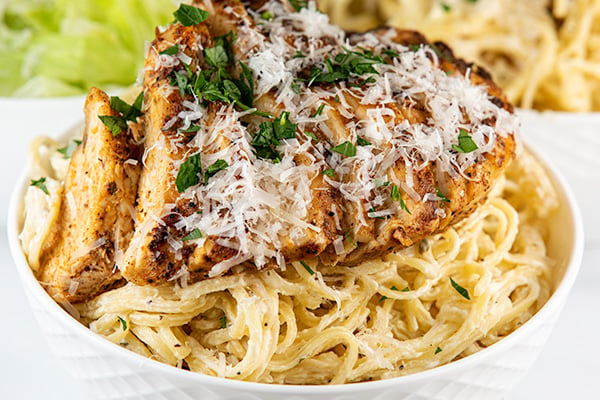 It is also perfect for salads, sandwiches, and so much more. You can very easily control the heat and spiciness of this recipe by adjusting how much cajun seasoning and chili powder that you use. As written, it is pretty family friendly and not overly spicy.
Looking for more recipes with a little heat? This Cajun Shrimp Pasta is a favorite!
Another delicious option is this Spicy Chicken Rigatoni that's packed with red pepper flake, tons of garlic, and a combo of Alfredo and marinara sauce.
I hope you enjoy this recipe for Oven-Baked Blackened Chicken. It's juicy, delicious, and so easy to make. If you try this recipe, and I hope you do, please come back here and let me know what you thought! I really appreciate feedback from all of you.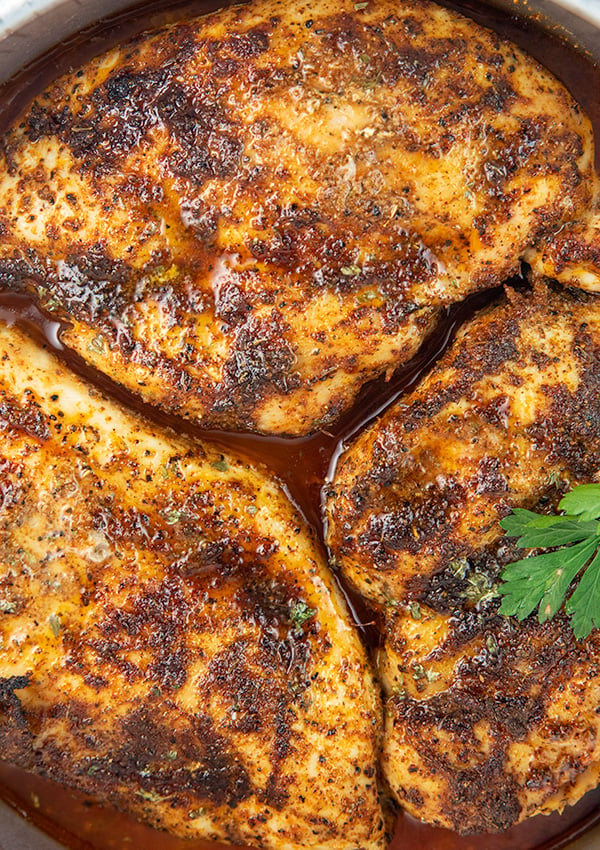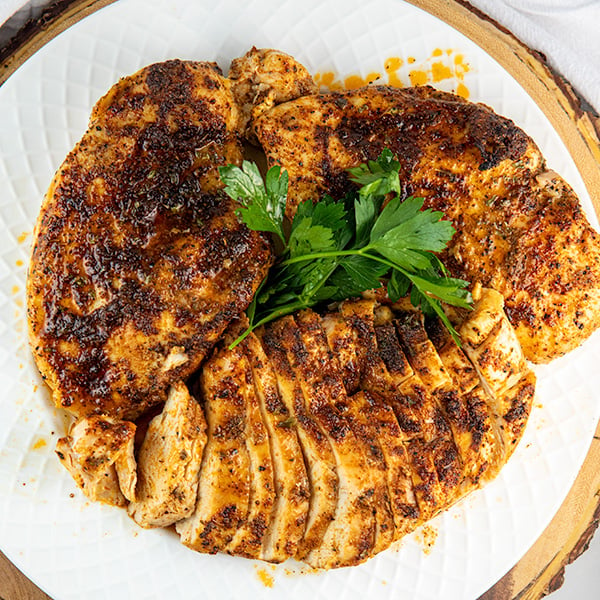 INGREDIENTS
DIRECTIONS
Preheat oven to 425 degrees
Pound chicken breasts so that they are about one inch thick for even cooking and place them in a baking pan.
Combine brown sugar, cajun seasoning, garlic powder, onion powder, chili powder, and smoked paprika.
Add olive oil to the seasoning mixture.
Evenly distribute the seasoning among the chicken breasts, making sure to season both sides. Use your fingers to press the seasoning into each chicken breast.
Bake for 17-20 minutes, or until the internal temperature of the chicken reaches 165 degrees F
Optional – broil for the last few minutes until the chicken is golden brown.
Melt butter (microwave for about 30 seconds will do the trick), stir in dried parsley. Drizzle over the chicken.
Allow the chicken to rest for a few minutes before serving.