I tried various German Potato Salad recipes before settling on this one. It was always too tart or a tad too sweet or not enough bacon or mustard. But we were obsessed with recreating a version that was perfect, simply because we had tried a German Potato Salad and a cafe before, and couldn't get it out of our minds.
I'm not a big fan of greasy, mayonnaise heavy potato salads that make you feel like you may be in for a heart attack so this light, flavorful vinaigrette with the smokiness of bacon hits all the right notes.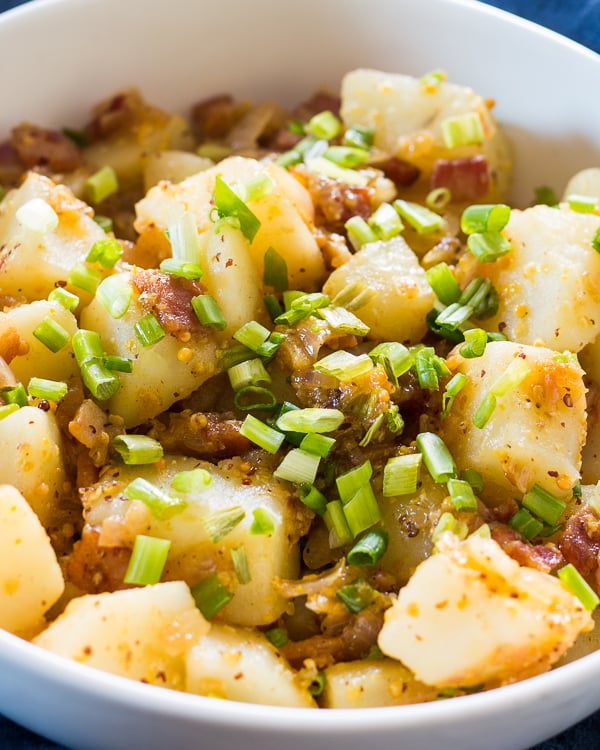 Because this recipe has gone through so many iterations it may not be the most authentic version, but trust me, once you try it, you will never go back to having potato salad any other way!
Having said that, I also want to tell you that cooking should always be how you want it to taste. So don't be afraid to make a few adjustments here and there if you like. Make this German Potato Salad your own.
The name of this recipe says that it's a cold salad and that's because we prefer it cold. We feel that a few hours in the fridge helps the flavours really permeate the potatoes, but this salad is usually had straight out of the pan.
INGREDIENTS
2 pounds Potatoes, cleaned and diced
6-8 strips Bacon, diced
1 Onion, diced
2 tablespoons stone ground Mustard
1/2 cup White Vinegar
1/2 cup Spring Onions, chopped
1 1/2 teaspoon Sugar
Salt for potatoes
DIRECTIONS
Boil potatoes in salted water till fork tender. Strain and set aside.
In pan cook bacon till golden brown. Remove the bacon with a slotted spoon reserving the fat in the pan. Add onions to the bacon fat and saute for 2-3 minutes till just cooked. In the same pan, add mustard, vinegar and sugar. Bring this to a quick boil and simmer for a few minutes till the sauce reduces to half.
Switch off the flame, and add bacon, potatoes and spring onions to the pan and toss well.
Transfer the salad to a bowl and refrigerate for 2-3 hours before serving. If you prefer, you can serve the salad warm as well.