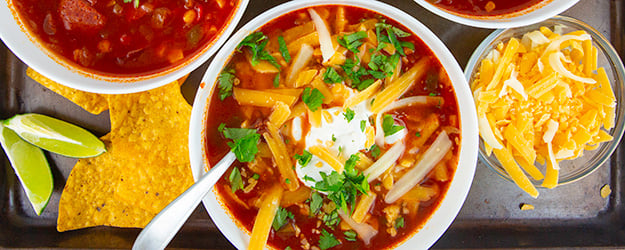 Few things in life are as magical as tacos, and equally magical is this recipe for Taco Soup in the Instant Pot. What is it about tacos that make them so comforting and perfect for any occasion. Happy? Eat tacos! Sad? Eat tacos! Celebrating something? Tacos!
Soup recipes made in the Instant Pot make my heart happy because they're super flavorful and so easy to make yet they taste like they've been simmering and slow cooking all day long. This Easy Instant Pot Taco Soup is no exception.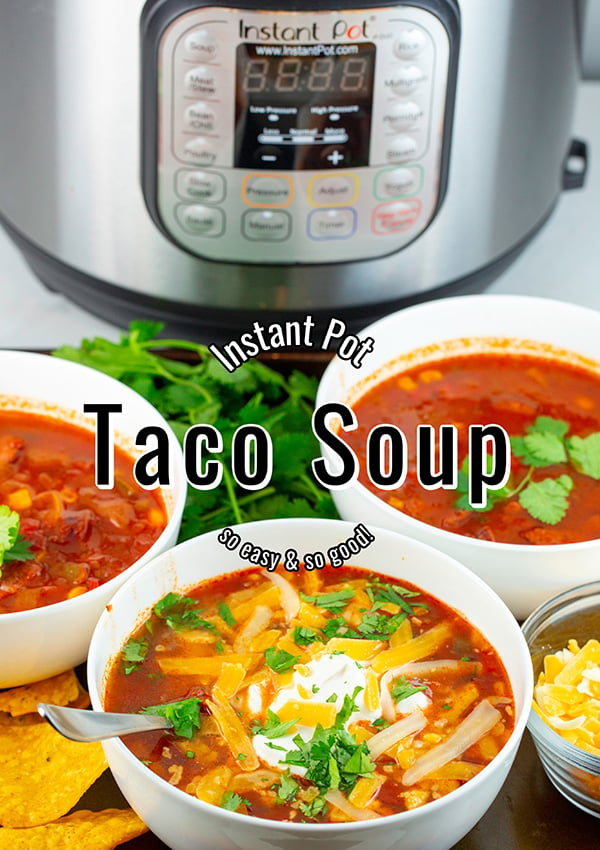 If you haven't cooked with your IP before, this is a good recipe to start with and it will give you the opportunity to experiment with two different functions on the Instant Pot. You will be using the sauté setting, as well as the manual pressure cooking setting.
Don't worry, if you don't have an Instant Pot, I've got instructions to make it in the slow cooker as well! Let's talk about what ingredients you will need to make this delicious soup.
Ingredients for Taco Soup
Protein: Every good taco starts with some form of protein. You can choose whatever protein you'd like from ground beef, ground turkey, ground chorizo, or you could even use smoked sausage or kielbasa. It might be the first choice but if you have it on hand, it'll work great in this recipe. You could also toss in raw chicken tenders and follow the same cooking instructions. Just shred them before serving.
Onion: Use a medium yellow onion and dice it up.
Salsa: Use any Salsa of your choice. Homemade Salsa would be delicious but this is usually one of those ingredients that I use our favorite store brand.
Black Beans: I used one 15 ounce can of black beans that I rinsed and drained. You can sub any bean of your choice from pinto beans to kidney beans, or you can leave the beans out altogether if you don't like them.
Corn: I used whole kernel canned corn but you could also toss in froze corn or even fresh corn if you have it on hand.
Seasonings: To keep things ultra simple, I used a packet of taco seasoning and a packet of ranch season. If you use my homemade taco seasoning, you'll need about 2 tablespoons.
Broth: You will need 4 cups of broth. I used beef broth but you could also use chicken broth if that's what all you have.
Tomatoes and Chiles : You will need a big 28 ounce can of diced tomatoes and a small 4 ounce can of green Chile peppers.
Cilantro and Lime: After the soup has cooked I like to stir in chopped fresh cilantro and fresh lime juice. It just adds another layer of flavor that pairs so perfectly with taco soup.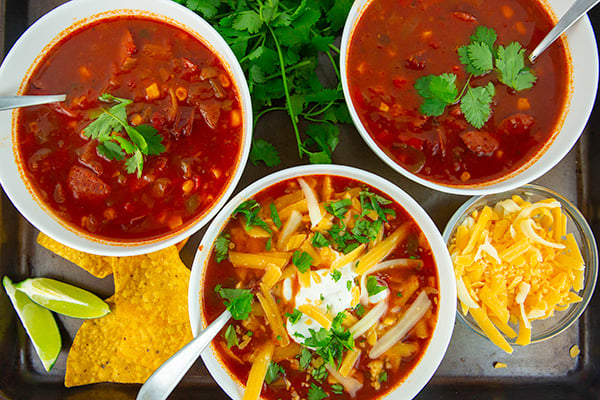 Making Taco Soup in the Instant Pot
Making taco soup in the Instant Pot is so easy. You'll first use the sauté feature to brown your meat and onion. If you're using a pre-cooked protein like smoked sausage or kielbasa, you can skip growing the meat and just sauté the diced onion.
Once your meat is browned and the onion is tender, drain any excess fat from the Instant Pot and then toss all of the remaining ingredients in with the exception of the fresh cilantro and fresh lime juice. You'll use the manual setting on the Instant Pot and cook the soup for 20 minutes. Don't forget that it will take a bit of time for the Instant Pot to come up to pressure. I usually like to allow about 10 minutes for that to happen. Remember, the Instant Pot will not start counting down until it has fully pressurized.
When the 20 minute timer on the IP goes off, you will do a quick release to let the pressure out and your soup will be ready to serve!
The beautiful thing about the Instant Pot is that the soup will taste as though it slow cooked all day long when really it only cooked in the Instant Pot for 20 minutes.
If you don't have an Instant Pot, you can also make Taco Soup in your Slow Cooker.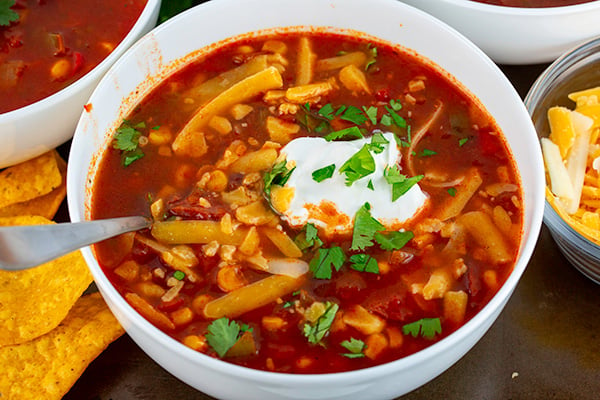 Making Taco Soup in the Slow Cooker
Slow Cooker Taco Soup is just as easy to make as the Instant Pot version, however you will have to make sure you plan ahead to allow the soup to slow cook on low for about 8 hours or on high for about 4 hours.
The main difference between the IP and the Slow Cooker is that with the slow cooker you will need to brown your ground beef and sauté the onion in a pan on the stove before transferring it to your slow cooker.
Taco Soup Garnishes
One of my favorite things about taco soup aside from how easy it is to make in the Instant pot and how delicious it is, would be the garnishes. I love some good taco toppings! Whatever you like to put on your tacos you can put on this soup! I usually top mine with shredded cheddar cheese, sour cream and crushed tortilla chips but you can add whatever toppings you like.
Most people eat with their eyes. This soup topped with garnishes looks so beautiful!
If you are looking for the Best Instant Pot Taco Soup, look no further. It tastes amazing and freezes beautifully!
If you're looking for more Instant Pot deliciousness, you've come to the right place. Here are a couple of our favorites:
If you're looking for more taco deliciousness, here are some of the best taco recipes:
I hope you enjoy this recipe for Taco Soup made in the Instant Pot or the Slow Cooker. It is a family favorite full of flavor and a recipe that both the kids and the adults will love.

INGREDIENTS

1 pound ground beef, ground turkey, or other protein of choice
1 medium yellow onion, diced
12-16 ounces salsa of choice
1 – 15 ounce can black beans , rinsed and drained
1 – 15 ounce can corn with liquid
1 packet taco seasoning
1 packet ranch seasoning
4 cups beef or chicken broth
1- 28 ounce can diced tomatoes
1 – 4 ounce can diced green Chile peppers
2 tablespoons fresh chopped cilantro
1 lime, juiced
Garnishes – sour cream, cheddar cheese, fresh cilantro

INSTANT POT DIRECTIONS

Turn on Instant Pot to the sauté setting and heat until hot.
Add in ground beef or ground turkey along with a chopped medium yellow onion. Break up ground meat into bite sized pieces and brown meat on all sides.
When the ground meat is browned and the onion is tender, drain any excess fat.
Add in salsa, black beans, corn, taco seasoning, ranch seasoning, chicken broth, diced tomatoes, and green Chile peppers.
Cover with lid, turn to seal. Press the manual button, then set the timer for 20 minutes.
When the timer is done, do a quick release, stir in fresh chopped cilantro and the juice of one lime.
Serve and top each bowl of soup with your favorite taco garnishes.

SLOW COOKER DIRECTIONS

Heat a large skillet over medium high heat.
Add in ground beef and diced onion and sauté until meat is browned and onion is tender. Drain off any excess fat.
To your slow cooker, add browned beef and onion, salsa, black beans, corn, taco seasoning packet, ranch packet, beef broth, diced tomatoes, and diced green Chile peppers. Stir well to combine all of the ingredients.
Cook on low for 7-8 hours or on high for 4-5 hours.
Stir in fresh lime juice and chopped cilantro.
Top each bowl of soup with your favorite taco garnishes.

Servings: 6