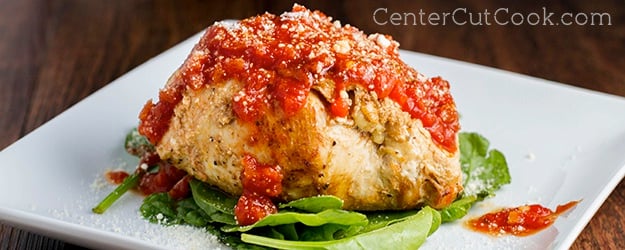 Chicken seems to be the protein of choice around these parts as of late, just in case you haven't noticed. Within the last two weeks I've shared Spicy Chicken Burgers, Bang Bang Chicken Kabobs, Stovetop Broccoli and Cheddar Stuffed Chicken, and Chipotle Lime Chicken Burrito Bowls. It's a lot of chicken, I know, but I guess it sort of proves what I've been saying all along, that chicken is SO versatile. Not only is it versatile, it's pretty lean and healthy too.
Today's recipe for Italian Stuffed Chicken is quite simple. Boneless skinless chicken breasts get pounded thin. Then, they get stuffed with a trio of mozzarella cheese, fresh spinach, and marinara. Toothpicks are used to secure the chicken closed, then they get cooked, on the stovetop for about 20 minutes. To serve, I topped the chicken with a little warm marinara and parmesan cheese. Simply stated, it was tasty!
If you've never pounded out chicken before, you'll need a meat mallet for the best results. You can acquire one pretty cheaply from stores like Target or Bed Bath and Beyond. Some people place the meat between parchment paper, then pound, but I've found it easier to place the chicken in a large ziplock bag to pound it out. You want the chicken to be about 1/4 inch thick, but no need to get out a ruler, just eyeball it and make sure each piece of chicken is flattened to the same thickness for even cooking.
Notes: Don't have Italian Seasoning on hand? Simply use a combo of dried oregano, basil, and parsley! Additionally, string cheese is a good substitute if you have that on hand in place of the mozzarella cheese. Just cut the cheese stick in half.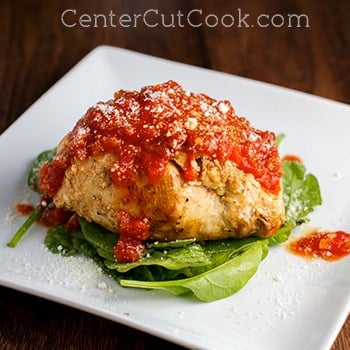 INGREDIENTS
4 boneless skinless chicken breasts pounded to about 1/4 inch thickness
1 cup fresh spinach, washed and dried
1 cup Mozzarella cheese, shredded
Salt, pepper, garlic powder for seasoning
2 tablespoons marinara sauce per piece of chicken, plus more for garnish
Grated Parmesan Cheese
4 teaspoons Italian Seasoning
Toothpicks
2 tablespoons olive oil
1/2 cup chicken stock or chicken broth
DIRECTIONS
Pound out each chicken breast so that each is about 1/4 inch thick. Use a meat mallet for the best results.
Liberally season both sides of the chicken with salt, pepper, and garlic powder.
Divide the spinach evenly among the 4 chicken breasts, placing the spinach in the middle.
On top of the spinach, add 1/4 cup mozzarella cheese, and 2 tablespoons marinara sauce. Sprinkle 1 teaspoon Italian Season over the chicken.
Use toothpicks to secure the chicken shut. The tighter you can secure it, the better. I used several toothpicks per piece of chicken.
Heat 2 tablespoons of olive oil in a large non-stick skillet. When the oil is warm, place the chicken in the pan and allow it to brown for about 4 minutes. Flip the chicken to brown the other side for another 4 minutes. If possible, brown the sides for a couple minutes as well, but the chicken may be an odd shape and you may have difficulty doing this.
When all sides are browned, turn the heat down and add 1/2 cup chicken stock to the pan. Cover and cook for another 8-10 minutes, or until the chicken is cooked through. You'll want to flip the chicken every few minutes so that it finishes cooking evenly.
Internal temp should register 175 degrees. if you don't have a thermometer, just check to see that the juices are running clear, or make a small slit into the thickest part to make sure there is no pink.
Remove the chicken from the pan and allow it to sit for a few minutes, then remove the toothpicks.
Top the chicken with warmed marinara sauce and parmesan cheese, then serve.
Recipe from
CenterCutCook