Lofthouse frosted sugar cookies are arguably the softest, most delicious sugar cookie ever . Often times you will find them sold in stores like Walmart but they are super easy to make at home and are very much a DIY recipe.
My original copycat Lofthouse Sugar Cookie recipe is one of the most popular cookie recipes on my website so I decided to make a Christmas version. There is no better time for easy, super soft delicious sugar cookies than Christmas time. I don't know about you but rolling out dough and cutting out cookies does not top my list of favorite activities. This recipe involves none of that!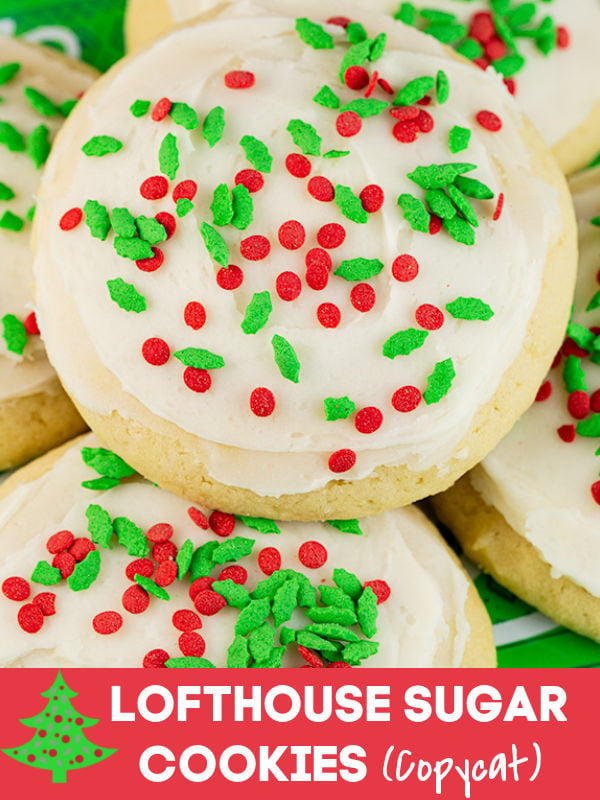 The very first time I ever had a Lofthouse sugar cookie, it came from Wall-Mart circa 2003. My husband had a sweet tooth and a package of these cookies ended up in our shopping cart. I remember trying one for the first time and immediately went to look at the package to see exactly what he bought. From that point on, I was hooked which is why I decided years ago to come up with a copycat version that could be made right at home.
This Christmas version can be made so many different ways! You can use red, green, or white frosting and you can use any variety of Christmas sprinkles that you'd like. I stuck with a pretty basic white frosting and Christmasy sprinkles.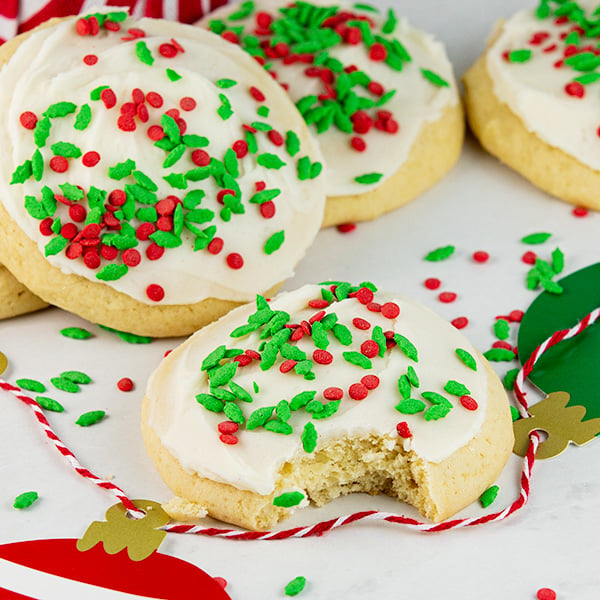 Can I freeze Lofthouse Sugar Cookies?
Lofthouse sugar cookies freeze incredibly well. In fact, I still have several in my freezer just waiting to be eaten. What I like to do is place them on a baking sheet and place them in the freezer for a couple of hours until they're frozen, and then I transfer them to a freezer ziplock bag or an air-tight container with each layer separated with parchment paper. You can keep them in the freezer for up to three months. If you're trying to get ahead on your holiday baking, this is a really great option.
How do I make Lofthouse Sugar Cookies?
?>
The method is pretty simple – you'll start by making a pretty basic cookie dough with all of the usual suspects- sugar, butter, eggs, vanilla, flour, baking powder and baking soda. The only ingredient that you don't always find in cookies is sour cream. In this recipe you'll need about 1/2 cup of sour cream. It's one of the secrets that makes this Make sure you are not using the reduced-fat variety.
How do I make Lofthouse Sugar Cookie Frosting?
The frosting for these cookies is a pretty basic, standard buttercream frosting. You'll need powdered sugar, butter softened to room temp, a little milk, and vanilla extract for flavor. After the frosting is made you can add in any food coloring that you wish. I personally liked keeping a white frosting and using colorful Christmas sprinkles but red or green frosting, or even blue frosting with white snowflake sprinkles would look awesome!
Sugar cookies are the perfect treat for any special occasion like Valentine's Day or Easter, but especially Christmas and especially if you love sugar cookies but don't want to have to deal with rolling out sugar cookie dough.
I hope you enjoy this recipe for DIY Lofthouse cookies. While you can find them at many grocery stores, nothing beats a homemade sugar cookie! Enjoy!
Here are 5 must-make treats this Christmas season:
2. Chocolate Chip Snowball Cookies
3. Chocolate Covered Cherry Cookies
5. Easy Peanut Butter Cup Fudge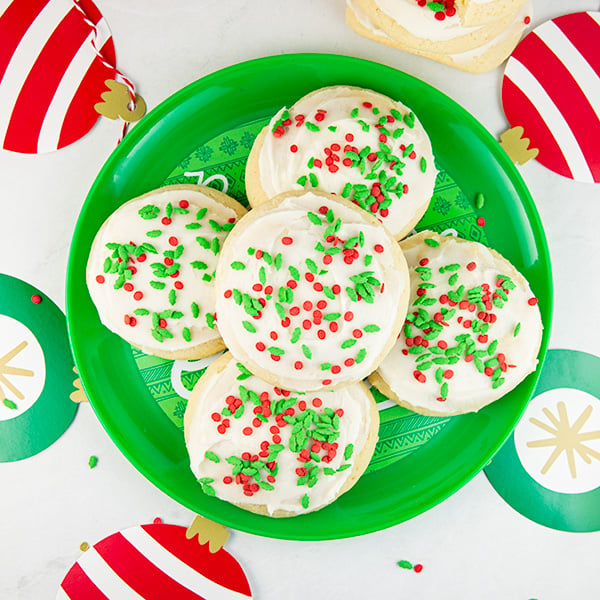 DOUGH INGREDIENTS
FROSTING INGREDIENTS
DOUGH DIRECTIONS
Preheat your oven to 350 degrees.
With your mixer cream together 1/2 cup softened butter with 1 cup sugar and mix for a couple of minutes until smooth.
Add in sour cream, eggs, and vanilla and mix well.
In a large bowl sift together flour, baking powder, baking soda, and salt.
Slowly add the dry ingredients into the wet and mix well.
Measure three tablespoons of dough for each cookie. Use your hands to roll three tablespoons of cookie dough into a smooth ball.
Place on ungreased cookie sheets, making sure to leave about 1 inch between each cookie. Using your hand to lightly flatten the dough a bit.
Bake for 11-12 minutes, then immediately remove from the oven. The cookies will appear under-baked a bit but this is what you want. Carefully transfer the cookies to a cooling rack and repeat the process until all of the dough is gone.
FROSTING DIRECTIONS
To make the frosting, beat butter with a mixer for about 30 seconds, then add in powdered sugar, one cup at a time. Add in vanilla and 1-2 tablespoons of milk and mix until light and fluffy.
Use a knife to slather each cookie with frosting. Top with sprinkles.
*Notes – you can make these a bit smaller by using 2 tablespoons of dough and baking for 10 minutes.