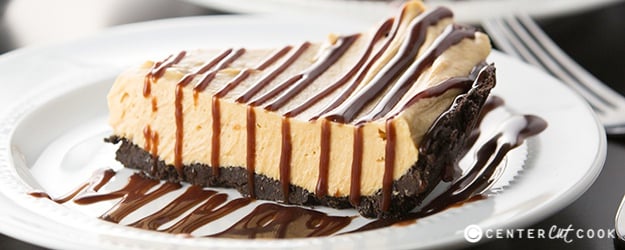 Looking for The Best Peanut Butter Pie Recipe? Look no further. If you like peanut butter as much as we do in this house, you are going to adore this recipe for classic Peanut Butter Pie made with an Oreo cookie crust. It's decadent, loaded with peanut butter and is sure to satisfy your craving for something sweet! To make it even more decadent, I decided to top it my recipe for Easy Homemade Hot Fudge to create this awesome recipe for Peanut Butter Pie.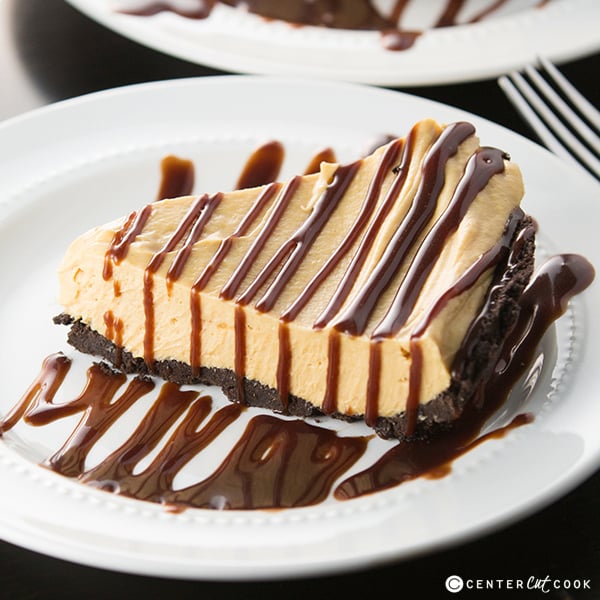 How to Make Peanut Butter Pie with Oreo Crust
The crust of this Peanut Butter Pie is made very simply with just Oreo cookies and melted butter pressed into a pie plate. I like to use my food processor to crumble the cookies into a fine crumb, but you could also place the Oreos in a large ziplock bag and use something heavy like a rolling pin to crush them. If you have a food processor, definitely use it. The finer the crumb, the better.Alternatively, the grocery store typically sells pre-made Oreo cookie pie crusts that you could use as well.If you are looking for a peanut butter pie recipe that's no-bake, opt for the pre-made crust from the store so that the recipe is entirely no-bake.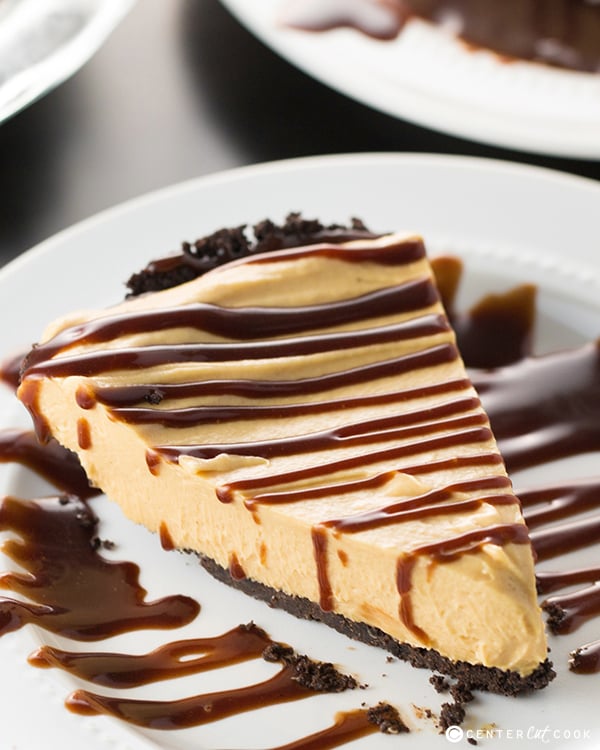 Peanut Butter Pie Filling
The most important part of this Peanut Butter Pie is the filling, of course! What I love about this Peanut Butter Fudge Pie is that it comes together SO quick and it's perfect for summer. The filling consists of creamy peanut butter, cream cheese, Cool Whip, and a little powdered sugar. That's it!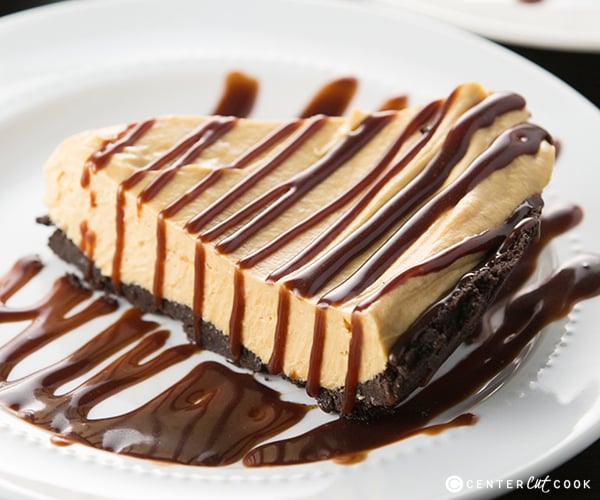 From start to finish, you can have this pie ready to go in about 22 minutes. Of course, it'll need to hang out in the fridge for a bit but the hands-on time is only about 20 minutes which is hard to beat. If you don't want to make my recipe for Easy Homemade Hot Fudge, you can just buy a jar of fudge from the grocery store. Don't drizzle the pie with the hot fudge until you're ready to serve it.
More Peanut Butter Dessert Recipes
Peanut Butter dessert recipes are some of our most favorite. After you've tried this Peanut Butter Pie, come back and try our Peanut Butter Cup Cheesecake or our Peanut Butter Lovers Cheesecake. They are both incredible! If you're looking for a Peanut Butter Sandwich Cookie recipe, you must make our Girl Scout copycat recipe.
We hope you enjoy this recipe for The Best Peanut Butter Pie made with an Oreo Crust and drizzled with fudge. If you buy a pre-made Oreo Crust from the store, it's a no-bake recipe that is perfect for those hot summer days. If you try this recipe, and we hope you do, please leave a comment or tag us on social media and let us know what you thought. Enjoy!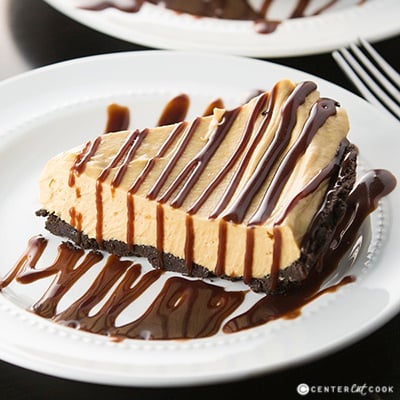 INGREDIENTS
DIRECTIONS
Pre-heat your oven to 350 degrees.
In a food processor, pulse Oreos until you have a fine crumb mixture. Alternatively, if you don't have a food processor, place the Oreos in a ziplock bag and use a rolling pin or other heavy object to crush them.
Combine the crushed Oreos with the melted butter and press firmly into a pie pan to create the crust. Bake for 5-7 minutes, then allow the crust to cool completely.
With your mixer, combine cream cheese and peanut butter and beat until smooth.
Add in powdered sugar and mix well.
Beat in Cool Whip and mix until the pie filling is light and fluffy.
Spread the filling into the Oreo crust that has completely cooled. Place the pie in the refrigerator for at least 1 hour.
Right before serving, heat the fudge ice cream topping according to the directions on the jar and drizzle a spoonful over each piece of pie.
Store leftovers in the refrigerator
Recipe adapted from
The Pioneer Woman