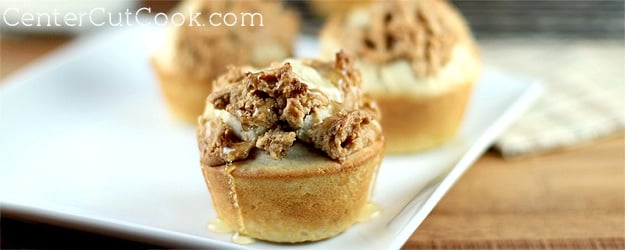 I don't know what it's like in your home, but in our home, our love for peanut butter runs deep. Really deep (Proof here, here, and here). And when your love for peanut butter runs deep, the next best thing to eating peanut butter by the spoonful for breakfast (kidding!), is Peanut Butter Honey Muffins. Oh yes.
As a kid, one of my favorite breakfasts was a toasted english muffin slathered with…. you guessed it…. peanut butter drizzled with honey. When I got the idea to experiment with a peanut butter muffin, I knew it sounded amazing. But then I thought to myself, why stop with just peanut butter when you can have peanut butter and honey, all in the same bite? Genius I tell ya, genius!
These little peanut butter muffins are full of peanut buttery goodness and you can easily adapt the recipe to suit your tastes. When it comes to peanut butter, you either love the crunchy kind, or you don't. I definitely don't so I stuck with the creamy variety. If you happen to like the crunchy kind, by all means, go ahead and use it in this recipe. And if you happen to not like honey, just omit it because these muffins, without the honey, are delicious in their own right.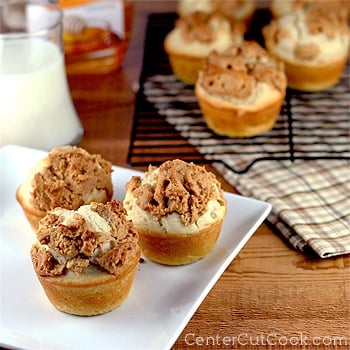 INGREDIENTS
3 tablespoons sugar
3 tablespoons flour
3 tablespoons creamy peanut butter
1/8 teaspoon salt
2 cups sifted flour
2 tablespoons sugar
1 tablespoon baking powder
1 teaspoon sea salt
1 egg
1 cup milk
1/3 cup vegetable oil
Honey for drizzling
DIRECTIONS
Pre-heat your oven to 400 degrees and grease a muffin tin.
In a small bowl combine 3 tablespoons sugar, 3 tablespoons flour, peanut butter, and salt. Use a fork to combine the ingredients until you have a crumbly mixture. Set aside.
In a large bowl, combine flour, sugar, baking powder, and sea salt.
Add in egg, milk, and vegetable oil. Stir and mix until the dry ingredients are moistened. Do not over mix, otherwise you will end up with a tough dense muffin instead of a light airy muffin.
Fill each muffin cup about 2/3 of the way full. This recipe technically yields 12 muffins, however, I was only able to fill 10. If you have empty muffin cups, fill each with water for even baking.
Once the muffin cups are filled with batter, take a small spoonful of the peanut butter mixture and gently mix into each muffin.
Bake for 18-20 minutes, or until muffins are golden brown.
Right before serving, drizzle honey over the top of each muffin. Serve warm, and with a fork because these honey coated muffins aren't suited for your fingers. :)
Recipe adapted from
Jif Peanut Butter