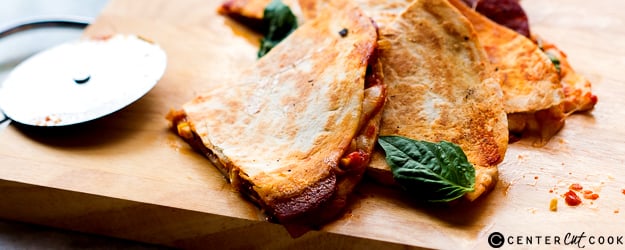 I'm a fan of simple five ingredients meals, aren't you? They are the best kinds, like these Pepperoni Pizza Quesadillas which has five ingredients and take only five minutes to cook as well. I'm saying five ingredients because I'm assuming you already have oil in your pantry.
I like them simple with just pepperoni and a little bit of corn sometime, but feel free to layer them up with any of your favourite pizza toppings like mushrooms, peppers, onions, chicken etc.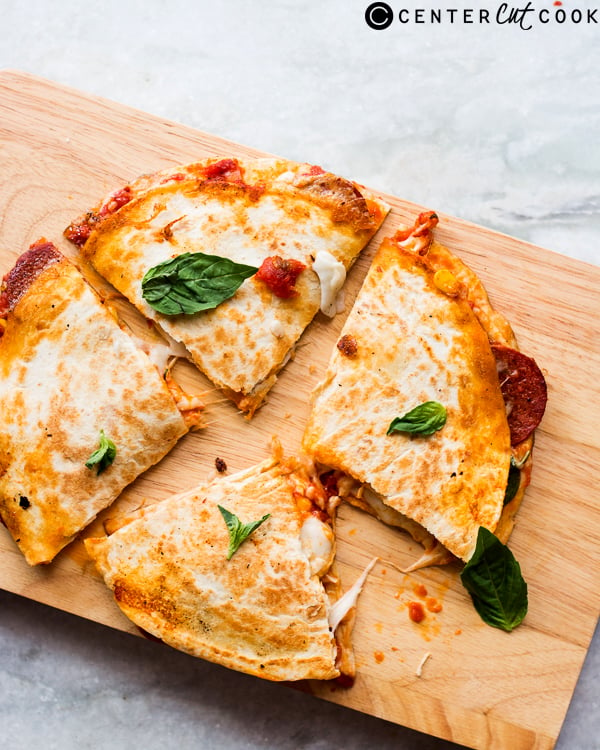 They are also a favourite with the kids because they are a different way to have pizzas, with gooey cheese and all. And you can let them build these up in the kitchen if you let them help.
We end up doing a lot of versions of Quesadillas at home because they are so easy to make. Our favourites include Chicken Fajita Quesadillas, Steak Quesadillas, Bang Bang Shrimp Quesadillas and Barbecue Ranch Chicken Quesadillas. You gotta try them all after you've tried this one!
INGREDIENTS
DIRECTIONS
Brush the pan with a little oil while heating it.
Reduce the heat to medium and place one flour tortilla on the pan, and spread pizza sauce on it.
Top with cheese and pepperoni and sprinkle a few basil leaves on it. Place the second tortilla on top and press gently.
Flip the quesadilla gently once the bottom is brown. Cook the other side till light brown and crisp.
Repeat with the remaining tortillas till you have five quesadillas. Serve hot.