Portillo's is a Chicago area icon, a restaurant known for their hot dogs, Italian beef sandwiches, long lines of cars in their drive thru, AND chocolate cake! Never in a million years would I have thought to try this unassuming chocolate cake at a hot dog joint until my hubby came home from work one day to tell me that him and his co-workers had bought a whole chocolate cake from there, and it was to die for! He was nice enough to smuggle a small slice home for me to try, and I had to agree. It was SO good!
Then one day while I was stumbling upon reviews on Yelp, I checked out the reviews for Portillos and EVERYBODY was talking about the chocolate cake, and the chocolate cake shake! All these years had gone by, and I had no clue what I was missing out on! The secret to the insanely delicious, ultra-moist cake, come to find out, is mayonnaise. Before you get all grossed out at the thought of mayo, in a cake, did you realize that mayonnaise is simply oil, and egg yolks whipped together, ingredients you'd find in baked goods already?
A quick search with the help of my friend Goog (you know, short for Google), and I had the top-secret (not really) recipe for Portillos chocolate cake in my hands. I thought I'd have a hard time finding it, but it's ALL over the Internet (so I don't know who to credit!). I have to say, I was surprised to say the least. The base of the cake? Betty Crocker devil's food cake mix. The only time I make an exception and use boxed cake mix is when I make this Better Than Sex Cake. I was skeptical, but enough people, including some former Portillo's employees confirmed that Betty Crocker is what they use!
So after being blown away by the fact that one of the best tasting chocolate cakes out there starts with a box of Betty Crocker cake mix, I was further blown away when I read that the frosting was simply Betty Crocker Chocolate Frosting…. from a CAN!!! You could say I was a little skeptical when I started baking this cake, but all of my doubts were washed away when I tried the first bite. Just as good as Portillo's!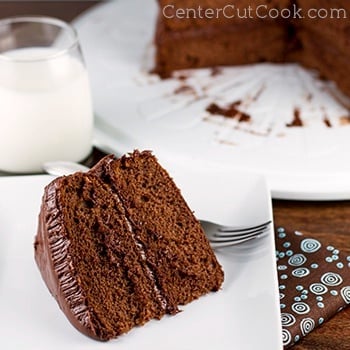 INGREDIENTS
1 box Betty Crocker Devil's Food Cake
3 eggs
1 cup ice cold water
1 cup mayo
2 cans Betty Crocker chocolate frosting
DIRECTIONS
Pre-heat your oven to 350 degrees and grease (2) nine inch cake pans
In the bowl of your mixer, combine cake mix, eggs, water, and mayo on low speed for 30 seconds, then mix on high for about 4 minutes.
Split the batter evenly between the two cake pans.
Place in the oven for about 30-32 minutes, or until a tooth pick inserted into the middle of the cake comes out clean.
Allow the cakes to rest for about 5 minutes, then transfer them out of the pans, and onto wire cooling racks to cool for about an hour.
Place one of the cakes on a plate and spread about 3/4 of one jar of frosting on the top of the cake. Place the second cake on top and use the remaining frosting (1 1/4 jars) to coat the top of the cake, and the sides.