The Best Chocolate Cake with Chocolate Mousse Filling
The Best Homemade Chocolate Cake with chocolate mousse filling and chocolate frosting. This is the only chocolate cake recipe with a yummy, dreamy chocolate filling that you need!
This filled chocolate cake is for the chocolate lovers out there. It is made from scratch with a decadent chocolate mousse filling topped with homemade chocolate frosting. It is the ultimate chocolate dessert that is perfect for birthdays and special occasions but it's so delicious that you'll likely try to find any excuse to make it.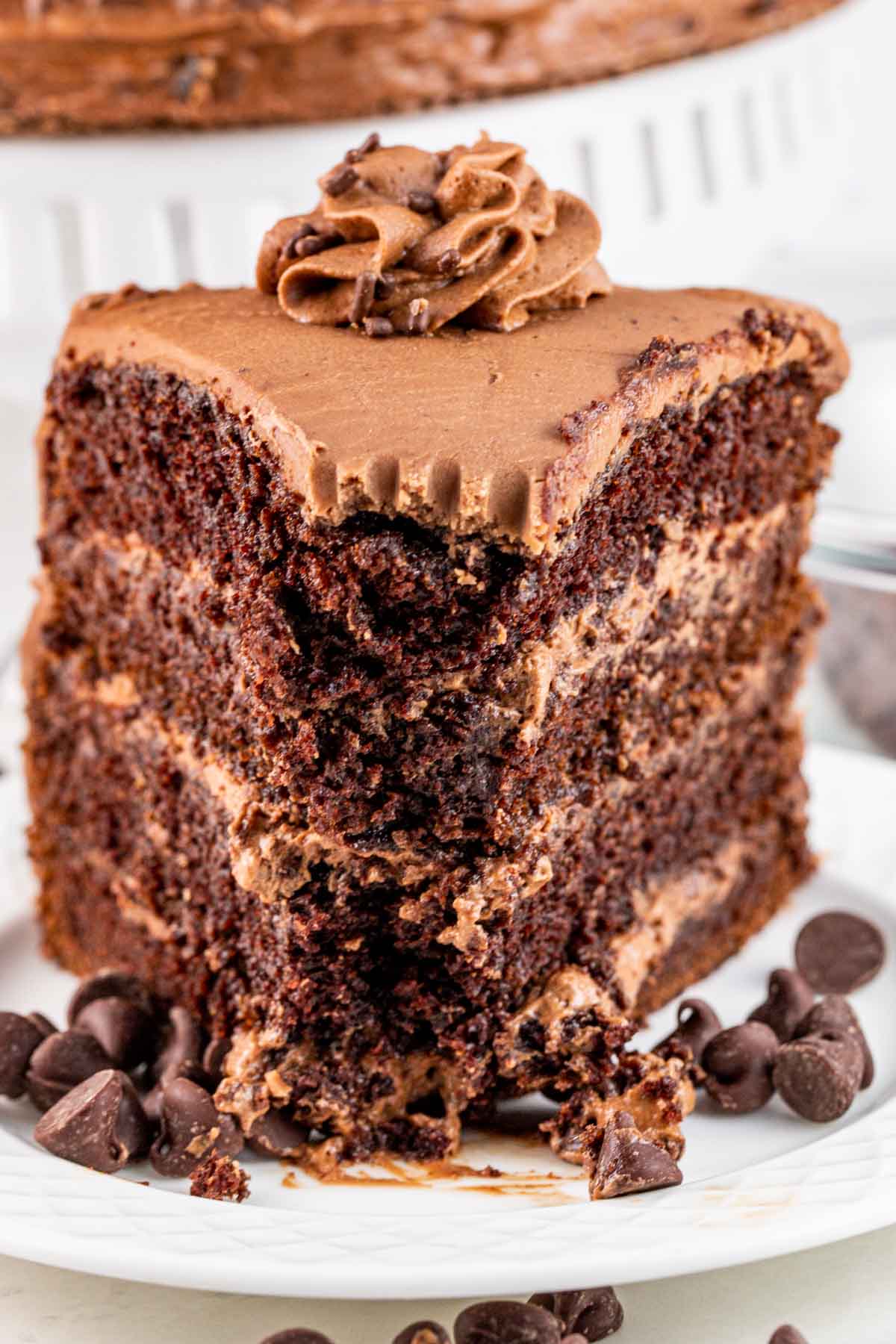 If you make one chocolate cake recipe, let this one be it! It's hard to resist the incredibly delicious chocolate mousse filling! Oh, and just in case you're looking for a simple chocolate mousse recipe that's the star of its own show, try this easy Chocolate Mousse recipe that is so delicious topped with whipped cream.
There are so many different and delicious chocolate cake recipes out there (eh hem, this recipe for Portillo's Chocolate Cake), but what makes this a stand out recipe is the chocolate mousse filling, and the most delicious chocolate frosting. You will soon discover, like I have, that there are few things in life better than chocolate cake, with chocolate mousse filling, topped with chocolate frosting.
Homemade Chocolate Cake
There is a time and place for boxed cake mix (I'm a fan!) but there's also a time and place for a homemade, from scratch chocolate cake. Making a chocolate cake from scratch is not difficult, it just takes a bit more time to measure out all of the ingredients. You'll need all of the typical cake ingredients including all-purpose flour, sugar, baking powder, baking soda, salt, eggs, vanilla extract, and vegetable oil. And you'll also need a couple of ingredients that you don't always find in a cake including boiling water and buttermilk.
Buttermilk tip: If you do not have buttermilk on hand, you can verily easily make a substitution. Add 1 tablespoon white vinegar to a 1-cup measuring cup, then fill the rest with milk. Stir to combine, then allow it to sit for 5 minutes. This milk/vinegar combination can then be used as a buttermilk substitute in this recipe.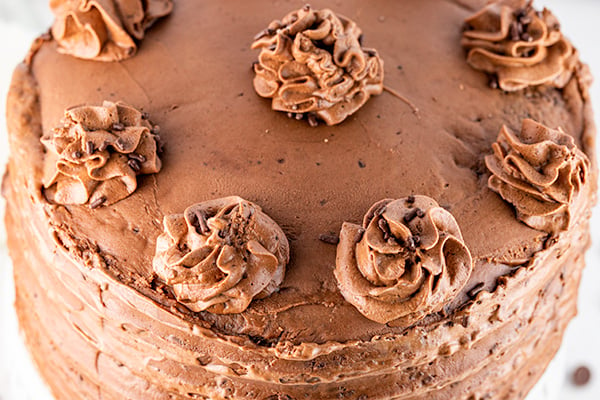 Chocolate Cake Filling Recipe
Looking for chocolate cake filling ideas? You absolutely have to try this Chocolate Mousse Cake filling. It is the perfect filling for cake. Even better? It is so easy to make and while I love a chocolate cake filled with strawberries, nothing beats a chocolate cake filled with chocolate mousse!
The ingredients you will need to make chocolate mousse for a cake filling include: hot water, unsweetened cocoa powder, milk chocolate chips, heavy whipping cream and granulated sugar.
Making the mousse is simple – all you'll need to do is whisk together the cocoa powder and hot water. Then, you'll melt the chocolate chips in the microwave until smooth and add the cocoa powder/hot water mixture to it. With your mixer, you'll beat the heavy whipping cream and sugar together until stiff peaks form at which point you'll add in the chocolate mixture and mix until smooth.
You'll refrigerate the mousse until the cake has cooled completely. This is important. The cake must be cooled completely before you can assemble it.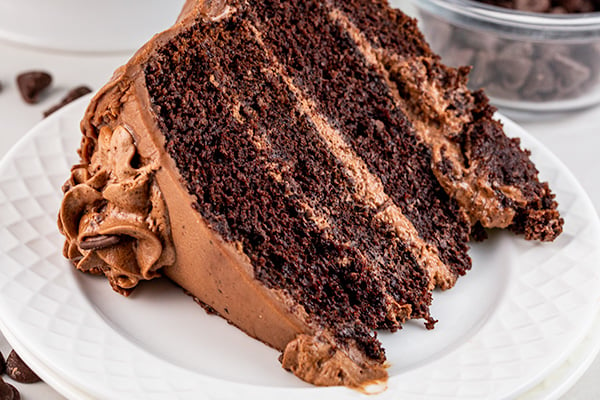 Chocolate Frosting Recipe
Homemade Chocolate Frosting is what perfects this chocolate cake. All you'll need is milk, unsweetened cocoa powder, unsalted butter (softened), and 3 and 3/4 cups powdered sugar. That's it!
This chocolate frosting is made on the stovetop. In a saucepan you'll combine the milk, cocoa powder and butter and bring it to a boil. Once it comes to a boil, you'll remove it from the heat and stir in the powdered sugar and use a mixer to combine it. Allow it to cool for just a couple of minutes but not for too long because you want the frosting to be warm while you pour it over the chocolate cake.
Chocolate Cake Decorating Ideas
When it comes to decorating your chocolate cake, you can keep it simple and just sprinkle some chocolate sprinkles on top, or, you can also reserve some of the chocolate mousse filling to pip rosettes on the top of the cake. This is entirely optional.
There you have it. The best chocolate cake with chocolate mousse filling with chocolate frosting. The chocolate lover in your life will be in chocolate heaven!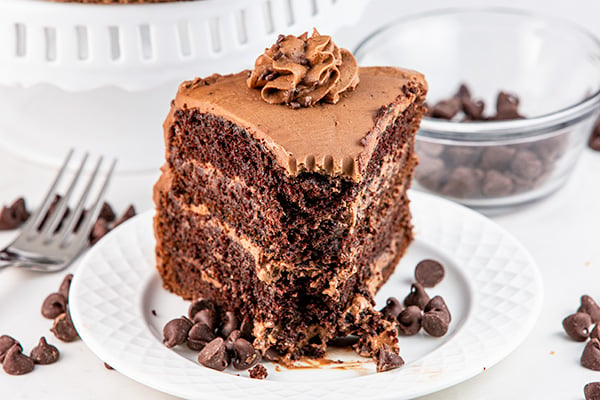 If you decided to try this recipe, and I hope you will, please take a picture and tag me on social media. I love seeing what you make! I can be found on Pinterest, Instagram, and Facebook. Please use the hashtag @CenterCutCook
Looking for more delicious chocolate dessert recipes? Try: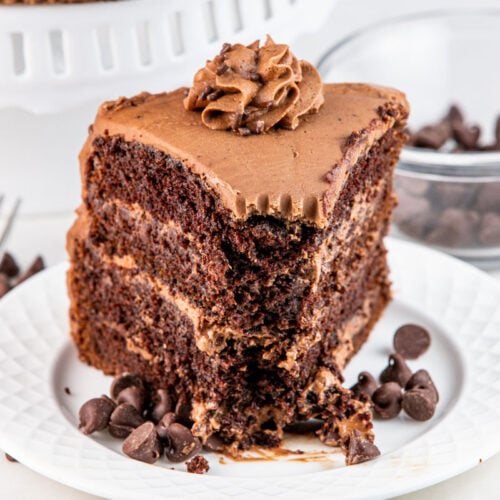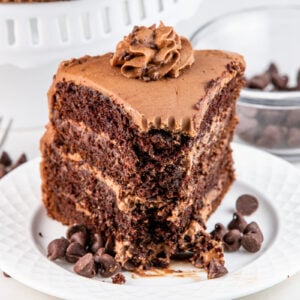 The Best Chocolate Cake with Chocolate Mousse Filling
Ingredients
Cake Ingredients
2

cups

granulated sugar

1 3/4

cups

all purpose flour

3/4

cup

unsweetened cocoa powder

1 ½

tsp

baking powder

1 ½

tsp

baking soda

1

tsp

salt

2

eggs (large)

1

cup

buttermilk (or buttermilk substitute explained above)

1/2

cup

vegetable oil

2

tsp

vanilla extract

1

cup

boiling water
Chocolate Mousse Cake Filling
½

cup

hot water

4

tbsp

unsweetened cocoa powder

1 ½

cups

milk chocolate chips

2

cups

heavy whipping cream

2

tbsp

granulated sugar
Chocolate Frosting Ingredients
6

tbsp

milk

3

tbsp

unsweetened cocoa powder

½

cup

butter (unsalted)

3 3/4

cups

powdered sugar
Instructions
Chocolate Cake
Preheat the oven to 350 degrees.

Slowly stir in the boiling water.

Pour the batter evenly in the cake pans.

Bake 30-35 minutes, or until a toothpick inserted comes out clean.
Chocolate Mousse Filling
Whisk together cocoa powder and hot water.

In the microwave, melt the chocolate chips just until smooth. Add the cocoa mixture to the chocolate chips and stir well. Allow mixture to cool to room temperature.

Refrigerate until cake has cooled completely.
Chocolate Frosting
In medium saucepan, add milk, cocoa powder, and butter. Bring to a boil then remove from heat.

Mix in powdered sugar and use a mixer to smooth the frosting. Cool 10-15 minutes.
Chocolate Cake Assembly
Use a sharp knife and cut each cake layer in half, making 4 layers.

Place the first cake layer down on a cake plate, then spread chocolate mousse until even. Add another cake layer and spread more chocolate mousse. Keep repeating, making sure you spread mousse on the top of the cake as well. Then, spread a thin layer of chocolate mousse around the sides of the cake.

While cake is cooling, make the frosting.

Take the cake out of the refrigerator and pour the warm frosting over the cake. Use a spatula to spread the frosting while you are pouring it.

Refrigerate until frosting has set.

You can use any leftover chocolate mousse to pipe rosettes on the top of the cake (optional). Then top with chocolate sprinkles if desired.