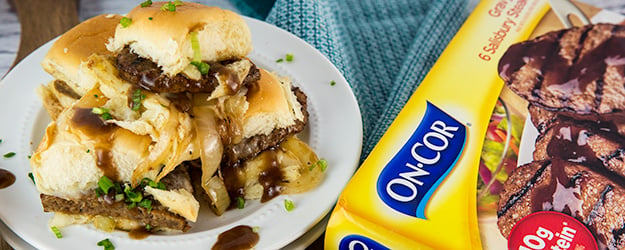 The #1 request that I hear most often from readers is that they would like more quick and easy recipes for those hectic weeknights.
I hear you, and I get it! Now that it's fall and we are well into the new school year, you need simple recipes that can be made without much thought for those nights where everybody has to be somewhere and all at the same time and there's a long list of to-dos waiting for you.
Sometimes, a meal entirely from scratch just isn't going to happen. And sometimes, it's worth it to take a little help from the store for those nights when it's a challenge to get dinner on the table.
That's why I am excited to have partnered with On-Cor to bring you this recipe for Salisbury Steak Sliders.
Your weeknight hero comes in the form of On-Cor's Gravy & 6 Salisbury Steak entrée. While it's baking in the oven you'll prepare a few other ingredients to transform a simple delicious entrée into an extra delicious meal that the whole family will love.
Salisbury Steak is a classic that's even better with the addition of caramelized onions and melty cheese. If you love Salisbury Steak, you will absolutely love this slider variation.
If you have littles that don't like caramelized onions, no problem, just leave them off. I usually make half with and half without because my little guy is fantastic at detecting even the tiniest hint of onion.
What I love about On-Cor is that there's no MSG added and the entrées can be found in a variety of different retailers. In Chicagoland I buy On-Cor products at stores like Mariano's, Jewel, and Meijer. This store locator is really helpful if you'd like to know where you can buy On-Cor products.
Pair these Salisbury Steak Sliders with some fresh fruit or veggies and dip and you've got a super simple, super delicious meal made with a little help from On-Cor.
Enjoy!
This is a sponsored conversation written by me on behalf of On-Cor. All thoughts and opinions are my own. Thank you for supporting the brands that make CenterCutCook possible.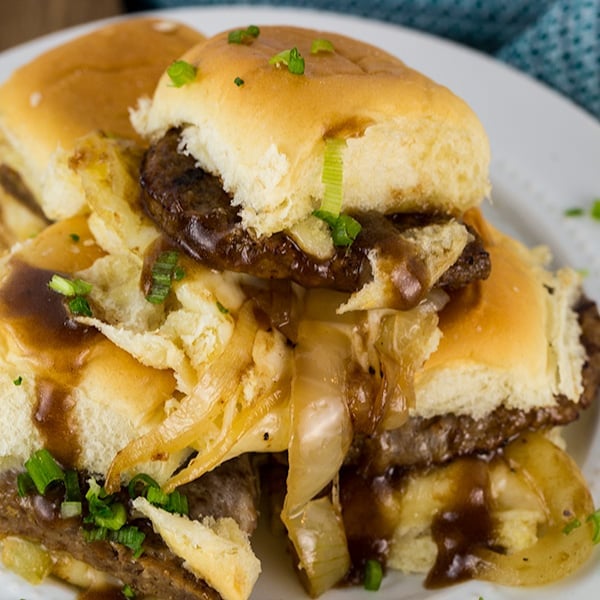 INGREDIENTS
1 package On-Cor Gravy & 6 Salisbury Steaks
1 tablespoon butter
1 sweet yellow onion, thinly sliced
8 slices cheese of choice (I used Havarti)
1 – 12 count package Hawaiian rolls
DIRECTIONS
Pre-Heat the oven to 375 degrees and cook the On-Cor Gravy & 6 Salisbury Steaks according to package directions.
While the Salisbury Steaks and Gravy bake in the oven, heat a skillet over medium high heat.
Add 1 tablespoon butter. When the butter has melted, add in thinly sliced sweet onions. Sauté the onions until they have caramelized. Set aside.
Meanwhile, remove the rolls from the package, slice them in half length-wise and place them on a rimmed baking sheet.
Place 8 slices of cheese over the tops and bottoms of the rolls.
Evenly spread the caramelized onions over the bottom rolls.
When there is 5 minutes left before the Salisbury Steaks and Gravy are done baking in the oven, place the rolls in the oven for 5 minutes, or until the cheese has melted and the rolls are toasted.
Remove both the Salisbury Steaks and the rolls from the oven. Arrange the On-Cor Salisbury Steaks on the bottoms of the rolls.
Place the top rolls on, cut into individual sandwiches, drizzle with gravy and serve.
Servings: 6
This is a sponsored conversation written by me on behalf of On-Cor. The opinions and text are all mine.