Slow Cooker Healthy Chicken Pot Pie Stew
Chicken Pot Pie Stew in the Slow Cooker combines all of the tastiness of chicken pot pie in an easy and healthy slow cooker version.
I think we can all probably agree that there's not much better than a delicious, homemade chicken pot pie, hot and steaming from the oven. You really can't go wrong with pie crust filled to the brim with tender chicken breasts and delicious vegetables in a heavy cream based sauce.
It's hard to not have your mouth water and stomach grumble with anticipation just thinking about it, right?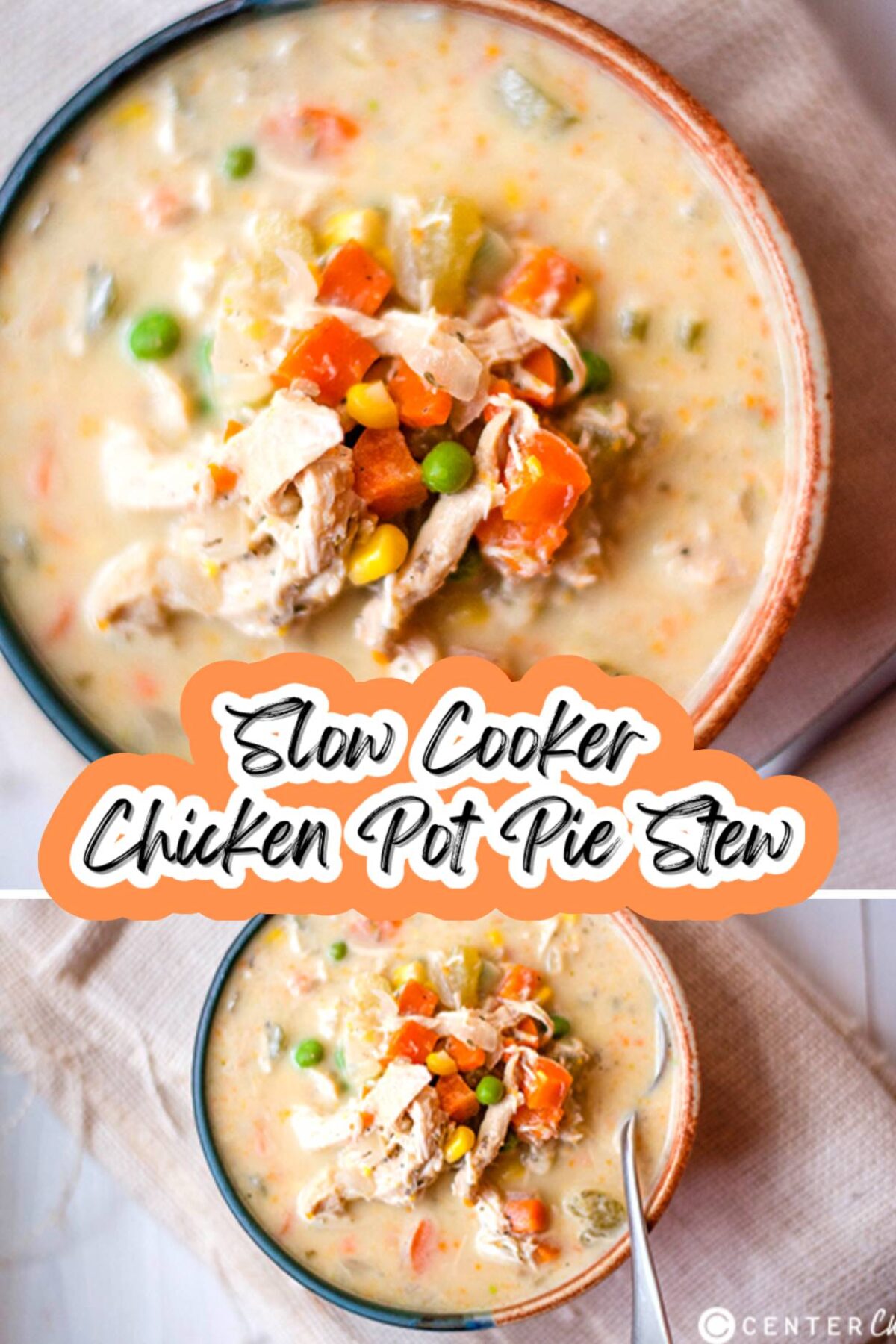 Traditional chicken pot pie can take hours to make. To make the dough and filling from scratch, assemble the pot pie and then bake it can take hours of hands-on time. And that's not to mention all the cream and butter and flour…and more butter and cream…that this recipe takes. Don't get me wrong, from scratch with homemade crust definitely makes it the best chicken pot pie recipe in the world! But…
Delicious? Yes. Healthy and easy? Not so much.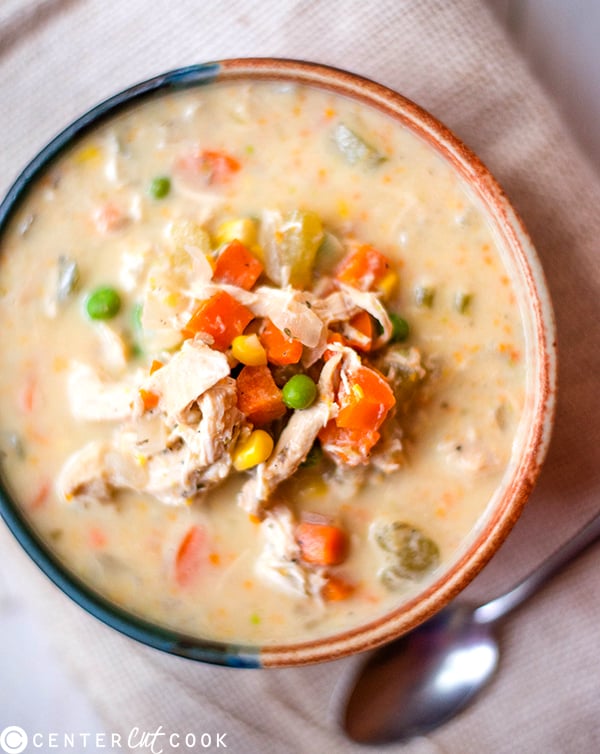 So, I decided to try an easier version of chicken pot pie using a slow cooker because slow cookers just make life so easy. I also decided I'd try to make a healthier version of the beloved pot pie while I was at it.
Basically, my attempt was to make a unicorn in the form of a healthy chicken pot pie.
The good news is unicorns do exist because this soup is very creamy, luscious, delicious, and super easy. While the original chicken pot pie will always be an amazing meal, this healthy slow cooker chicken pot pie stew is a very good (easy, and healthy!) stand-in that I hope you enjoy, too!
Making Chicken Pot Pie Stew in the Slow Cooker
Chicken Pot Pie Stew is so easy to make in the Slow Cooker. Depending on how thick you want this, it can be made to be more like a thick stew, or a bit thinner for a Chicken Pot Pie Soup.
The full written recipe is below and easily printable, but here is a quick run through of how you will make this healthy crockpot chicken pot pie:
You'll begin by adding the fresh veggies to your slow cooker. Make sure that you do not add the frozen corn, onions, and peas at this time. Those will get added towards the end of the slow cooking time. You'll also add the seasonings at this time. Feel free to adjust the seasonings however you see fit – we used salt, black pepper, dried thyme, and oregano along with a bay leaf.
You will need 3 and ½ cups of chicken broth or chicken stock. Use your favorite brand from the grocery store or make homemade chicken broth.
At this point you can begin cooking this slow cooker healthy chicken pot pie stew for about 4-5 hours on low or until the chicken is tender.
Pull out the chicken and shred it and set aside.
To thicken this recipe, you will remove 1 and ½ to 2 cups of stew from the slow cooker and blend it until smooth, then return it to the slow cooker and stir to incorporate it into the remaining stew.
Add the shredded chicken back in, along with the frozen pearl onions, corn, and peas. Stir in ½ cup of plain Greek yogurt and cook for about 30 minutes longer on the high setting.
How to Thicken Stew
There are multiple ways to thicken stew. As mentioned, our favorite method for this recipe is to remove 1 and ½ – 2 cups of stew and blend it until smooth and return it to the remaining stew. This thickens the stew nicely. If you do not have a blender OR you'd like the stew thicker, you can use cornstarch.
To use cornstarch to thicken stew, remove about ½ cup of the liquid from the slow cooker and stir in 1 tablespoon of cornstarch. Once the cornstarch has dissolved into the liquid, return it to the slow cooker and stir to combine.
What to serve with Chicken Pot Pie Stew
Whenever I make this chicken pot pie stew, I love to serve it with homemade biscuits. My recipe for fluffy buttermilk biscuits pairs perfectly with stew!
Another super delicious option would be to serve it with this Garlic Cheese Bread – so good!
Our favorite products to make this recipe: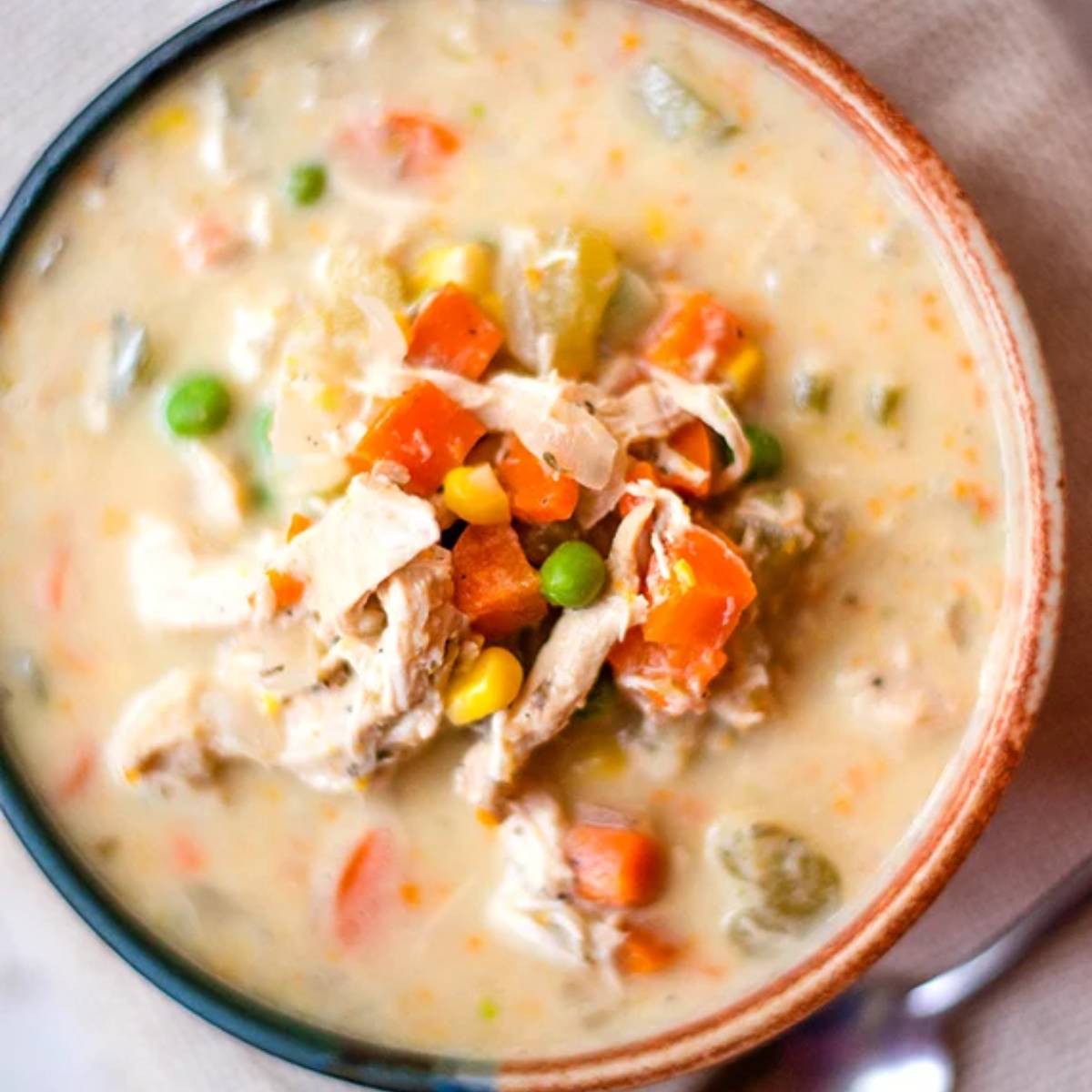 We hope you enjoy this recipe for Slow Cooker Healthy Chicken Pot Pie Stew. While traditional chicken pie is the ultimate comfort food, I think you will enjoy this easy recipe for a healthier chicken pot pie stew. Served with homemade biscuits (or store-bought!), it makes for the perfect fall or winter recipe. This recipe features simple ingredients that you can feel good about feeding your family.
Enjoy!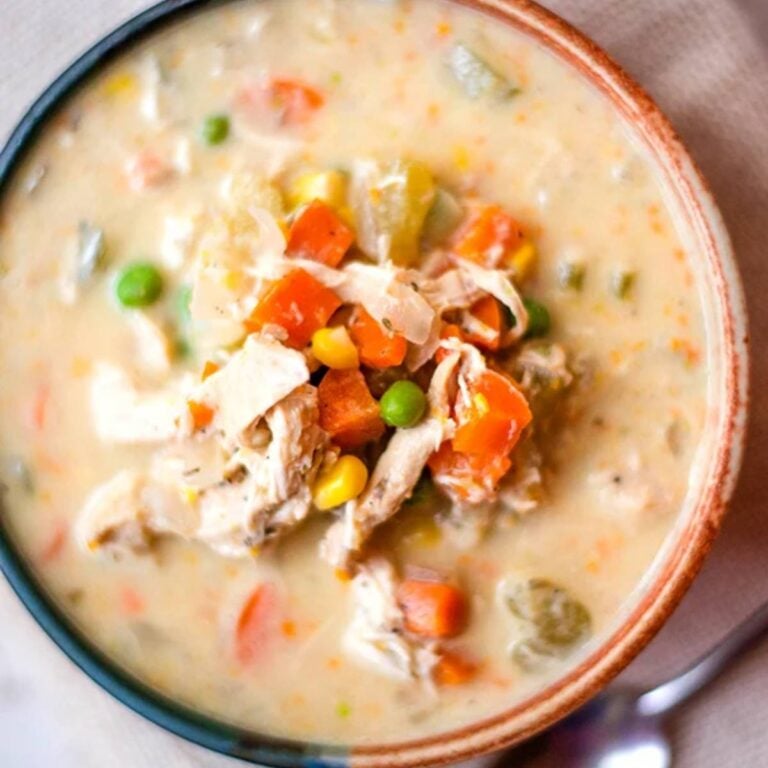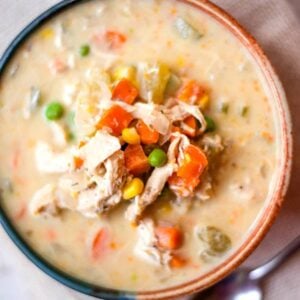 Slow Cooker Healthy Chicken Pot Pie Stew
Ingredients
1

lb.

chicken breasts, boneless and skinless

1

large

yellow onion

diced

3

stalks

celery

diced

3

carrots

diced

3

cloves

garlic

minced

1 ½

tsp

kosher salt

1

tsp

ground black pepper

1

tsp

dried thyme

1

tsp

dried oregano

3 ½

cups

chicken broth / stock

1

bay leaf

⅓

cup

frozen corn kernels

⅓

cup

frozen pearl onions

⅓

cup

frozen peas

½

cup

Greek yogurt, plain
Instructions
Add the bay leaf, cover, and cook on Low for 4-5 hours, or until the chicken is cooked through and the vegetables are tender.

Remove and discard the bay leaf.

Remove chicken breast, shred, and set aside.

Measure out 1 1/2 to 2 cups of the liquid and contents from the slow cooker and place it in a blender. Puree this until smooth, then return it to the slow cooker. This will serve to thicken the stew. (If you'd like it even thicker, mix 1/2 cup of the liquid with 1 tbsp cornstarch and dissolve into the liquids).

Return the cooked, shredded chicken to the slow cooker, followed by the frozen peas, frozen carrots, frozen pearl onions, and greek yogurt.

Cover and cook an additional 30 minutes, until the frozen vegetables have heated through. Season to taste before serving.