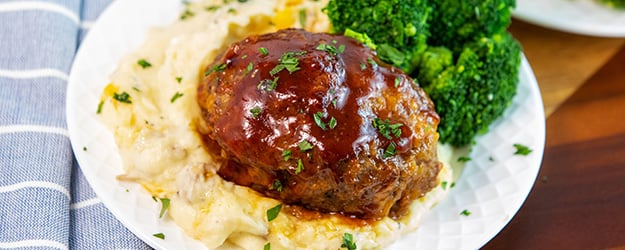 Looking for a quick and easy dinner idea that's ready in under 30 minutes? This recipe for Mini Meatloaves fits the bill! While our Easy Meatloaf has been a reader favorite for years, it takes about 60 minutes to cook in the oven and sometimes it is helpful to have a recipe that cooks quicker yet offers similar flavors. That's where this recipe for Mini Meatloaf comes in. By forming the meat into smaller, individual meatloaves, the baking time is significantly reduced and you're able to have dinner on the table much quicker.
You will love this recipe not only because it is easy to make and bakes quickly, but also because the recipe includes cheese and bbq sauce — need I saw more?. Cheese and BBQ sauce are the perfect duo for these mini meatloaves! And did I mention it's versatile? Change up the cheese and BBQ sauce with whatever your favorites are – a pepper jack cheese with spicy BBQ sauce combo would be fantastic.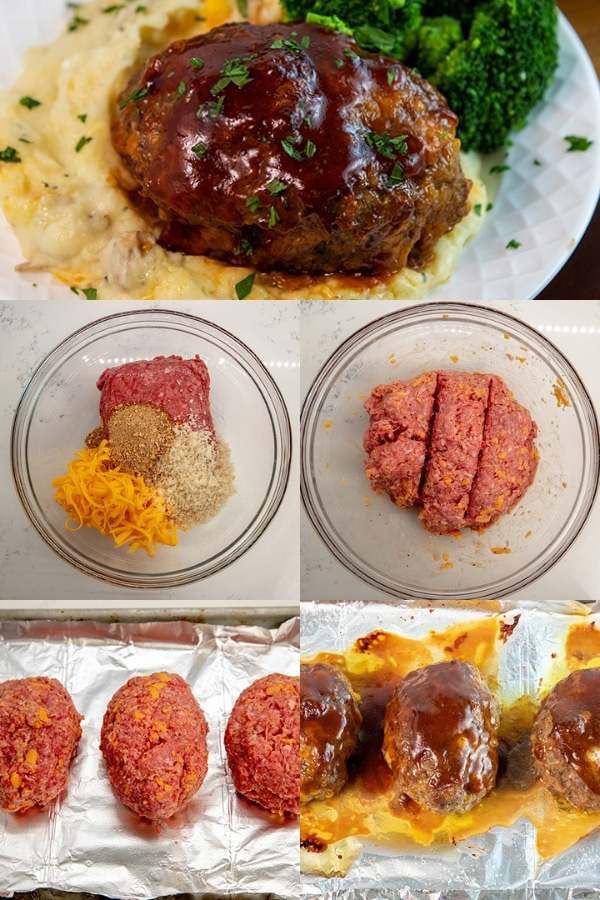 Mini Meatloaf Ingredient notes:
Ground Beef – for this recipe, you will need about 16 ounces of ground beef. Alternatively, you could also use ground turkey.
Panko Breadcrumbs – this recipe calls for panko bread crumbs, but if you have traditional bread crumbs on hand, those will work as well. If you haven't cooked with panko bread crumbs before, they are a Japanese-style lighter and crispier bread crumb.
Shredded Cheddar – We like to shred our own cheddar cheese – it melts better and tastes better, but feel free to use pre-shredded cheese from the grocery store. You can use whatever cheese you enjoy. Sharp cheddar works well in this recipe.
Milk – 1% or 2% is what we have used. We have not tested this recipe with almond milk or oat milk
BBQ Rub of Choice – have you tried our Dry Rub For Ribs Chicken and More?
BBQ Sauce of Choice – whatever store brand you enjoy or our Homemade Barbecue Sauce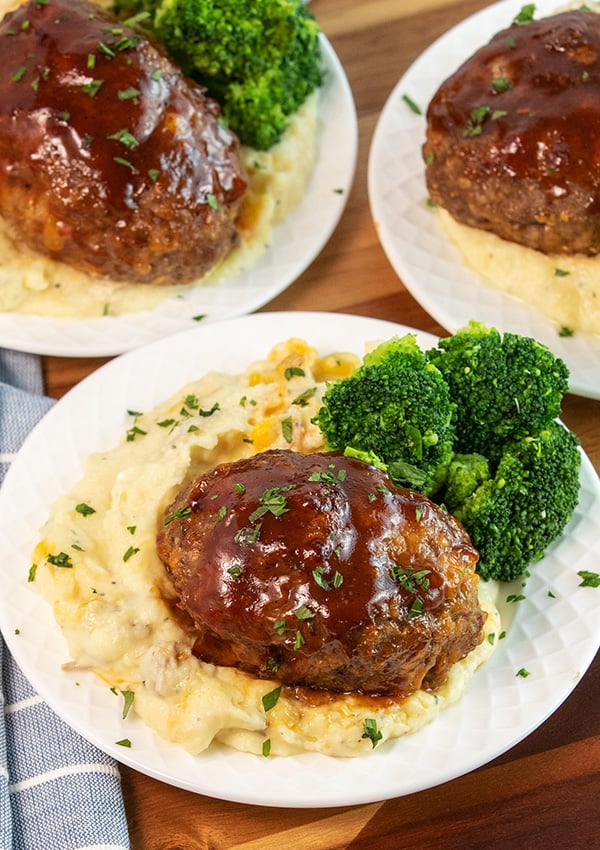 How do you cook meatloaf?
The process for making meatloaf truly couldn't be any simpler, especially when making these mini meatloaves. Some recipes call for making mini meatloaves in muffin tins, however I like to simplify the process even further and place the mini meatloaves on a foil-lined rimmed baking sheet.
To make the meat mixture, you'll need a large bowl to combine the ground beef, panko breadcrumbs, milk, cheddar cheese and BBQ Rub. The easiest way to get the meatloaf mixture to combine thoroughly is to use your clean hands to mix it together. You can use a wooden spoon, but clean hands are the quickest and easiest option.
Once the meat mixture is well combined, you'll divide the meat into three equal sections. Just eyeball it – each meatloaf doesn't need to be perfect. Place them on a prepared baking sheet and into the 450 degree Fahrenheit pre-heated oven they go.
At 450 degrees, you'll bake the meatloaves for about 20 minutes, then remove the tray from the oven and top with your BBQ sauce of choice. Place the tray back in the oven for another 4-5 minutes.
Allow the meatloaves to rest before serving. The internal temperature should be around 160 degrees is you are using ground beef, and around 165 degrees if you are using ground turkey.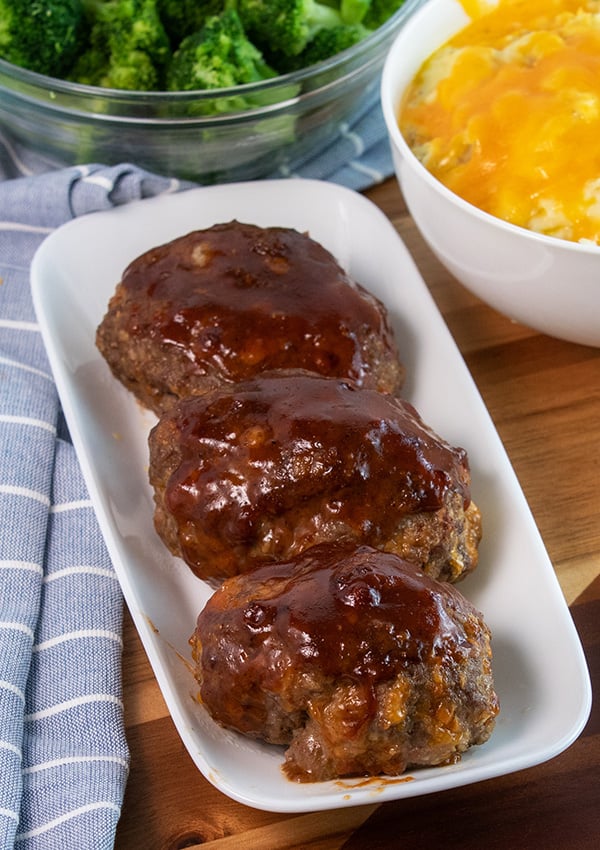 Meatloaf FAQ
How long do I bake mini meatloaves? Total cook time for these mini meatloaves will be about 25-27 minutes.
What is the purpose of putting milk in meatloaf? Milk is a key ingredient to juicy meatloaf because it keeps the meatloaf moist. Without milk, you'll likely have a dry meatloaf. The milk is key to a moist meatloaf.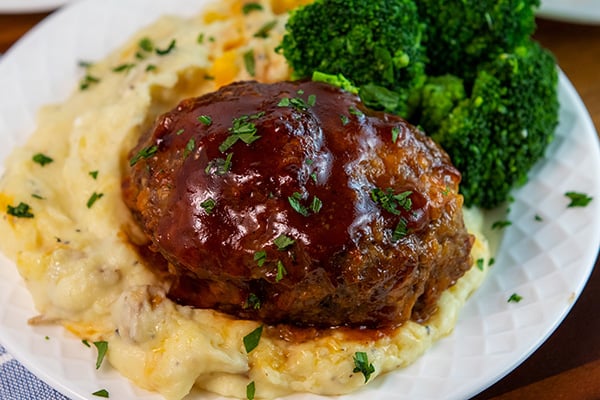 What to serve with Meatloaf
Meatloaf is a classic recipe, so I like to serve classic sides – this recipe for Instant Pot Mashed Potatoes pairs perfectly (If you don't have an Instant Pot, here's my go-to recipe for The Best Mashed Potatoes or this low-carb version for Mashed Cauliflower with Garlic and Chives)
Along with these mini meatloaves and mashed potatoes, green beans pair so well. Here's my guide for how to make green beans.
We hope you enjoy this recipe for Easy Mini Meatloaves with Cheese and BBQ Sauce as much as we do! It's a quick and easy recipe that works for any night of the week.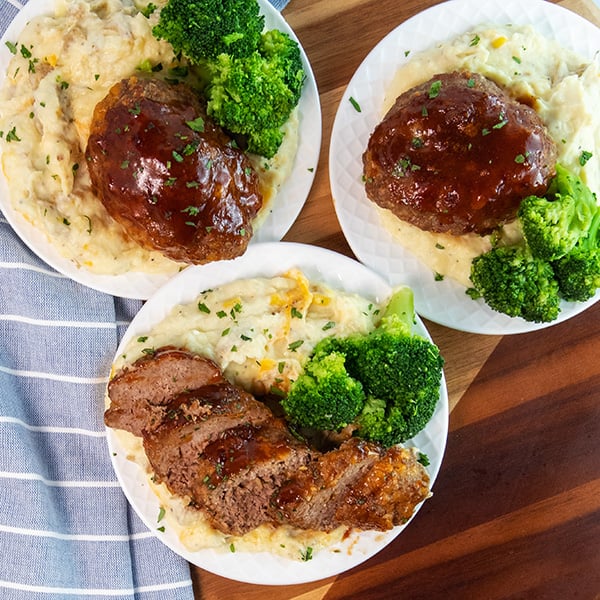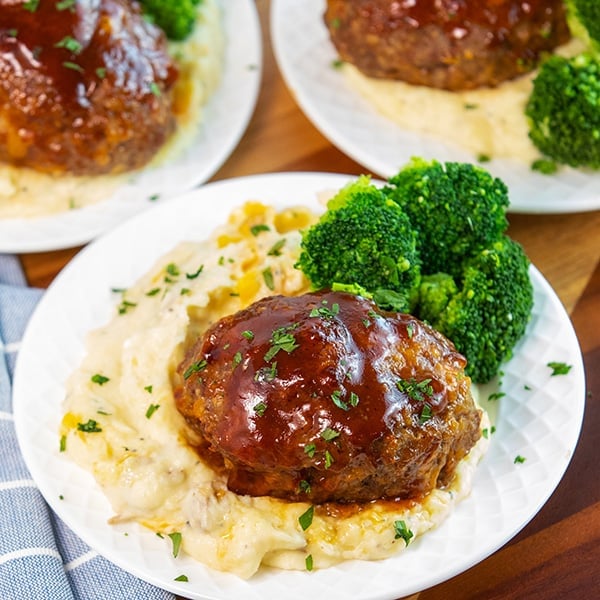 INGREDIENTS
16 ounces ground beef or ground turkey
1/2 cup Panko breadcrumbs
1/2 cup shredded sharp cheddar cheese
4 ounces milk
2 tablespoons BBQ rub of choice
BBQ sauce of choice
DIRECTIONS
Line a baking sheet with foil and preheat oven to 450 degrees.
In a large bowl combine ground beef, panko breadcrumbs, milk, and BBQ rub.
Divid meat mixture into three and shape into a loaf shape.
Place on prepared baking sheet and bake for 20-22 minutes.
Top each meatloaf with bbq sauce then return to oven to continue baking for 4-5 minutes.
Allow the meatloaves to rest before serving. Internal temperature should be around 160 degrees if using beef, or 165 degrees if using ground turkey
Servings: 3