These No-Bake Cheesecake Bites are easy, delicious, and almost too good to be true. Everything you love about cheesecake, made into a bite size treat!
If you want to talk about love at first sight, let's talk about these No-Bake Cheesecake Bites! They are so simple to make and taste amazing. I love cheesecake in any form, so a no-bake bite that doesn't require a mixer and only has 5 ingredients? Yes, please! The cheesecake center is creamy, smooth and sweet and the graham cracker crumbs give it that distinct cheesecake taste. They are dipped in chocolate which takes them over the top and makes them even better, if that's possible.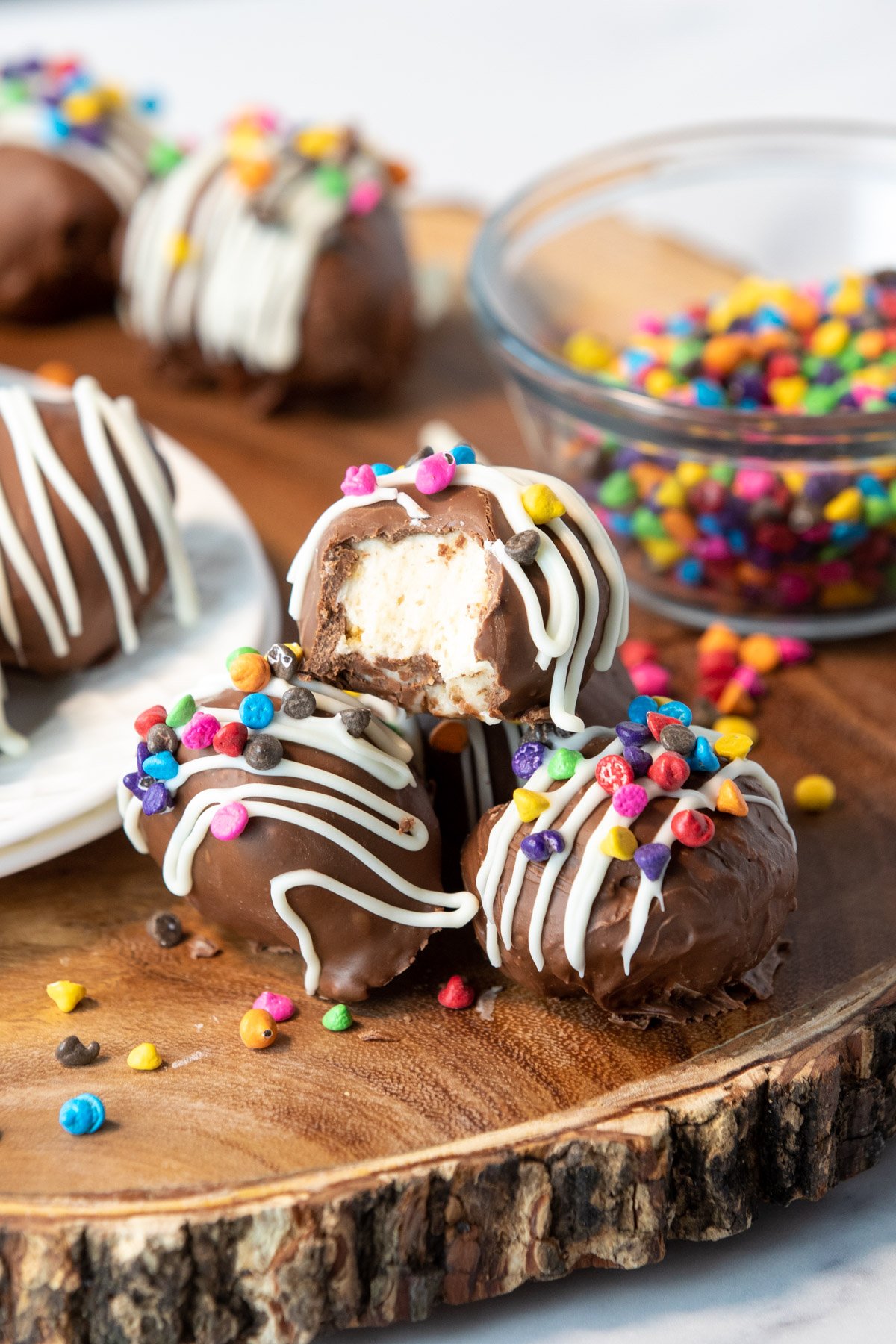 How to make No-Bake Cheesecake Bites
These No-Bake Cheesecake Bites come together so fast- the most time consuming part of this recipe is letting the cheesecake batter chill. What I like to do is mix them and let them chill overnight, then scoop and dip them the next day. If you don't have that much time, 1 hour minimum will work. I like using a cookie scoop so all the bites are the same size. I just spray it with non-stick spray and scoop. I found that I also had to roll them in between my palms to get perfectly round balls.
Step 1: Gather your ingredients: you'll need cream cheese, butter, graham cracker crumbs, powdered sugar and chocolate chips.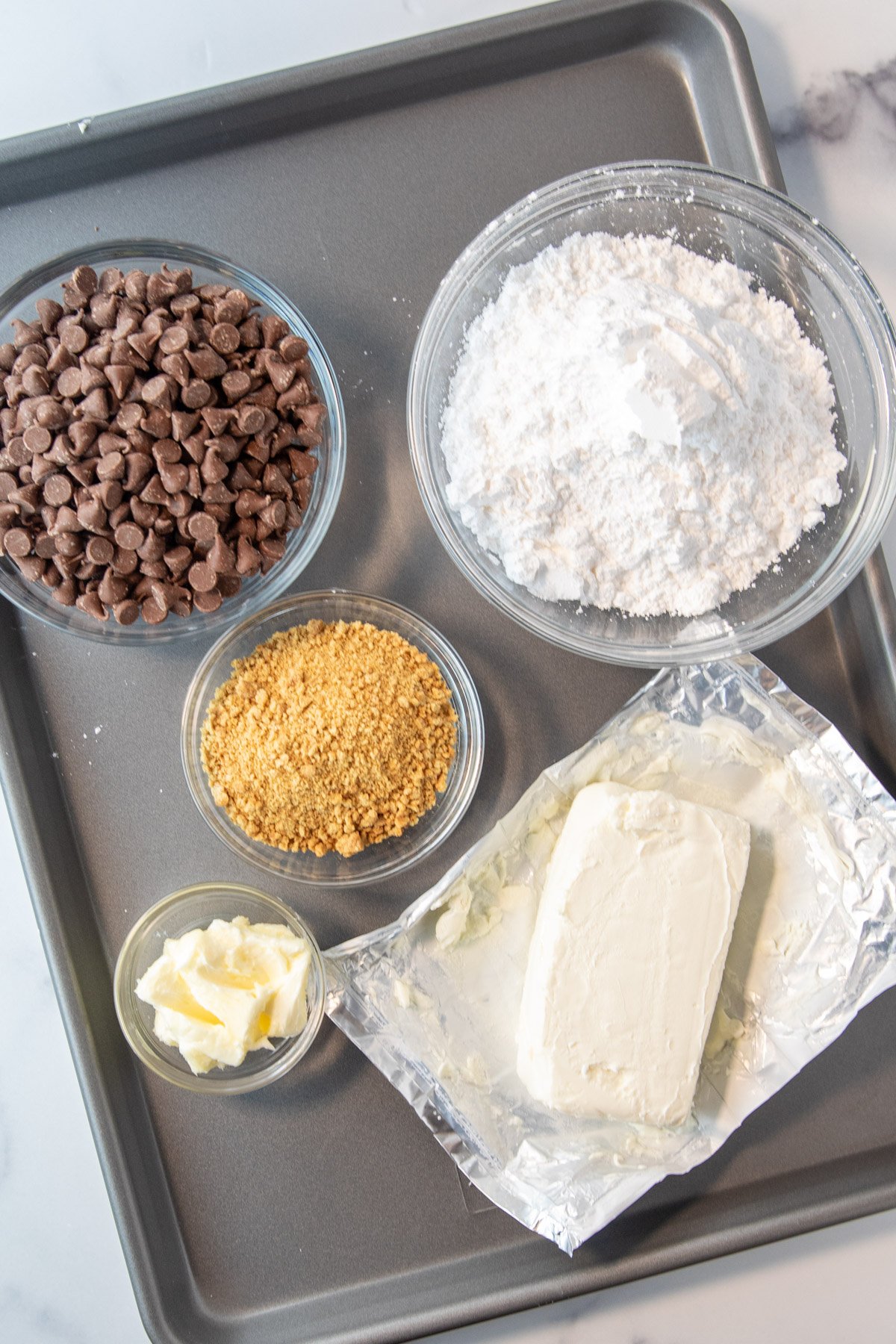 Step 2: Make the cheesecake mixture! Detailed instructions are below. The most important thing to note is that you will need to allow the batter/mixture to chill for at least 1 hour. You can speed the process along by placing it in the freezer. The mixture is much easier to work with chilled.
Step 3: Scoop the mixture into balls. I used a 1 ½ Tablespoon cookie scoop for this step.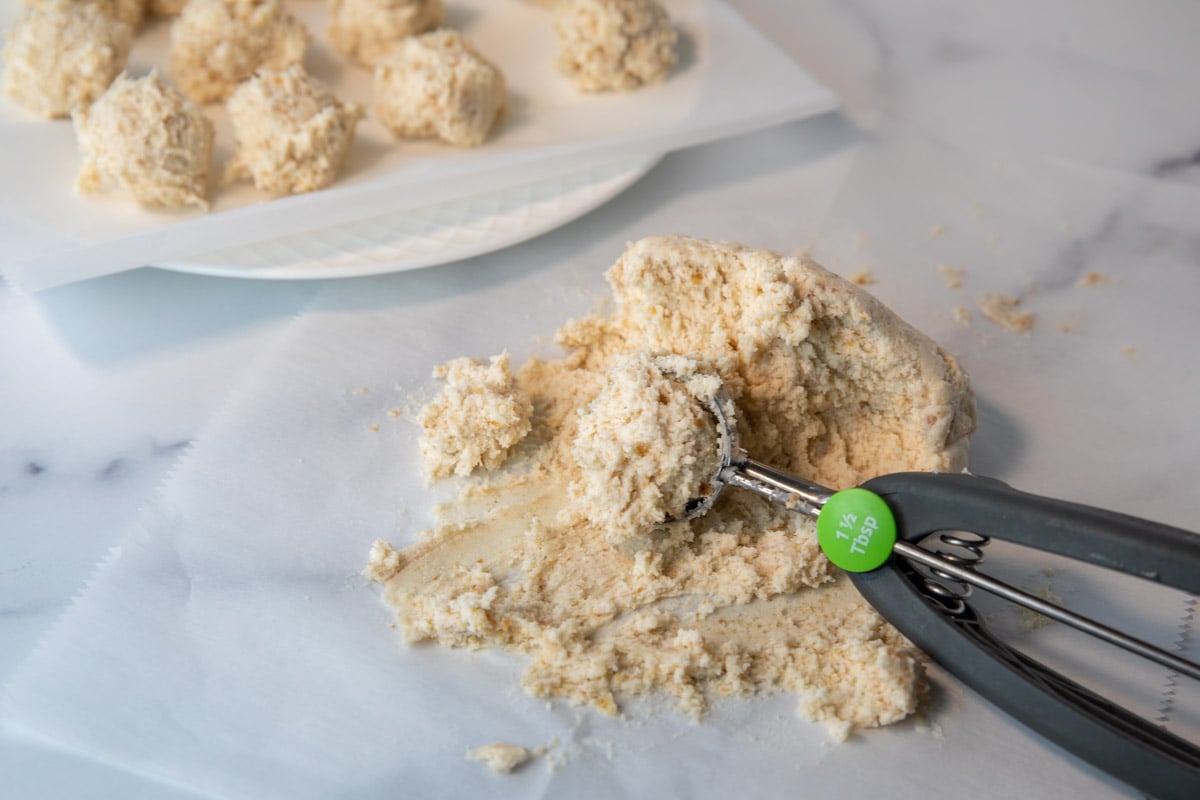 Step 3: Place the formed cheesecake bites back into the refrigerator for 10-20 minutes so that they can chill and firm up a bit before dipping them in chocolate.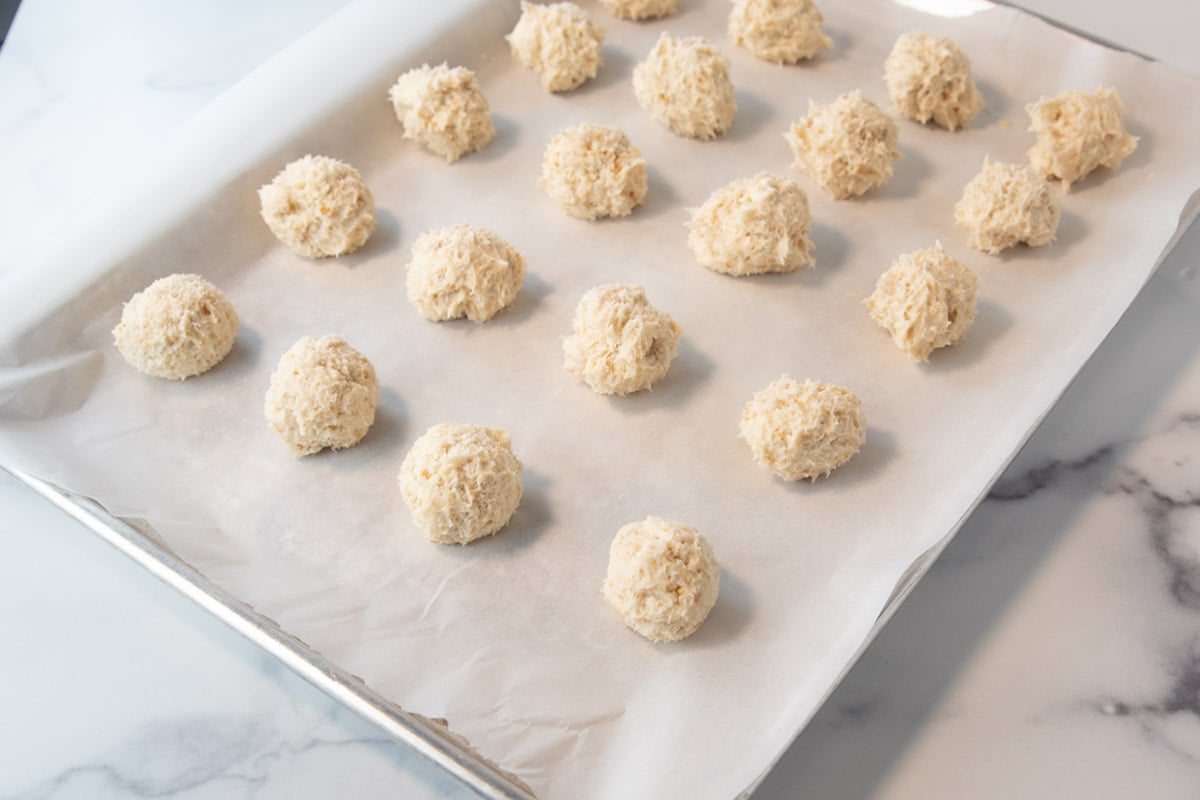 Step 4: Dip the Cheesecake Bites in Chocolate! You can use chocolate chips or almond bark. Follow the melting instructions on the package. Dip the balls and cover them completely.
Step 5: Decorate – you can leave the cheesecake bites as-is, or you can decorate them with sprinkles or a drizzle of white chocolate. If you are using sprinkles, you will want to add the sprinkles immediately after you dip the cheesecake bite in chocolate. Once the chocolate starts to harden, the sprinkles will not stick.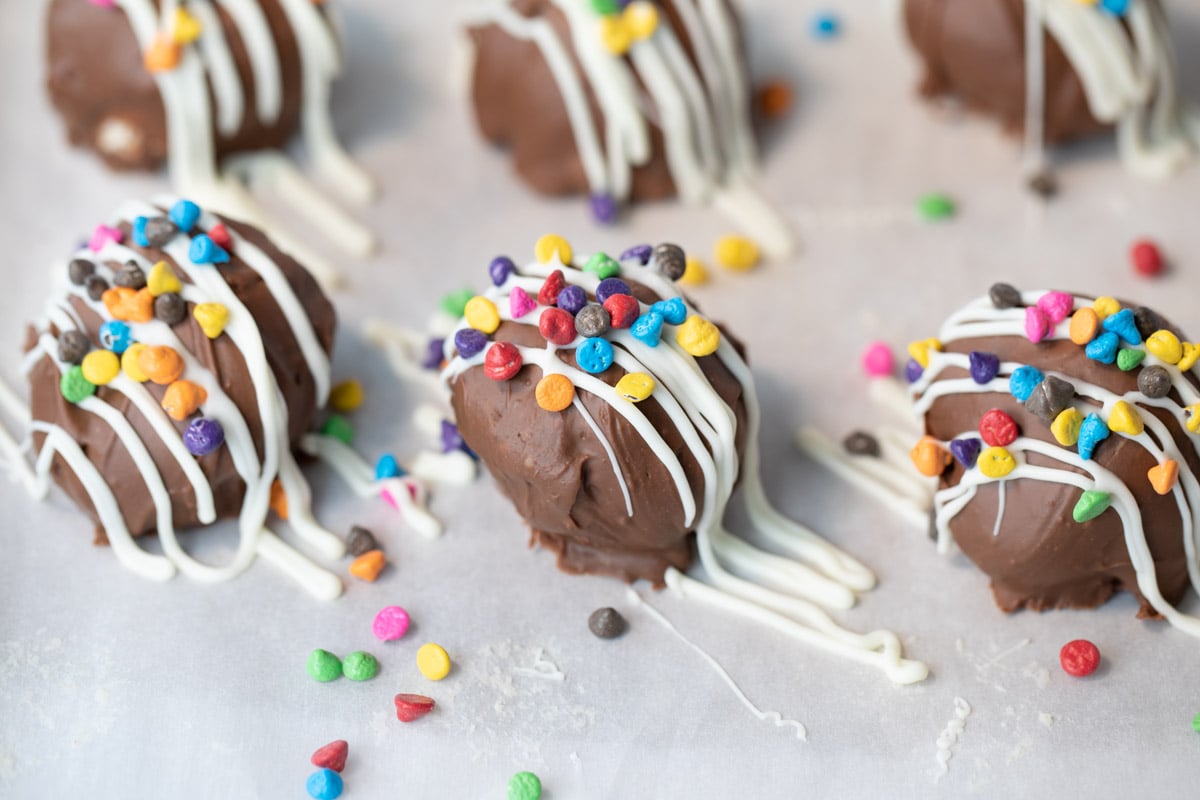 How to store No-Bake Cheesecake Bites
These no-bake cheesecake bites are best stored in an air-tight container in the refrigerator. Allow them to sit at room temperature for 15-20 minutes before serving. You can store cheesecake bites in the refrigerator for 3-4 days.
More Cheesecake Recipes
Love cheesecake as much as we do? You will definitely want to try some of these other incredible cheesecake recipes!
If you love cheesecake then you will love these! No-Bake Cheesecake Bites are easier than regular cheesecake and just as delicious. They are best served cold, just like traditional cheesecake.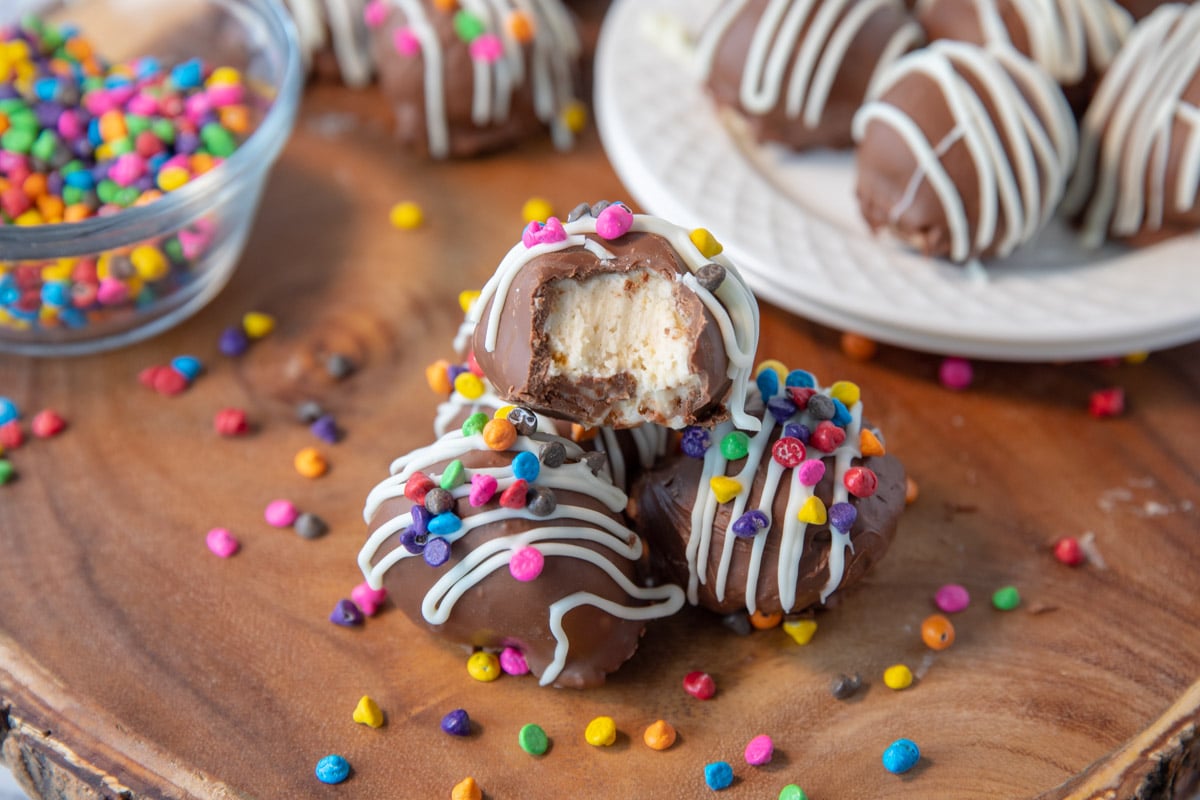 If you try this recipe (and I hope that you do). Please let me know what you think by leaving a comment or tagging me on social media. Enjoy!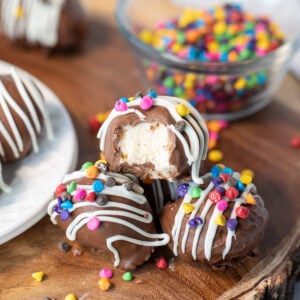 Ingredients
8

oz

cream cheese

room temperature

4

tbsp

butter

room temperature

1/2

cup

graham cracker crumbs, crushed

4

cups

powdered sugar

10

oz

chocolate chips or almond bark
Instructions
In a large bowl, mix the cream cheese and butter together until combined.

Add in the graham cracker crumbs and mix well.

Add in the powdered sugar, 1 cup at a time, until it is well combined.

Cover the cheesecake mixture and chill in the fridge for at least 1 hour.

Scoop the cheesecake mixture into balls and roll in between palms if necessary. Arrange the balls on a piece of parchment paper.

Place in refrigerator for 10-20 minutes to firm up before dipping the cheesecake bites in chocolate.

Melt the chocolate chips or almond bark according to package directions.

Dip balls into chocolate, covering completely.

Place back on parchment paper and let cool until chocolate has hardened.

Store in the fridge for the best taste.