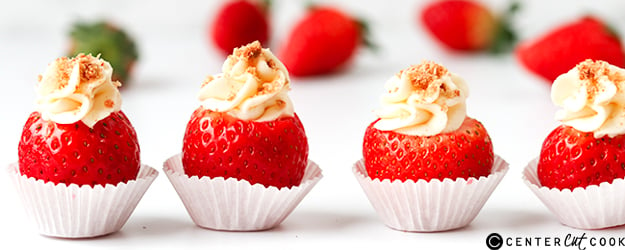 An ultra-simple dessert – perfect for parties!
With Christmas only a month or so behind us, the memories of tummies stuffed with endless amounts of cake and candy are starting to fade.
Whilst you might not be ready to tackle full-on huge desserts again yet (give it time…), those puddings are starting to look a more tempting.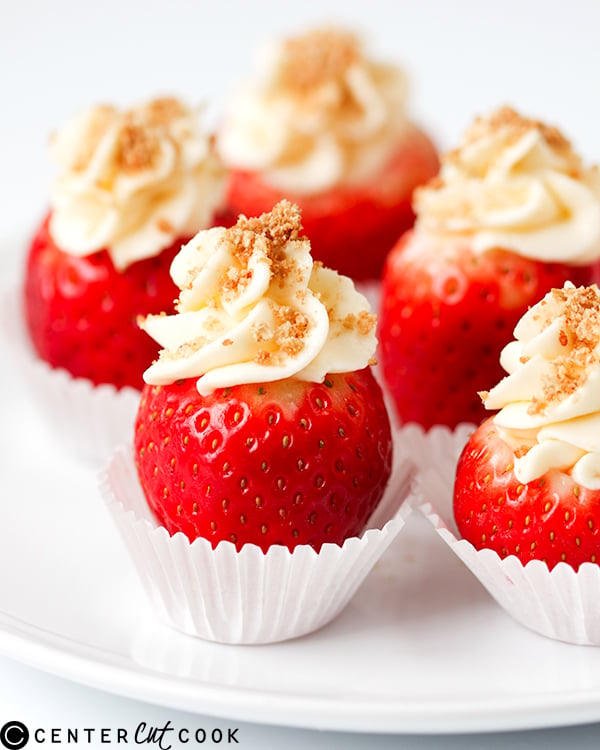 Not wanting to totally sabotage the 'I'm being good' hard-work of January, I've been making a lighter dessert.
So pretty and delicious, but a lot less calorific than that huge slice of cheesecake!
Cheesecake filled strawberries.
Try to find the largest, juiciest strawberries you can, then scoop out the middle (eating as you go of course!) and pipe in vanilla cheesecake cream. Topped with a few tiny cookie crumbs, they're a temping treat when you just want a little of something sweet.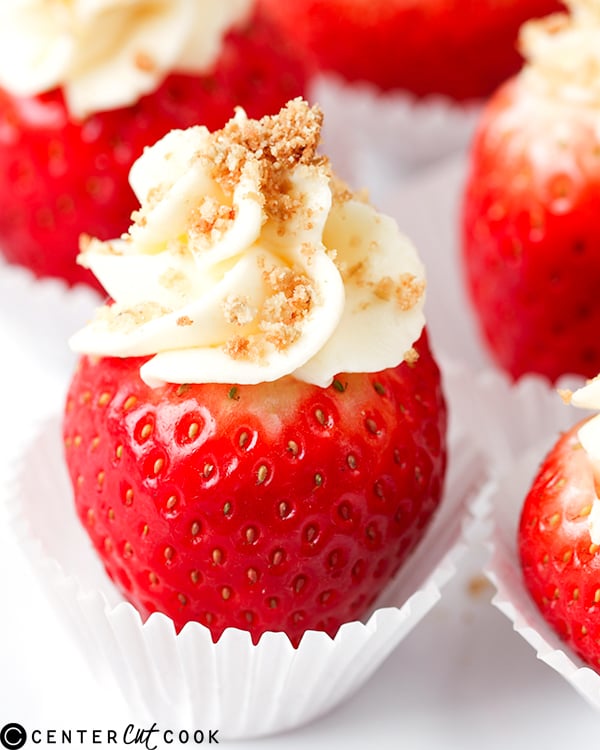 I like to slice the bottoms off my strawberries (again, eating as I go) so they stand up. Place them in little petit fours cases and serve them up after dinner, and I guarantee they'll be gone within 5 minutes.
Even better, why not make them for your Valentine!
You can also make them up to a day ahead, although it's best to sprinkle the cookie crumbs on right before serving so they don't go soft.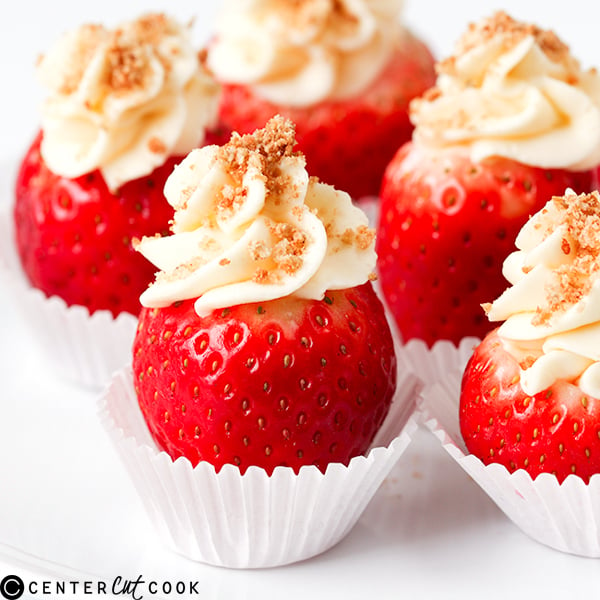 INGREDIENTS
20 large, ripe strawberries
1/3 cup heavy cream
2/3 cup cream cheese
1/4 cup confectioners' sugar
1/2 teaspoon vanilla extract
3 graham crackers (I used gluten-free cookies)
DIRECTIONS
Cut the leaves off, then use a melon baller to scoop out the center of the strawberries. Slice the bottom off the strawberries so they stand up.
Place the cream in a large bowl and whisk until soft peaks form. Add in the cream cheese and whisk again for a few seconds to combine, then add in the confectioners' sugar and vanilla extract. Whisk again for a few seconds until the mixture is light and fluffy.
Spoon the mixture into a piping bag with a fluted tip and pipe the cheesecake mixture into the strawberries so it fills the hole. Keep piping until you have a little mound of cheesecake filling on top of the strawberries. Place each strawberry in a petit fours case on a large plate or tray.
Crush the crackers by placing them in a bag and using a rolling pin to bash them into crumbs. Sprinkle crumbs on each of the strawberries before serving.
Servings: 20 strawberries