Guess what guys? Today is National Peanut Butter Lovers Day. A day for YOU and ME and all peanut butter lovers to come together to celebrate the fabulousness of peanut butter! How are you going to celebrate?!?! It may also be important to note that today is national pig day as well, so perhaps you should eat some bacon with your Peanut Butter White Chocolate Chip Cookie? Additionally, I feel compelled to tell you that tomorrow is "national old stuff day" followed with "If pets had thumbs day" on Sunday! To keep up with all of these "national" holidays, checkout Hallmark's Ultimate Holiday Site. I wouldn't want you to miss out on "National Cheese Doodle Day" (that's Tuesday in case you're wondering…).
These cookies are to die for! What could possibly be better than a marriage between peanut butter and white chocolate chips? I am having a hard time coming up with something. If I were to think of three words to describe these cookies it'd be soft, soft, soft. But not chewy soft. A different kind of soft.
Cookies are a fab dessert for you to make because you can make them when you only have 30 minutes to spare in between the basketball game for your son, or your daughters band concert, after taking your dog for a walk, or after making a family of snowmen in your backyard.
Sometimes the best recipes come together when you get creative and work with what you already have on hand. You should try it sometime! I had half a bag of white chocolate chips that needed to get used (the other half were used for Double Chocolate Brownie Cake), and peanut butter is always, ALWAYS a top choice ingredient here. Put the two together and what do you get? Soft peanut butter white chocolate chip cookies.
Crowd pleasing, baby. And soft. But not chewy soft. Go try them and see what I mean….
Top three favorite peanut butter recipes….
Peanut Butter S'mores Cookie Bars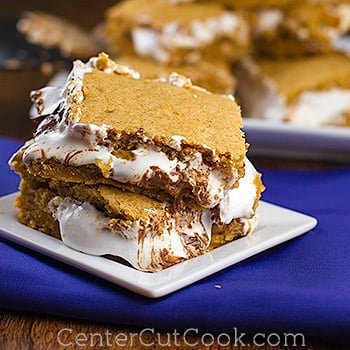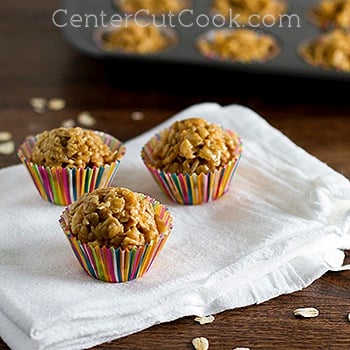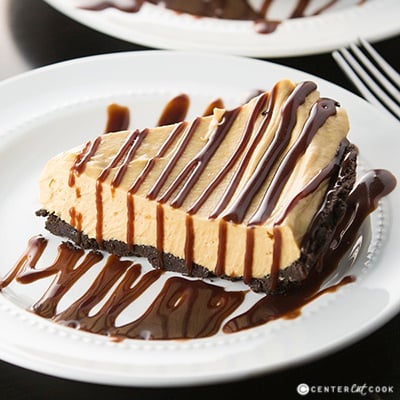 I said three, but let's make it my top four favorite peanut butter recipes…
Chocolate Peanut Butter Cupcakes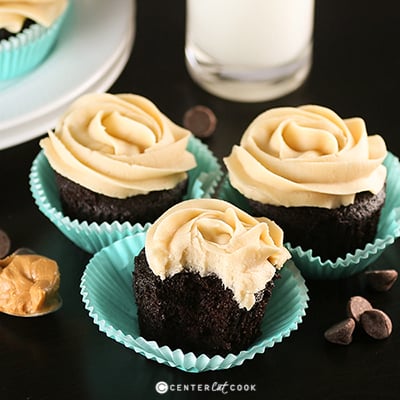 Let's talk… what is YOUR favorite peanut butter dessert of all time and what keeps YOU busy these days? I love quick recipes like this!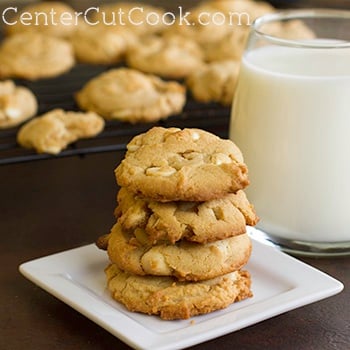 INGREDIENTS
DIRECTIONS
Pre-heat your oven to 375 degrees.
Using your mixer, combine butter, peanut butter, sugar and brown sugar. Mix until creamy and well combined, about three minutes.
Add in egg and vanilla extract and mix for a minute or two more, until it's light and fluffy.
In a separate bowl, combine flour, baking powder, baking soda, and salt.
Add dry ingredients into the wet.
Stir in white chocolate chips by hand.
Drop one tablespoon full of cookie batter onto baking sheets, making sure to leave 2 inches of space between each cookie.
Bake for about 10 minutes, or until lightly browned. Allow the cookies to cook for a minute or two, then transfer to a wire rack to cool completely. Store in an air-tight container.
Yields 3 dozen cookies.
Recipe from
CenterCutCook