These Pecan Pie Bars are incredible for those times when you want a slice of the Best Pecan Pie, but you don't want the fuss of making a homemade pie crust. What you'll love about this recipe is that not only are these Pecan Pie Bars easy to make without the fuss of making a whole entire pie, they are dipped in chocolate making all of your chocolate dreams come true. This recipe is made without corn syrup, and uses a combination of honey, brown sugar, and heavy whipping cream to sweeten and thicken the topping.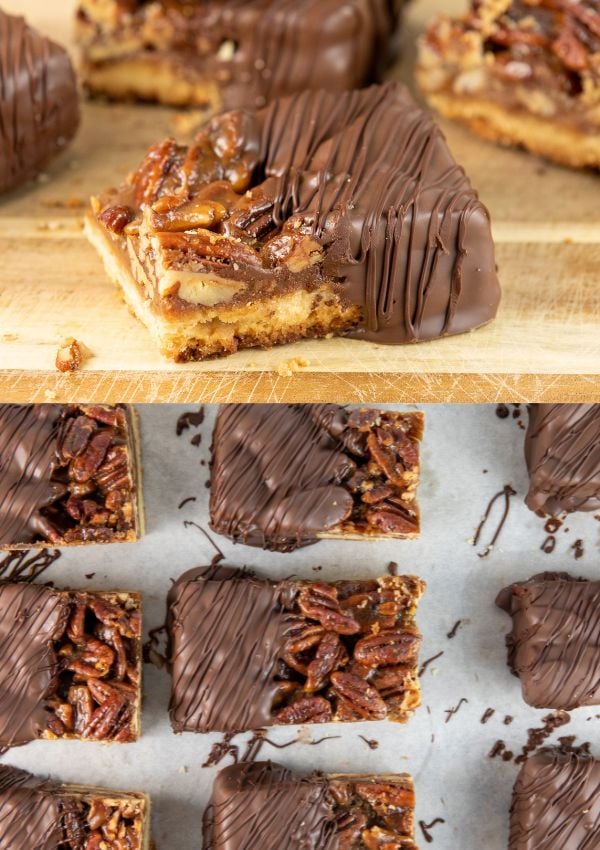 You might just find yourself choosing these Chocolate Dipped Pecan Pie Bars over traditional Pecan Pie. They are SO easy and so good. Let's talk about how to make them.
How to make Pecan Pie Bars
There are three steps involved with making these chocolatey Pecan Pie Bars.
1. Make the Crust – we are making these Pecan Bars with a shortbread style crust that'll get pressed into a 9×13 inch baking dish and baked before adding the filling.
2. Make the filling – the filling/topping is made without corn syrup and consists of unsalted butter, honey, light brown sugar, heavy shipping cream, and whole pecans. You can choose to coarsely chop the pecans if you wish, or leave them whole. It is entirely up to you. After the crust has baked for 15 minutes, you'll add the pecan filling to the crust and bake until the filling has set which will take about 30-35 minutes.
3. Dip in Chocolate – this is my favorite part about the entire recipe. Once the Pecan Pie Bars have baked and cooled, you'll cut them into bars, then melt chocolate almond bark and dip each bar about halfway into the chocolate. To fancy-it-up a bit, you can melt dark chocolate to drizzle on top of the chocolate dipped Pecan Pie Bars.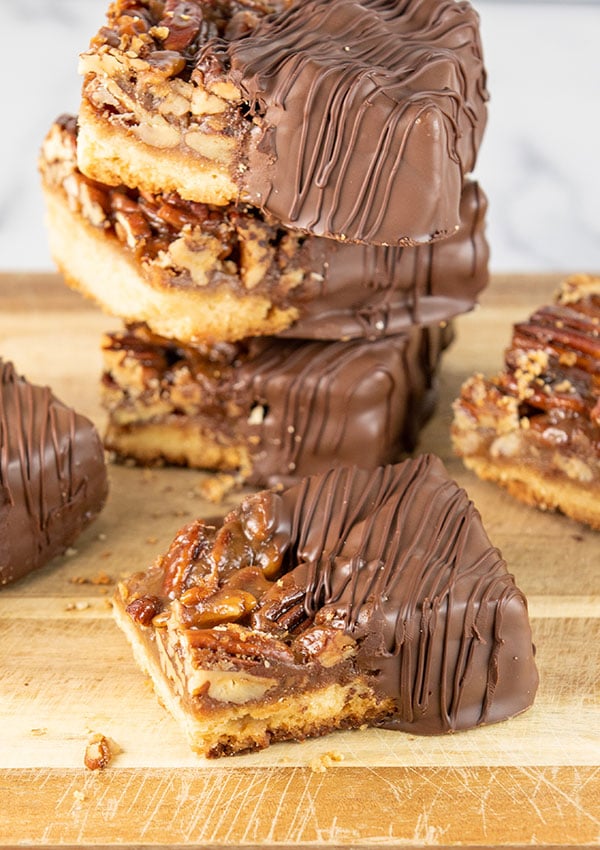 Pecan Pie Bars Tips and Tricks
Feel free to make these Pecan Pie Bars ahead of time. Once they are done baking and have cooled, leave them uncut and place in the refrigerator. About an hour before serving them, cut them into bars, then dip in chocolate. It is entirely up to you if you'd like to refrigerate your pecan pie bars before serving. I like to leave them at room temperature to soften up a bit. Store any leftovers in an airtight container in the refrigerator for about 3-4 days.
The size of the bars is entirely up to you. We cut the 9×13 inch pan of Pecan Bars into 12 bars – you can make them bigger or smaller, depending on your preference.
There's something about pecan pie in bar form with chocolate that makes them so incredibly delicious and fun to eat. These Pecan Pie Bars are perfect for Thanksgiving or Christmas, or any time of the year when you get the hankering for Pecan Pie.
More Recipes with Pecans
Looking for more delicious recipes with pecans? Try our Maple Oat Pecan Scones – they are moist and buttery and so delicious. Another favorite is this recipe for Pecan Tassies or Pecan Tarts — they melt in your mouth and are perfect for the holidays. These Mocha Turtle Fudge Brownies are also incredible along with these German Chocolate Brownies.
We hope you enjoy this recipe for Pecan Pie Bars dipped in Chocolate. If you make this recipe, and we hope you do, please come back to let us know what you think, or tag us on social media.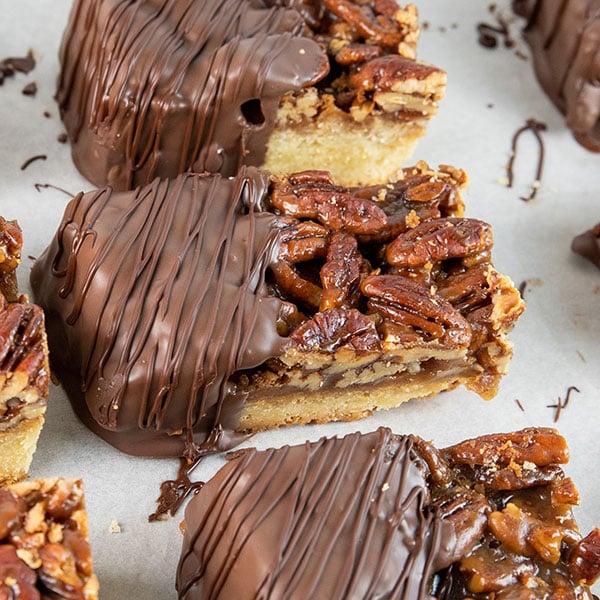 Enjoy!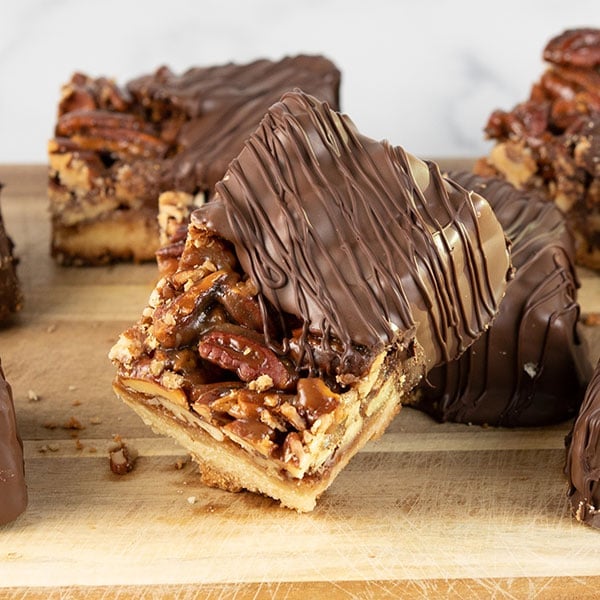 CRUST INGREDIENTS
FILLING INGREDIENTS
1 cup unsalted butter
1/2 cup honey
1 1/2 cups light brown sugar, packed
2 tablespoons heavy whipping cream
1 pound whole pecans (coarse chop if you wish)
DIPPING INGREDIENTS
5 ounces chocolate almond bark
5 ounces dark chocolate (optional for drizzling on top)
CRUST DIRECTIONS
Preheat oven to 350 degrees.
To make the crust, beat the butter and sugar together.
Add the wet ingredients: eggs and vanilla. Mix just until combined.
Add the dry ingredients: flour, baking powder and salt. Mix until well combined.
Press into a 9×13 baking dish lined with aluminum foil and push the crust against the sides. Bake for 15 minutes, or until the crust is set but not brown yet. Set aside to cool.
FILLING DIRECTIONS
In a saucepan, add the butter, honey and brown sugar. Cook on low heat until melted.
Bring the heat up to medium-high, and boil for 3 minutes.
Remove from heat, and stir in the heavy whipping cream and pecans.
Pour the filling over the cooled crust. Using a spatula, spread the filling evenly.
Bake 30-35 minutes or until the filling is set (the filling will move a little when set).
Remove from the oven and let sit until completely cooled.
Cut into bars.
DIPPING DIRECTIONS
Melt almond bark in the microwave in 30 second intervals until it is completely melted.
Dip half of each bar in the melted almond bark.
Melt dark chocolate and drizzle on top if desired.
Servings: 12