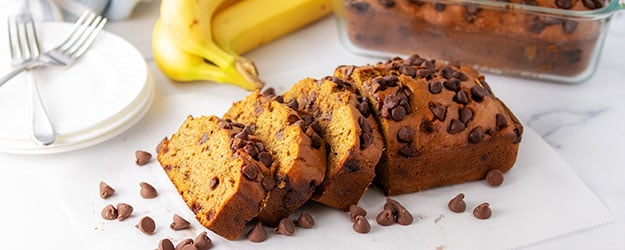 Lookout World, Pumpkin season is just around the corner and while ya'll love these Pumpkin Banana Muffins year after year, I've got a new recipe that you need to try: Pumpkin Banana Bread with Chocolate Chips! If you haven't tried pumpkin and banana recipes before, you absolutely must! They are a perfect fall duo that can't be beat. Banana and Pumpkin somehow perfectly pair together in this Pumpkin Banana Bread recipe and when you add in chocolate chips? It's next level amazing.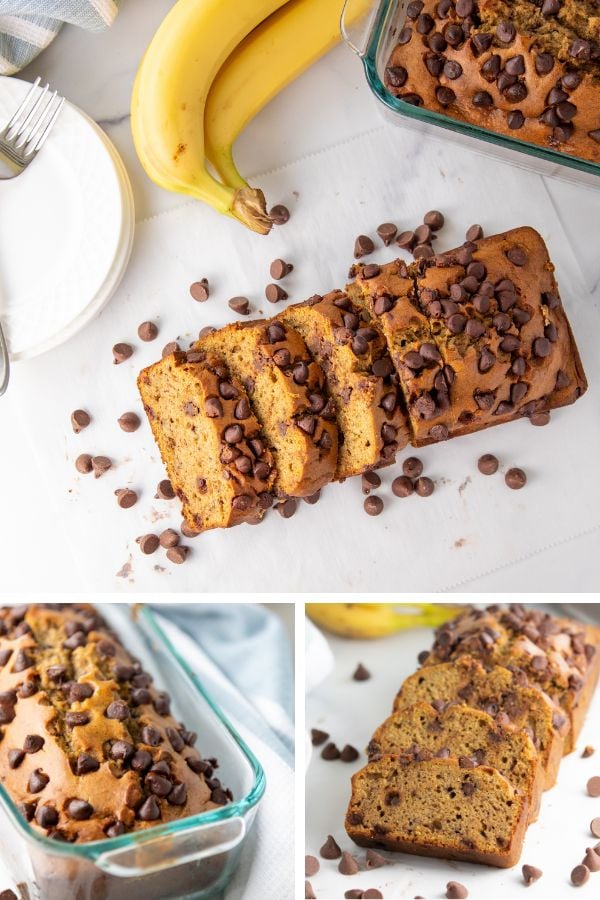 While bread recipes can sometimes feel intimidating, rest assured that there is no yeast involved in this recipe. It is the easiest kind of bread recipe that you can make and just about impossible to mess up. If you like the Pumpkin loaf at Starbucks, you will be absolutely wowed by this recipe. The combination of pumpkin with banana bread and chocolate chips in this recipe will far exceed any pumpkin or banana you try elsewhere.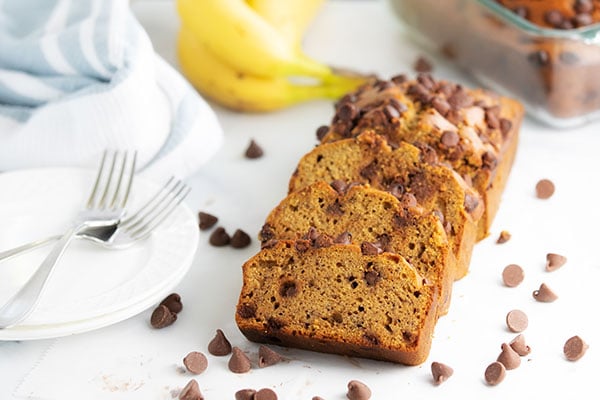 Pumpkin Banana Bread Ingredient Notes:
Bananas: The riper the bananas, the better! Those over-ripe bananas sitting on the counter are perfect for this recipe.
Eggs: You'll need 3 large eggs
Milk: You will need 1/2 cup of Milk. Use 2% if you have it. 1% is also fine. Skim milk is not recommended.
Pumpkin puree: Be sure to buy plain pumpkin and not pumpkin pie mix. It will be in the baking aisle of the grocery store and while you can find it in abundance in the fall, canned pumpkin is available year round in most grocery stores.
Flour: We used all purpose flour in this recipe and have not tried this recipe with gluten free flour or an other types of flour. If you choose to experiment with other flours, please let us know how the recipe turned out. We recommend following this recipe as it is written unless you have experience with adapting recipes to gluten-free flours.
Chocolate chips: Our personal favorite is Ghiradelli milk chocolate chips, but you can use whatever chocolate chips that you have on hand.
Add-ins: If you'd like to add walnuts, pecans or any other kind of nut, feel free! You could also add in raisins if that's's your thing.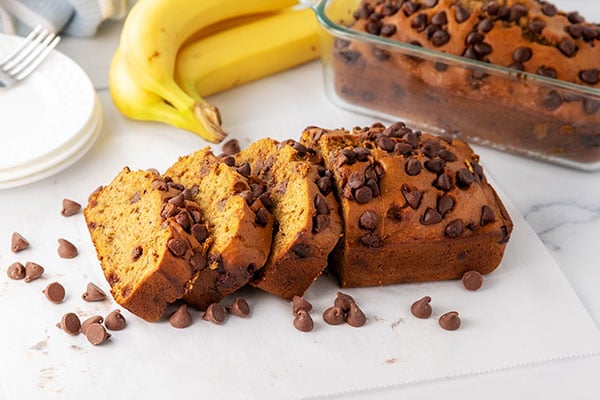 Pumpkin Banana Bread Tips and Tricks:
This recipe makes two loaves of Pumpkin Banana Bread. We used two 8×4 inch loaf pans. You could also use two 9×5 inch pans. Baking time will vary based upon type and size of your loaf pans. When a toothpick inserted into the center of the loaf comes out with just a few moist crumbs, you'll know the bread is done. It should take anywhere from 45-60 minutes.
If the bread is browning too quickly, tent the loaf pan with foil until the bread is done baking.
For a beautiful look, make sure to sprinkle extra chocolate chips on top of the bread before placing it in the oven to bake.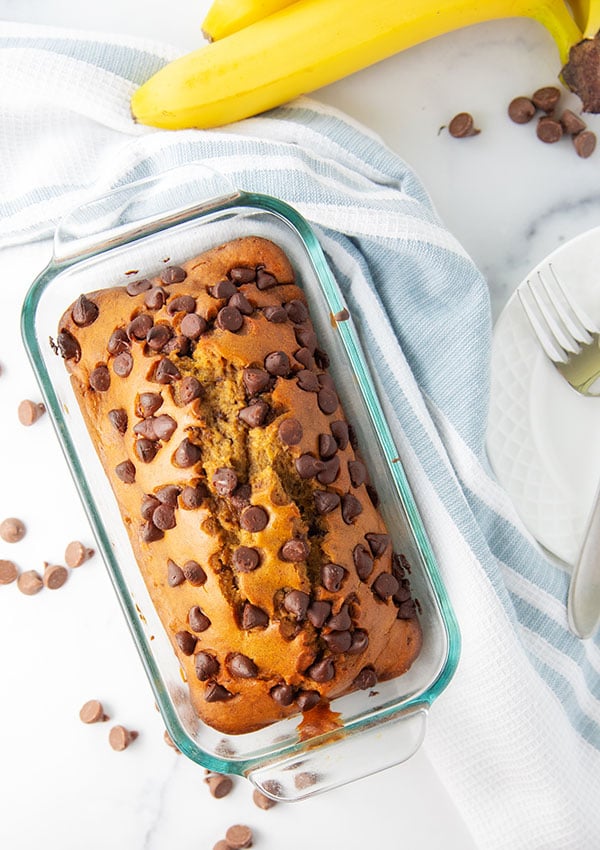 More Pumpkin Banana Recipes:
Looking for more banana recipes? If you haven't tried these Banana Chocolate Chip Crumb Muffins, they are outstanding!
We also love these Banana Bread Cookies, Banana Cupcakes with Peanut Butter Frosting, and Banana Upside Down Skillet Cake.
Looking for more Pumpkin recipes? These Pumpkin Chocolate Chip Cookies are so soft and dreamy! We also love this Dairy Free Pumpkin Coffee Cake.
We hope you enjoy this easy recipe for Pumpkin Banana Bread with Chocolate Chips. It is so easy to make, so delicious, and versatile! Add in raisins, walnuts, or any other additional add-ins that you enjoy with pumpkin banana bread. Enjoy!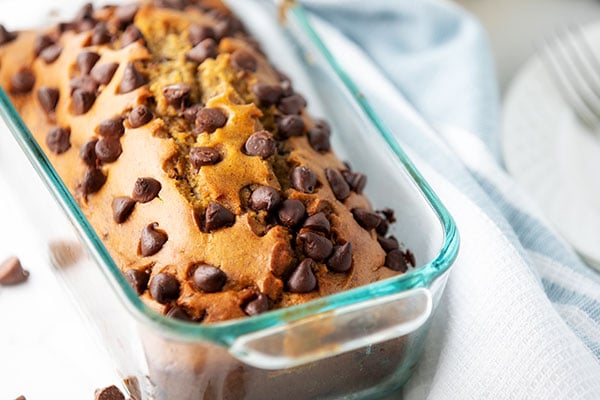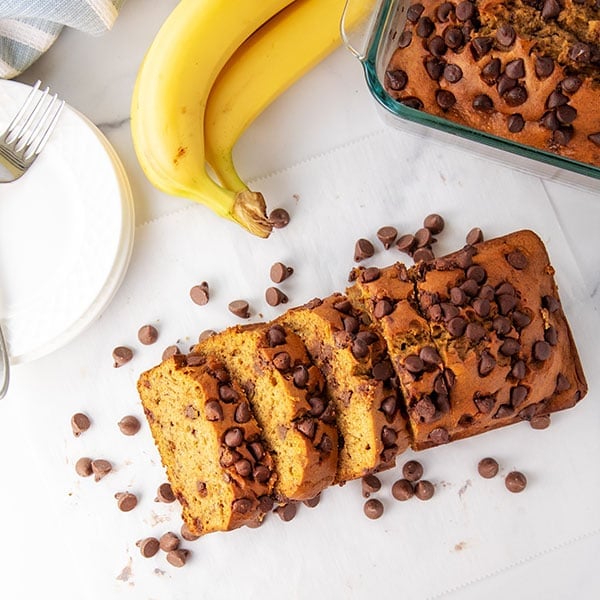 INGREDIENTS
DIRECTIONS
Preheat the oven to 350 degrees F.
In a large bowl, combine: eggs, milk, mashed bananas, vegetable oil, vanilla, sugar, pumpkin puree, baking powder, baking soda, cinnamon, nutmeg, allspice, and salt. Mix until the sugar has dissolved and the batter is smooth.
Next, add in the flour, about a 1/2 cup at a time. Gently stir in the 2/3 cup chocolate chips.
Grease two 8×4 or 9×5 baking pans. Pour in the batter and add additional chocolate chips on top.
Bake 40-50 minutes or until a toothpick inserted comes out clean.
Allow to cool completely before slicing.
Servings: 6