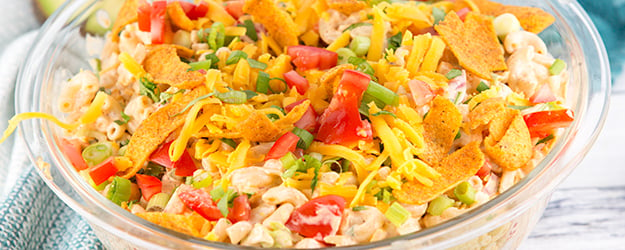 You could say that I am madly in love with tacos. I haven't met a taco that I didn't like and even my three year old can be heard asking for tacos for dinner multiple times a week. Steak tacos to be precise. He loves his steak tacos.
I can't blame him. I am always looking for ways to incorporate the flavors of tacos into just about anything.
Take for example my "taste like tacos" Mexican Stuffed Shells.
Or my One Pot Cheesy Turkey Taco Skillet .
And then there's Slow Cooker Beef Tacos (a super simple recipe, I might add).
But probably my all-time Taco flavored recipe is this Taco Dip. I bring this to just about every family party.
But back to this Taco Pasta Salad!
This Taco Macaroni Salad is like your favorite pasta salad meets the taco.
The dressing is a combination of a little bit of cream cheese (make sure it's softened before you try to incorporate it into the dressing, sour cream, mayo, taco seasoning, and my favorite ingredient, fresh lime juice.
There's something about fresh lime juice on tacos that I just love. And it works well in this recipe too. Just a little something fresh to add a pop of flavor to the dressing. It's subtle but a nice addition.
You can use my homemade taco seasoning if you'd like, or just buy a packet of taco seasoning from the grocery store. French's Taco Seasoning is my favorite.
I debated whether or not I wanted to add meat to this pasta salad but ultimately decided that I thought it would be better without meat.
I don't know about you but I'm not super crazy about meat in cold pasta or macaroni salads. Feel free to add meat if you'd like. Ground beef or ground turkey would work well.
Pro tips:
Buy a bag of pre-shredded iceberg lettuce for ultra convenience.
Mix everything together except for the Fritos! You don't want them to get soggy. Top with Fritos right before serving.
I like to shred my own medium cheddar cheese but you could also buy pre-shredded cheese to save a few minutes.
Add any additional taco topping favorites like olives or beans.
If making this ahead of time, prep all of the ingredients but wait to stir in the dressing, toppings, and especially the Fritos until right before serving.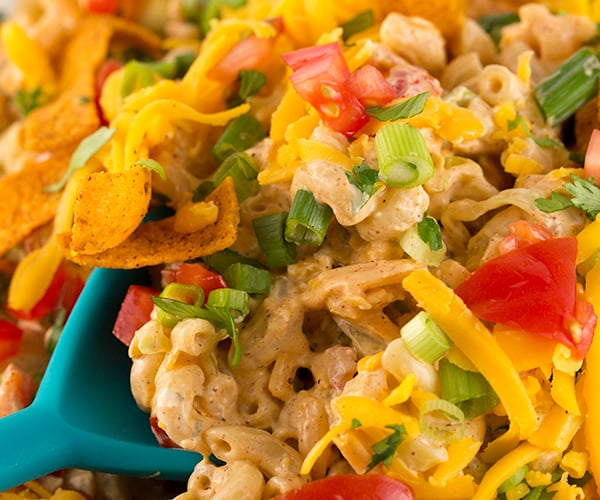 This Taco Macaroni Salad is full of taco-y goodness and a recipe you are sure to make over and over again.
Enjoy!
INGREDIENTS
1 pound elbow macaroni or other pasta of your choice, cooked according to package directions, then cooled completely
2 ounces cream cheese, softened
3/4 cup mayo
1/2 cup sour cream
2 tablespoons fresh lime juice
1 packet taco seasoning or 2 Tablespoons homemade taco seasoning
8 ounces shredded cheddar cheese
1/2 cup shredded iceberg lettuce
1 cup finely chopped tomatoes
2 tablespoons chopped fresh cilantro
3 green onions, chopped
1 cup Fritos (I used Chili Cheese Fritos)
DIRECTIONS
Cook pasta according to package directions. Allow the pasta to cool completely. You can speed up the process by running cold water over the pasta after you have cooked and drained it.
In a large bowl, make the dressing by stirring together softened cream cheese, mayo, sour cream, fresh lime juice and 1 packet taco seasoning or 2 Tablespoons homemade taco seasoning. Stir well to combine.
When the pasta has cooled completely and has been drained well, stir in dressing, shredded cheddar cheese, iceberg lettuce, finely chopped tomatoes, fresh cilantro, and chopped green onions.
Sprinkle Fritos on top right before serving.